Boys take second in regional championship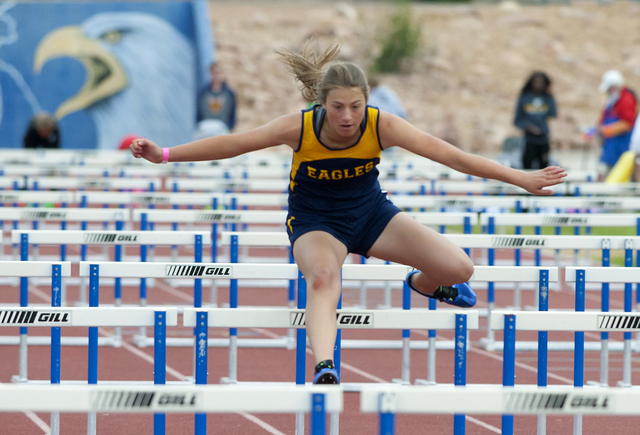 The Boulder City boys track and field team is 2015 Nevada Interscholastic Activities Association's I-A Southern Regional runner-up. They scored 80 points at the Southern Division I-A-Division 3-Division 4 Regionals Meet on Saturday in Boulder City. Faith Lutheran High School was crowned the division Southern Regional champions with 139 points.
The girls team placed seventh with 47 points.
Nathan Chugg, Breden Cowley, Samuel Gomez, Devin Reese, Brooks Roe, Andrew Sands and Alex Strand will represent the Boulder City boys track and field team at state, while Katlyn Daly, Alexis Fenyves, Sariah Gneiting, Emma Jeppsen, Hannah Miller, Lauren Mullins and Evelin Robinson will represent the girls.
Roe placed third in the 110-meter hurdles with a time of 15.70, and second in the 300-meter hurdles with a time of 40.96. He also will compete in the 4×200 relay with Chugg, Reese and Strand after the team placed third, running 1:35.51.
Cowley will compete in shot put and discus. He placed second in shot put after throwing a distance of 49-03.75, and placed fourth in discus with 148-10.
Sands and Gomez also will compete in shot put and discus with Cowley. Sand placed third in shot put and first in discus after throwing 48-11.50 and 152-11, respectively. Gomez placed fourth in shot put throwing 48-10.50 and second in discus with 151-03.
For the girls team, Robinson, Miller, Mullins and Jeppsen will compete in the 4×800 relay after placing third with a time of 10.25:18.
Gneiting and Daly will compete in shot put after placing second and fourth, throwing 34-03.50 and 33-05, respectively.
Fenyves will have one more chance to reach a distance of 34 in triple jump after placing third with 33-11.50.
The I-A track and field state meet is Friday and Saturday at Palo Verde High School. On Friday, the meet is scheduled to start at noon, while Saturday it will start at 8 a.m.
SOFTBALL
The Lady Eagles softball team's season came to an end Friday after a fairly successful season.
Last week, Boulder City played multiple teams in the 2015 NIAA Southern Regional Softball tournament. It was a really hard week for the Lady Eagles, but senior Jessica Embro said she believes the team fought really hard.
After the Lady Eagles win over Cheyenne on May 5, Boulder City hosted Faith Lutheran in the winner's bracket in the semifinals Wednesday.
Faith Lutheran won 3-1, but Embro said Boulder City didn't go down without a fight. Charlie Masterson pitched a complete game, throwing 94 pitches, 65 for strikes.
After the loss to Faith Lutheran, the Lady Eagles traveled to Faith Lutheran for a win over Sunrise Mountain 2-1 in the loser's bracket of the quarterfinals.
Masterson pitched another complete game, throwing 105 pitches, 75 for strikes, and 15 strikeouts. She also had the only two RBIs for the team.
Boulder City advanced to the loser's bracket semifinals to play against Spring Valley on Friday, where the girls lost 5-1. The loss was the Lady Eagles' second in the double elimination-style tournament, marking the end of their season. Embro said Boulder City was too relaxed during the game, and it was difficult for the team to get hits. Even their strongest hitters couldn't get on base.
Masterson pitched four innings, throwing 78 pitches, 45 for strikes. Jordan Moorhead pitched the last two innings throwing 38 pitches, 23 for strikes.
Embro said she hopes the team learns from this season, and comes out strong next year to accomplish what it couldn't this year.
Contact Rochelle Richards at BCRsports@gmail.com.