Boys soccer looks to keep playoff streak alive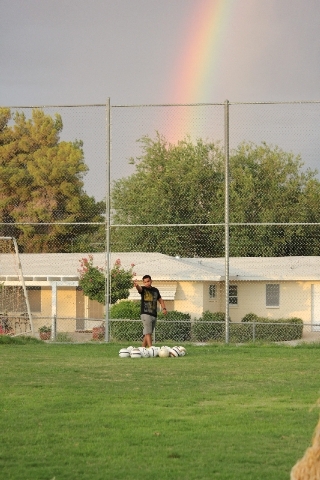 Despite graduating 13 seniors, Boulder City boys soccer coach Frank Pimentel thinks the five players returning are good enough to extend the program's streak of eight straight playoff appearances.
The athletes have been working for several weeks with Pimentel and new teammates from last season's junior varsity during intramural practices at the school's field on Mondays and Thursdays.
"Without a doubt this year will be a challenging season and a complete rebuilding year," said Pimentel, who will be in his third season coaching the team. "But I still find that the returning five will make a great impact. I have a good core to work with here, and it will be a successful season."
The Eagles finished 9-8-1 last year and finished third in the 1-A Sunrise League. The team won their first-round playoff match against Faith Lutheran, 2-1, before losing to eventual state champion Tech. The Roadrunners finished the season 23-0.
The Eagles lost first-team, all-Southern Region defender Blake Worrall, as well as second-team, all-Southern forward Massimo Barbieri and second-team, all-Southern utility player Braize Huxford.
"The team took a big hit due to the graduation of 13 players, but there are roles that need to be filled, and I am confident we have some very good players that can lead our team," Pimentel said. "Filling the voids will take a lot of discipline, character, heart and leadership. I expect the returning lettermen to embrace it."
Pimentel is counting on four seniors and one junior to make it happen.
Yann Moncayo, a senior forward, is the top goal scorer returning from last year and the team's lead attacker on the offense. Pimentel said he is working with Moncayo, who was second-team, all-Sunrise last year, on "his main point of attack and on fine-tuning his finishes" to score more goals.
Senior defender Lane Worrall is strong physically and mentally, according to his coach, and will be a force to deal with on the back line.
Fellow senior defender Maxwell Dodd has speed and a never-give-up mentality that compliments Worrall's strength on the back line, Pimentel said. His speed allows him to run down and defend attackers.
"Worrall and Dodd are very important factors to our success this year," he said.
Kurt Steinke, a senior forward, is expected be a great anchor on the side and to support Moncayo at the top of the offense.
"I expect a lot out of both Kurt and Yann," Pimentel said. "Creating the chemistry between both of them will be very important. We are working on this in intramural."
Junior goalkeeper Victor Andrades is "the heart of the team on defense at the goal line," Pimentel said. "But is also is an excellent midfielder and will play that position, too."
"Victor is the most versatile player we have," he said. "Even though his natural position is at goalkeeper, he has the ability to play anywhere I need him, and that will be very useful as a weapon for us."
Andrades was chosen second-team, all-Sunrise as a midfielder last year.
The season begins with the Southern Nevada Soccer Classic on Aug. 30-Sept. 2 in Las Vegas. The team's first home match is Sept. 9 against Del Sol, a Division 1 program that has made the playoffs 10 of the past 11 seasons.
The Eagles have other nonleague matches scheduled against Division 1 schools Foothill, Valley and Basic as part of the 21-game schedule.
Boulder City's Sunrise League includes state champion Tech, last year playoff teams Chaparral and Desert Pines, as well as Sunrise Mountain, Virgin Valley and Moapa Valley.
Tech is likely still the team to beat, returning first-team, all-Southern forwards Salvador Garcia and Julio Vargas, and second-team, all-Southern performers Derian Salcido and Hugo Flores.
The Eagles travel to Tech on Oct. 7, and the Roadrunners travel to Boulder City to close the regular season Oct. 31.
Working against the Eagles is a weak junior varsity program. Last year's turnout was so poor that junior varsity had to postpone the first two weeks of the season to have the time to gather enough players to field a team.
Pimentel said he is working with Boulder City's girls soccer coach Duncan Stark to increase the numbers, recruit more athletes once school begins, and that they have plans to start youth club teams to increase the number of kids playing soccer in Boulder City.
"Despite rebuilding, the main goal remains the same," Pimentel said. "We will fight for a postseason berth. We need to mesh the returning lettermen, the former junior varsity players and the incoming freshman. We need to work on eliminating or at least minimizing errors in every aspect of our game. It starts now in intramurals."
Anyone interested in playing soccer at Boulder City can contact him at Frank_Pimentel@yahoo.com.