Boys, girls hopeful for postseason play
September 16, 2015 - 1:40 pm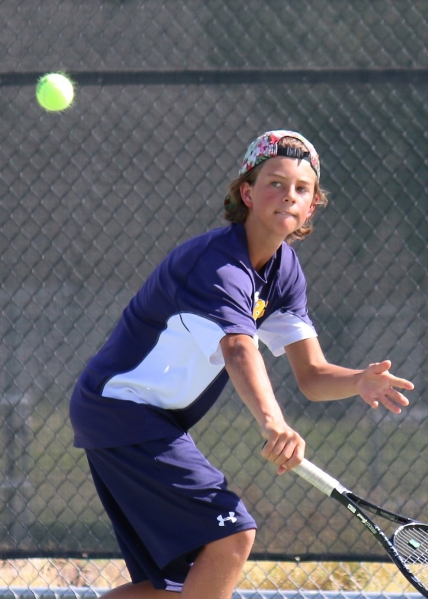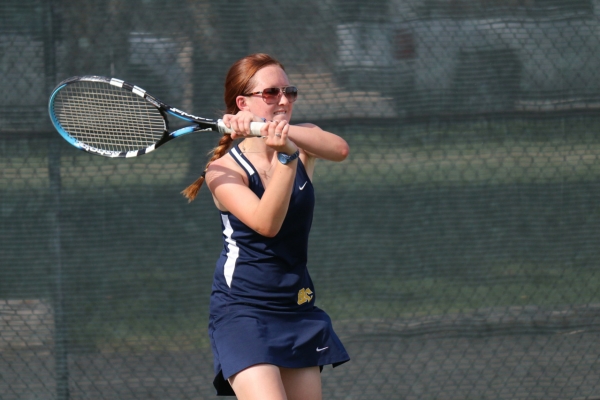 With the Boulder City boys and girls tennis teams sitting in third place in the Division I-A Sunrise standings, optimism looms around the program that both teams could see the postseason this fall.
"Both teams are doing a tremendous job," Boulder City assistant coach Rodney Ball said. "They have kind of been on cruise control as of late, which has been both a good and bad thing for them. Both teams have a lot of confidence, mainly for them its just about staying focused and not letting your opponent sneak up on you."
While both teams, which currently sit at 2-1 on the season, should be playing with confidence with rosters ridden with talent, focus will play a primary factor as to whether they will be playing playoff tennis.
For the boys, a recent slip up this past week at home against Chaparral (2-3 record) 10-8 cost them an opportunity to surpass last season's win total of 2-7 in just three matches.
In singles competition, sophomores Andre Pappas and Sam O'Berto each concluded the day 2-1, while sophomore Pedro Velarde ended his match 1-2. All three players would go on to lose to Chaparral's Brandon Scott on the day.
In doubles competition, the team of sophomore Adam Clary and freshman Leaf Kaboli won their pair of sets, while sophomore Garrett Leavitt and freshman Chandler Larson won the set they played as well to close the score gap.
"This was a tough loss for the boys, but we will continue to work hard at practices and improve the parts of the games that still can be even stronger," said head coach Katy Nash.
Improvements will certainly need to be made within the coming weeks, as the boys get their first real tests of the season next week at home against undefeated conference opponent Desert Pines High School (6-0) on Monday and on the road against undefeated conference opponent Moapa Valley High School (4-0 record) on Sept. 25.
Leading hopeful charge atop the standings will be singles tandem of Pappas and O'Berto, who are both 3-0 on the season.
"This team has a lot of talent," said O'Berto, who's been a key addition to this year's upstart boys program. "I believe we can go far this season, if we play to our strengths and stay focused."
For the girls, staying focused also will be key for last season's Division I-A Sunrise champion after an unsuspected 10-8 slip up to Tech two weeks ago ruined their chances of finishing the season undefeated.
Claiming a rebound victory over Chaparral 13-5 this past week, the Lady Eagles got back to their dominant ways collectively as a team.
In singles competition, the Fullmer sisters wasted no time taking their frustrations out on the visiting Cowboys. Claiming 3-0 victories in each of their sets, junior Natalia and freshman Harley have been bright spots throughout the season thus far for the Lady Eagles and building blocks toward a hopeful Division I-A Southern Region championship.
In doubles competition, the team of juniors Kyra Yamamoto and McKenna Frazier continues to be one of the Division I-A top tandems after finishing the match 3-0, while the freshman team of Olivia Goodfellow and Natalie Bowman continues to improve after a 3-0 day against Chaparral.
The freshman doubles team of Kali Martin and Heather Patterson has also shown improvement, despite finishing the event 1-2 on the day.
"The girls had a lot of long match plays, which is great to see and have the outcome they did," Nash added. "They are executing the drills we work on during practices and working hard to fight for the win."
With matchups next week at home against undefeated conference opponent Desert Pines (6-0) on Monday and on the road against conference opponent Moapa Valley (3-1 record) on Sept. 25, the girls should have a clear indication as to whether they'll repeat as conference champions.
"When the girls are in the zone, their tough to beat," coach Ball said. "They're a really talented group, when they put it all together. That Tech loss really upset them, because they thought there was no way they were going to lose. It kind of got them going again."
Contact Robert Vendettoli at BCRsports@gmail.com.