Boys, girls bowlers defeat rival Chaparral
December 2, 2015 - 3:52 pm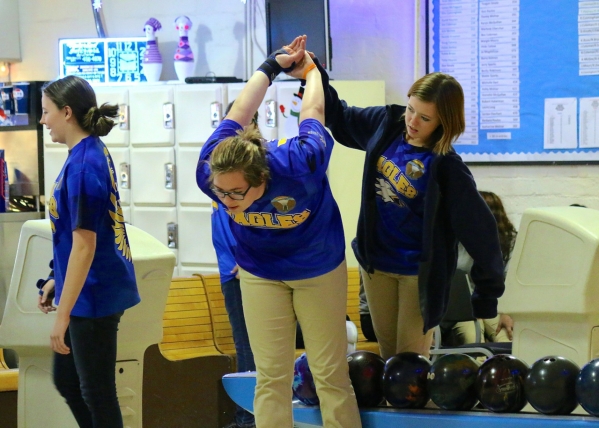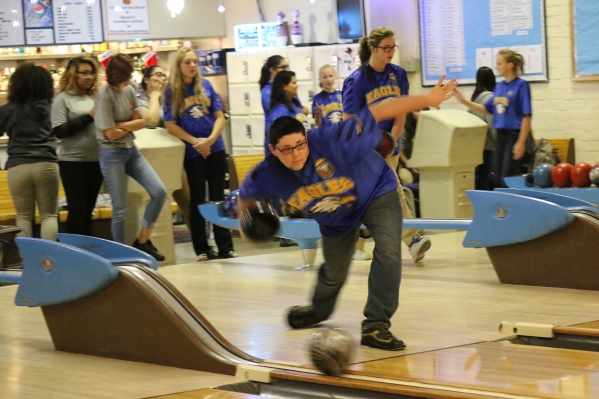 Both Boulder City High School bowling programs got off to a good start Monday afternoon, opening up their respected seasons with victories over conference rival Chaparral.
For the Lady Eagles, the season started strong with a victory over a tough Chaparral opponent, showing that last season's second-place finish in the Division I-A state tournament was no fluke. Junior bowler Abigail Harling anchored the Lady Eagles for the first time in her prep career, leading Boulder City's charge with a score of 464 for the series and high game of 195.
Lending the junior anchor a helping hand was junior Alexis Cable, who chimed in with a score of 406 for the series and a high game of 145 in her second game.
Giving the Lady Eagles a key one-two junior punch, the team will be reliant upon its upperclassman this season.
Following a strong freshman campaign, sophomore Bailey Jordan-Bennett scored a 340 with a high game of 131 in her first match, while senior Emily Owens finished with a respectable 329 series, twice scoring 115 for her high game.
On the junior varsity level, junior Bailey Archuleta led the girls with a 294 series followed by freshman Kali Martin, who managed to bowl a 266 series. Sophomore Camille Torgesen kept pace with a 244 series, while freshman Sam Wagner just could not catch a break, experiencing some rookie woes with a 164 total series.
Archuleta could be one to look upon further down the season, if one of the varsity bowlers is unable to compete.
For the boys, retribution was on their minds Monday against the Cowboys, after Chaparral stopped the Eagles from repeating as state champions last year in an upset they did not forget.
Starting with a series of strikes Monday, the Eagles never looked back at their hometown Boulder Bowl, beating the Cowboys soundly for an opening-season victory.
The Eagles were led by senior anchor Teagan Smale, who led all bowler with a 632 series and high game of 258 in his third match. Expected to be among the top bowlers this season in Division I-A, Monday was a clear indication that Smale is not only hungry for a state tournament appearance as a singles competitor, but also capable of now being the team's leader throughout.
"Teagan bowled very well today," senior Dylan Amico said. "He had a little trouble when it came to a couple of washouts and single-pin spares, but altogether I think Teagan came out clutch in the end as usual."
Junior Ed Rassuchine was next for the Eagles with a series score of 571 and a 216 high game in his second match, giving Boulder City a nice complement.
Junior newcomer Samu Jancuk had a solid debut for the Eagles with a steady 545 series and a high game of 188 in his third match, while Amico finished with a series score of 496 and high game of 200 in his first match in a show of pure domination over the Cowboys.
On junior varsity for the boys, freshman Conner Armstrong led the way for the Eagles, rolling a 458 series, while freshman Sam Holt finish with a 397 series. Sophomore Dane Desmond followed with a series score of 339 for the Eagles, while newcomer Connor Dykstra finish with a score of 239.
"Both teams will be a threat anytime they lace up their shoes this year from the looks of the first match," head coach Rodney Ball said. "The mix of seasoned players and some really good first-time players showed we have depth as a team that we have missed in the past. I can't wait to see how good they will do throughout the season."
Following Monday's victory for both teams, the Eagles played Sunrise Mountain in a conference game on Wednesday. Results from the Eagles' contest with the Miners will appear in next week's issue, along with a recap of next Tuesday's matchup with Southeast Career Technical Academy.
Contact Robert Vendettoli at BCRsports@gmail.com.