Boys clinch tennis playoff spot, girls drop last game
September 30, 2015 - 2:46 pm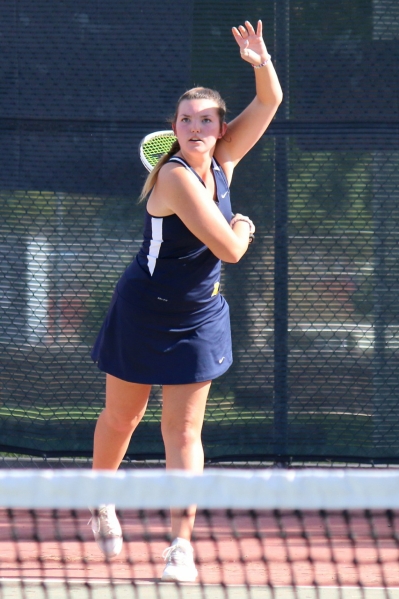 Trending in different directions this past week, the Boulder City boys tennis program officially clinched a postseason berth after a pair of victories over Moapa Valley and Virgin Valley, while the girls snapped a three-year postseason mark after falling short against both opponents.
"I'm very proud of both teams," Boulder City head coach Kay Nash said. "The kids worked hard this season and it showed in their game play."
Against the Pirates, sophomore Andre Pappas was 3-0 in singles competition, while the tandem of sophomores Tanner Montgomery and Garrett Leavitt were 2-1 in doubles competition to lead the Eagles to a 10-8 victory. Finishing their season with a win against the Bulldogs on Tuesday, the Eagles would rallying back with a 10-9 victory, on the shoulder of sophomore Pappas and freshman Karson Bailey, who finished 3-0 on the day in doubles competition. The boys finished their regular season 5-2.
For the girls, the defending Division I-A Sunrise champion Lady Eagles weren't able to hold off either Moapa Valley or Virgin Valley for much-need victory this past week, concluding their season with a 3-4 record.
Dropping their match to the Pirates 5-13, the Lady Eagles weren't able to overcome the doubles team of Hannah Rust and Lindsey Leavitt (3-0), or singles competitor Bodjel Gijzen (3-0), who made it impossible for the girls to establish a rhythm early. With much of the same against the Bulldogs in their season finale, the girls couldn't withstand the doubles duo of Madison Fielding and Clarine Zeelenberg (3-0) in their season ending 6-12 loss.
Despite not qualifying for team regionals, the Lady Eagles have a chance of sending at least one athlete to the individual championships in mid-October. The Nevada Interscholastic Athletics Association will host an individual tournament seeding meeting Friday determining whether or not the Lady Eagles will send a participant.
"We still have team regionals and individual regionals coming up," Nash said. "I'm excited to see what we can do in regionals and how far they all can go. We are all excited for regionals and looking forward to what happens."
While the boys are also eligible for individual regionals, the Eagles currently have their sights on the Division I-A Southern Region team tournament, where they'll travel to No. 2 Sunset opponent The Meadows on Tuesday in the Southern Region opener.
Sophomore singles competitor Sam O'Berto said last week before their playoff berth was finalized that if they can just get a shot at postseason play, he's confident they'll make the most of their opportunity. Only time will tell.
Contact Robert Vendettoli at BCRsports@gmail.com.