Bowlers advance to second round in state tourney
February 10, 2016 - 3:34 pm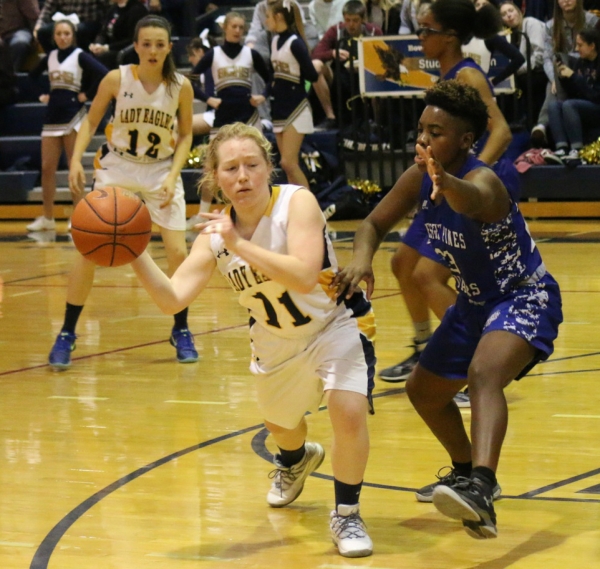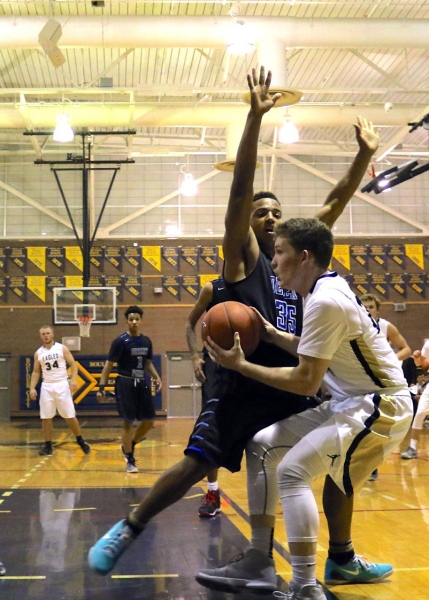 The boys and girls bowling teams from Boulder City High School saw action this past week at the Division I-A Bowling Championship tournament at The Orleans bowling center, with both teams advancing to the second round of the postseason.
"In the past week, both teams have done really well for themselves," senior Teagan Smale said. "As we continue on with postseason play, we just need to keep the gas pedal on and stay focused on the prize."
Defeating Spring Valley in the first round Monday, the second-seeded Eagles won all three matches against the Grizzlies, outscoring Spring Valley 2,248-1,876.
Smale got off to a great start Monday for the boys, leading all scorers with a 627 series and a high score of 223.
Lending a helping hand, junior Ed Rassuchine nearly broke 600 as well for the Eagles, concluding his day with a score of 598 with a high score of 203, while senior Dylan Amico had one of his better performances of the season, bowling a 543 with a high score of 197.
Junior Samu Jancuk concluded the Eagles' scoring action with a round one score of 480, while rolling a high score of 159.
Faring much closer against Spring Valley was the second-seeded Lady Eagles, who narrowly escaped the Lady Grizzlies 1,709-1,675.
Junior Abigail Harling led all bowlers with a score of 491 for the day, with a high score of 149, while sophomore Bailey Jordan-Bennett proved to be a great complement, rolling a 422 series with a high score of 142.
Keeping pace as well was junior Alexis Cable, who bowled a 406 series for the Lady Eagles, with a high score of 129, while senior Emily Owens concluded the opening round with a score of 390.
The Division I-A Bowling Championship continues throughout the week. Results will appear in next week's issue.
— By Robert Vendettoli
Girls basketball
The Lady Eagles split their two-game conference series this past week, defeating second-ranked conference foe Desert Pines at home 60-44 on Feb. 4, while dropping a close 56-49 contest to league champion Chaparral on Monday.
"I'm really proud of our team with how hard we are playing down the stretch," head coach Paul Dosch said. "We lost a tough game at Moapa Valley in overtime last week by not making enough plays in the second half. We came back from that loss and beat second-ranked Desert Pines on our senior night, which was the highlight of the season. We were very efficient against the Jaguars and defended well."
Concluding her senior season in style, dynamic combo guard Megan Morton scored 29 points against the Jaguars with 12 rebounds and four assists. Making a strong statement again for Division I-A Sunrise player of the year, Morton figures to be in the running for the top vote once the regular season concludes.
"Megan has been great with her scoring, rebounding," Dosch added. "She has been getting doubled and a bunch of junk defenses thrown at her, so she's fought through that."
Adding 10 points against the Jaguars, which dropped to the third seed in conference after their loss to Boulder City, was junior guard Alea Lehr, while sophomore forward Jerra Hinson broke out for nine points in the victory.
"Jerra Hinson is a rising star for us," Dosch said. "She's been playing very well on both ends of the floor."
Against Desert Pines, senior guard Lauren Mullins added six points, while freshman guard Hannah Estes added five.
Almost capitalizing on their momentum, the Lady Eagles nearly swept the toughest part of their schedule, hanging tough with the top-seeded Cowboys throughout the night, before falling 56-49.
"We played well against the league champions," Dosch said. "We just didn't make enough plays. The girls are finishing with great passion and I'm very proud of all of them."
Morton again led all scorers with 21 points on the night, while Hinson continues to shine toward the back end of the season, adding seven points with a handful of rebounds.
Estes added eight points for the Lady Eagles, despite the narrow loss to Chaparral, while Mullins added five points and senior forward Rylee Dosch added three points.
Looking to conclude their regular season with a morale victory, the 11-14 Lady Eagles will travel to newly cemented second-seed Virgin Valley tonight, where they'll look to knock off another tough opponent.
"We need to play well versus Virgin Valley," Dosch concluded. "They are a solid ball club and are very well coached. We need to finish the season out strong."
— By Robert Vendettoli
Boys Basketball
The Boulder City boy's basketball team lost 54-43 against Chaparral on Monday night without the help of senior Austin Wishard and junior Justus Green. Wishard sat out with an ankle injury and Green did not play because of a broken hand.
"We were down four with three minutes to play. They ended up doing a good job of closing out and making their free throws," Boulder City boys basketball head coach John Balistere said.
The Eagles continued their hot shooting from the free-throw line, as they converted 66 percent of their attempts for the night, making 10 of 15 from the charity stripe.
Carson Balistere led all scorers on the night with 10 points.
This loss came after Desert Pines blew them out 65-25 in their final home game of the season on Feb. 4. Wishard and Green sat out that game with injuries as well.
The Eagles play their final game of the season at 7:30 tonight against Virgin Valley in Mesquite.
— By Diego Pergentilli
Contact Robert Vendettoli at BCRsports@gmail.com. Contact reporter Juan Diego Pergentili at jpergentili@bouldercityreview.com or at 702-586-9401. Follow him on Twitter @jdpbcreview.
^
Upcoming Games
Boys basketball
Today, at Virgin Valley, 4:30 p.m., junior varsity; 7:30 p.m. varsity
Tuesday, regional competition begins
^
Girls basketball
Today, at Virgin Valley, 3 p.m., junior varsity; 6 p.m. varsity
Tuesday, regional competition begins
^
Bowling
State championships conclude, today-Friday, The Orleans