Boulder City's Howell one of state's best, period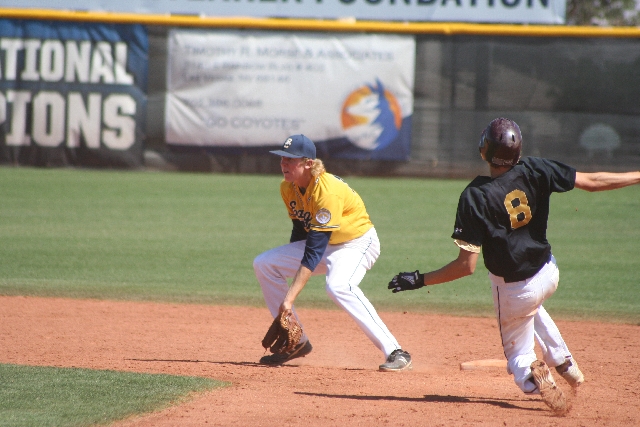 Just when Boulder City High's Tanner Howell thought he had received all the post season accolades he would get for his stellar 2013 season, he found out there was one more.
Howell was selected June 6 as a first-team infielder to the 2013 All-State Baseball Team. It is an elite award because it is the cream of the crop from all of Nevada's classifications combined.
"This is an unexpected honor," said Howell, who led the Division I-A state runner-up Eagles to a 25-11 record. "It is awesome to be honored with so many other great baseball players."
Howell had led the Division I-A All-Southern Region baseball team announced May 22 by being named Most Valuable Player. He was chosen 1-A first-team as both a pitcher and a shortstop.
"This is quite an honor for him and for Boulder City baseball because it is one team from the entire state," Boulder City coach Bobby Reese said. "The coaches in Southern region previously recognized what a great player Tanner was and what a great year he had when they chose him MVP and at two positions."
Howell hit .491 with five homers, 13 doubles, four triples, 47 runs scored. He also lead all of Nevada with 59 RBIs.
His selection among the state's elite revives the debate as to whether 1-A athletes (formerly Class 3A) get the same type of recognition and interest from colleges and pro scouts as athletes from the larger Division I (formerly Class 4A).
Howell was the only 1-A player on the 21-member first-team, which included three players each from Bishop Gorman, Coronado, Liberty and Northern power Bishop Manogue.
The NIAA realigned this last fall with old 3A Southern League rivals, Boulder City, Moapa Valley and Virgin Valley joining the new Division 1-A and forming the Sunrise League along with former 4A schools Sunrise Mountain, Chaparral, Desert Pines and Tech.
There are now 13 teams in Boulder City's Southern Region.
"The new league is better and helps our athletes get better recognition because when we played in a three team league, some people thought Boulder City wasn't always on the map." Howell said. "Because our athletes always worked harder and our coaches worked harder we got to be respected and recognized. But many did not respect us in a three-team league."
Not all athletes believed in staying at Boulder City and in the smaller league. In past years, some athletes have left Boulder City to play their sport at a larger high school.
According to Reese, it is all a myth.
"It is a myth that athletes are better off at a larger school," Reese said. "At Boulder City our kids can play multiple positions and enjoy the game better. They also can compete in multiple sports. At the larger schools, athletes are usually asked to concentrate on one sport and one position.
"There is also a myth that colleges or scouts won't see an athlete who plays for a smaller school. In today's game, if a player is good enough, he will be noticed by opposing coaches and scouts. The word gets out. It's pretty hard to go unnoticed in Nevada if you have Division I talent or pro talent."
Interestingly enough, Howell was approached in the eighth grade by Bishop Gorman officials to play baseball for the Gaels.
He said he turned them down for two reasons: They wanted him to only play baseball (Howell played for the Eagles varsity basketball team) and he wanted to stay with the friends he grew up playing with.
"I have never regretted that decision," said Howell, who led the team to a state runner-up finish in May with a senior-heavy team.
A baseball scout wearing an Arizona Diamondbacks polo shirt had his radar gun on Howell during the Eagles' May 17 state playoff game against Faith Lutheran. Howell struck out 11 batters in 6 1/3 innings, surrendering six hits and throwing 127 pitches.
It just wasn't Howell who got noticed from Boulder City. Catcher Billy Barth and outfielder Corbett Fleming are also talking to colleges after being named to the 1-A All-Southern Region team.
"There probably are about five legitimate Division I college prospects in Las Vegas, and they were all found and signed," Reese said. "At Boulder City we had three seniors who wanted to play baseball in college and all three will sign. If you are not a D-I prospect, then you have to contact the colleges and make the effort to be recruited."
Howell signed with Dixie State University in St. George, Utah, because his father played there.
"I really loved the school when I visited and that's another reason why I chose Dixie," Howell said about the NCAA Division II school. "It is far away, but close enough to home."
Howell also was recruited by seven other colleges, including Southern Idaho, College of Southern Nevada and Western Arizona.
"I got plenty of attention at Boulder City and I knew when scouts where there to watch the game," Howell said. "Maybe when we were in 3A in a three-team league we did not get the same respect as a team or as a league, but as individual players we still had the chance to be seen and approached by colleges because of our coaches."
Dixie State has made the NCAA tournament the past two seasons, and finished the season 32-17.
Barth and Fleming are being recruited and will sign this month, Reese said.
"Our kids were seen by scouts when we played Green Valley and Foothill (both Division I schools) and when we played in California, not to mention the state tournament," Reese said. "It's a myth, that's all. At Boulder City we have had one of the best baseball programs in the state for many years. And the scouts and colleges know where to find us."