Boulder City girls help seal all-star game win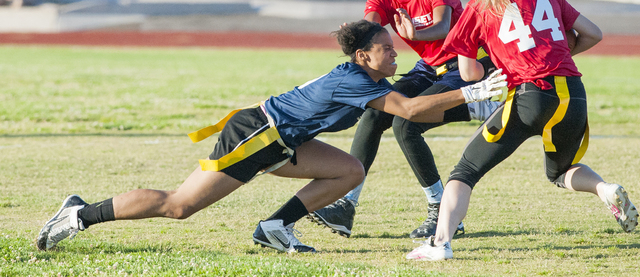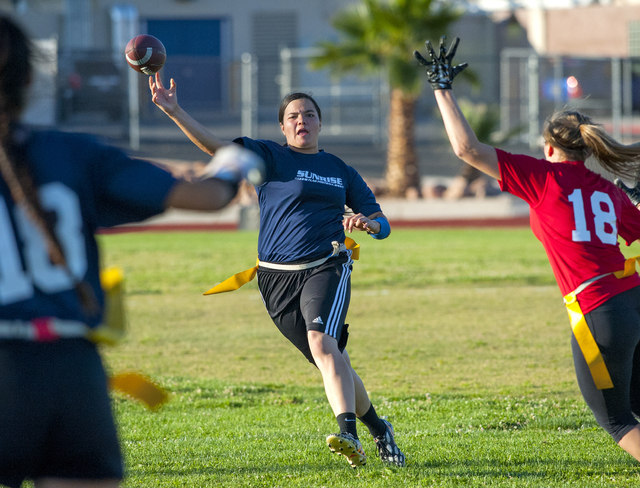 For the second straight year, the Sunrise team is the Southern Nevada Flag Football Coaches Association All-Star game champion. It defeated the Sunset team 13-6.
The game, hosted by Boulder City High School on May 20, consisted of an elite group of girls from Southern Nevada schools.
Last year, the Sunrise team won over Sunset 26-22.
"I felt some pressure," Sunrise coach Cynthia Guzman said. "I felt some pressure to defend our title. Doing it the first year was a lot of fun, but coming back the second year and winning it two times in a row, that's tough to do.
"So it's a little pressure, but I was also very confident in playing with the elite group of girls in the Sunrise region. I was pretty confident that our team would shut down their number one on their side. I think we did a really good job."
Last year, Guzman, who coaches flag football Foothill High School, was the assistant coach for the Sunrise team.
Coronado senior Senior Ava Bracey was named the Sunrise Most Valuable Player. She was also named Coronado's best co-defensive player. She had two tackles and ran back an interception for a touchdown.
Bracey was unable to attend practices for the All-Star game. But once she stepped onto the field, she was ready.
"At first I was a little nervous, to be quite honest, because it's been a while since I last played. But once I got on the field, I literally snapped into a mode," Bracey said. "It was like from black to white. It was difficult to switch, but it was fun. Once I got into it, and there were a couple tough moments, but it was really fun once I got into the heat of everything."
Several Boulder City players contributed to the win over Sunset. Quarterback Jeanne Carmell completed 15 of 30 passes for 192 yards, one touchdown and two interceptions. Makenzie Pluta had two receptions for 13 yards and an extra point. Paige Buettner had three sacks.
Kinsey Smyth, a Boulder City senior, played wide receiver and safety.
"We all just bonded as different teams, but as the same team," Smyth said. "It's really cool out there. We all had fun, there's no hard feelings between our team at all, so that's the best part.
"We can go out there as friends, at the same time as just doing our thing. Every single one of these girls, flag football is everything to them, and that's cool. To see that drive that I have in everyone else — that's the best part. It's the best way you can end it all."
In a game that features a wide variety of talent and players, the girls had to play multiple positions, including some they were unfamiliar with.
Guzman said the girls' love for the game and one another enabled the team's success.
"I think the girls just have a love for this game and they have a love for each other," Guzman said. "They all know each other from playing — they're just a great group of girls. … They're just excellent athletes and excellent people."
Foothill's Marissa Bracket had eight rushes for 74 yards and three receptions for 21 yards. Emily Russell and Sayonna Thunstrom, also from Foothill, had three receptions for 35 yards and a touchdown along with eight tackles and one interception, respectively.
Carolina Velasquez from Green Valley had three receptions for 27 yards.
For the Sunset team, Arbor View's Haley Nibarger was named the MVP.
"I think what contributed to the win was just pulling flags and catching balls," Guzman said. "Really working together as a team, finding their holes and believing in each other. We put points on the board, and defense shut them down … Defense wins championships."
For seniors like Smyth, winning the All-Star game was the perfect ending to a fantastic flag football career.
"Flag football absolutely means everything to me," Smyth said. "My coach, Coach (Chris) Morelli, is probably the greatest man that I have ever met. He changed the game, how I feel about life and it's really cool. … I'm so blessed to be a part of what he's created."
Contact Rochelle Richards at BCRsports@gmail.com.