Boulder City Eagles have hopes high to qualify for soccer playoffs
September 17, 2014 - 12:36 pm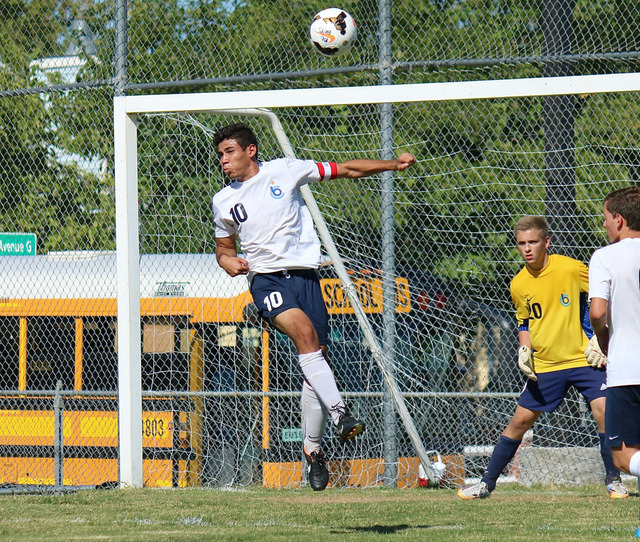 Scheduling will not be a friend to the Boulder City boys soccer team this season.
Boulder City, unfortunately, plays in the Division I-A Sunrise League with defending regular season champion Desert Pines, state champion Tech and state runner-up Sunrise Mountain.
Nonetheless, head coach Frank Pimentel expects his team to make the playoffs.
"I don't see why we can't make the playoffs in a very tough league," Pimentel said. "Of course, we are realistic. We are aiming for the fourth spot and to earn that we have to win all the games on the schedule that are winnable and steal one or two from the top dogs.
"I didn't say it was going to be easy, but the tougher the mountain to climb, the better we will feel when we get to where we want to be. Playing the tough competition all season will only make us a better playoff team once we get there. And, anything can happen in the playoffs."
Top players this season are senior captain Victor Andrades, who anchors the defense as the center back, and sophomores Barrett Cowdery and Sebastian Balmer.
Jose Morales scored four goals for Chaparral in a 6-0 victory against the Eagles on Sept. 11.
"It was not a very good season-opener, but we will get better," Pimentel said. "I know the heart we have on this team and we are not afraid of competition."
The Eagles played at home Monday against Sunrise Mountain, where they were overmatched and lost 11-0, and Wednesday against Tech.
Their next match is at 3 p.m. Tuesday at Desert Pines.
Girls soccer
Paige Buettner scored two goals for Boulder City in a 2-2 tie with visiting Chaparral on Sept. 11. The Lady Eagles also played on the road Monday at Sunrise Mountain and Wednesday against Tech at Heritage Park.
In Monday's game, Oshauna Remy scored both goals for the Lady Eagles in their 7-­2 loss to Sunrise Mountain.
Their next match is at 3 p.m. Tuesday at home against Desert Pines.