Bizarre tourney finish leaves golfer in second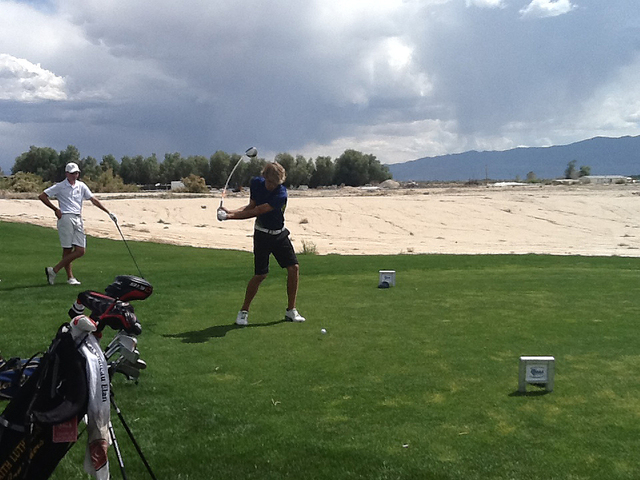 Boulder City junior golfer Luke Logan is a three-time Division I-A region champion and the defending state champion. He was not going to claim foul — or darkness — as an excuse.
In a bizarre finish at the state tournament May 21-22, Logan finished as state runner-up with a 149 total score after two days of competition at Mountain Falls Golf Course in Pahrump. He could not finish his final hole, and eventually Faith Lutheran's Charlie Magruder was declared the champion using the results of only 17 holes.
Faith Lutheran finished with a total of 804 to win the team title by five shots over Lowry. Boulder City was third at 817.
Magruder played a bogey-free second round with two birdies to come from behind and win the Division I-A tournament.
"You have to give all the credit to Magruder. In the end he had the best score over the 17 holes," Logan said. "The match was altered, but we all had the same conditions. I just wish we could have played it out."
On the first day, Logan shot 73 and was behind Moapa Valley's Jacob Causey by 2 strokes and ahead of Faith Lutheran's Charlie Magruder by 4 strokes. On the second day, Logan struggled on the front nine, making the turn at 39 while Magruder turned in an outstanding 34 on his front nine.
Other golfers and teammates were not happy with the state event being altered, and several were upset about being rushed through the final nine holes. But Logan steered clear of the controversy.
"We had the same conditions, but we played the back nine under constant rush to finish before darkness. If not rushed, I would have played several holes differently, especially after the front nine. I could barely see when I played the 17th hole and could not finish the 18th because it was too dark."
The final two foursomes played the 18th hole in near darkness, leading to all sorts of problems. Seven of the eight players managed to complete their rounds, but Logan was unable to.
Officials and coaches met for more than 15 minutes to come up with a solution before finally voting to throw out the final hole. Logan was credited with a 76 and finished second.
It was a reversal of last week's Division I-A Southern Region tournament when Magruder, a freshman, saw a four-shot lead slip away in the second round as Logan won the region title for a third straight year.
Boulder City shot a 418 the first day, but came back with a 399 the second day for an 817 total.
Kyler Atkinson was sixth and Kyle Effertz placed 17th. The remaining Eagles were Christian Hudleson (32nd), Hunter Ulibarri (37th) and Marcus Walker (38th).
"Team-wise, we did not play well at all," Eagles coach Regina Quintero said. "It is a little disappointing to go into the state tournament after playing well at the end of the regular season and then not perform well. I don't know if the kids were too nervous or tight, but they struggled with their games from the start.
"We kind of shot ourselves out of contention when the final three players made the turn on the first day with high numbers. It was going to be tough to make a comeback being down 28 strokes after day one. But I give our kids credit for sticking with it and battling until the end even though the championship was out of our reach."
Magruder birdied both of the par 5s on the front nine and finished with 11 straight pars, including a chip-in on No. 11.
"The end of the second day was a little crazy because they were being rushed because it was getting dark," Quintero said. "I think it hurt Luke a little on No. 17, because he couldn't really see. We were going to stop play before he teed off on 18, but were unable to get to the tournament director in time. Luke did not complete hole No. 18 due to darkness, and that is the reason that the scoring was cut back to 17 holes. Luke really did not have a good game going on the back, and Magruder was hitting the ball extremely well."