BCHS pitcher signs to play at Oregon university
December 2, 2015 - 3:53 pm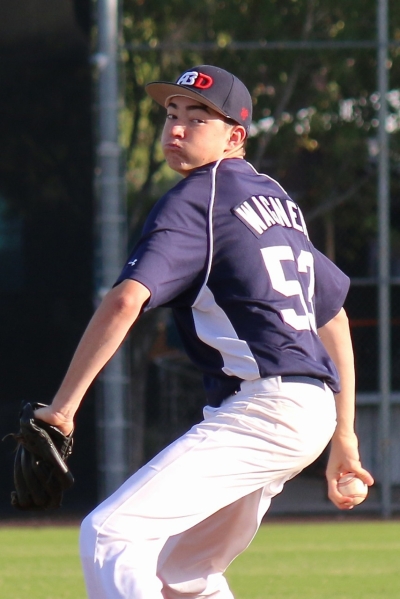 Boulder City pitcher and shortstop senior Steve Wagner grew up always wanting to be an Eagle.
Idolizing the culture that surrounded Boulder City athletics at a young age, Wagner pined for an opportunity to be an Eagle. Making life-long friends as a child, Wagner, who was a key prospect for the Foothill High School baseball program, knew the only place for him to succeed and be comfortable was in a small-town setting. The very moment his chance arose, he made sure he seized the opportunity.
"I've always wanted to be an Eagle," Wagner said. "Everything that surrounds this town, this school, it intrigues me. I love that atmosphere here, the school spirit that our small town has. I wanted to begin my prep career here, but couldn't because of the travel issues. Having other siblings made it impossible for my parents to take me every day, but once I got my license it was a no-brainer. Being an Eagle was a choice I made when I was in middle school; it's honestly the best decision I've ever made."
Getting a full-time taste for the small-town feel last year, Wagner's love for the city grew even stronger. As a member of the baseball program, Wagner felt part of a family, he felt wanted. So when it came time to make what he called the second most important decision in his life, attending Boulder City High School being the first, Wagner decided to follow his heart, sticking to his admiration for scenery.
When the opportunity arose to attend Division II baseball power Western Oregon University, Wagner knew the next chapter of his life would be spent as a Wolf.
Monmouth, Ore., is a lot like Boulder City. Its population currently sits just below 10,000 citizens and is the type of small quiet town Wagner admires.
"Location was key for me," Wagner said. "I loved how Monmouth was isolated from everything, yet still close enough to enter the city. It's a lot like Boulder City in that regard. I felt at home when I took my visit, I felt like I was back here with my teammates. The atmosphere was very family oriented, the players made me feel welcomed and the coaching staff treated me very well. I can't wait to go there next season."
Coming into his senior season viewed as the top pitching prospect in the Division I-A Sunrise division, Wagner is a solid find for the Wolves' program, which has won 14 consecutive Great Northwest Athletic Conference championships.
"We are very proud and happy for Steve," Boulder City baseball coach Bobby Reese said. "He was a very big part of our success last season. He was one of our top pitchers and when not pitching, he played a very good short stop for us. This upcoming year, I expect him to do even better than last year. With a year of growth and added strength, he should be one of the top pitchers in our division."
Set to attend Western Oregon as a pitcher only next season, Wagner brings a strong prep pedigree with him after leading the Eagles in every pitching statistic last spring.
"Steve's incredible on the mound," fellow pitcher senior Peyton Koopman said. "He's the ace of the staff and a pitcher we can rely on to win us the big game. His work ethic is phenomenal; all he does is work harder to get better. He's going to be one of our key pieces this season, when we attempt to make it back to state."
Compiling a 5-2 record on the mound last season as the team's workhorse for the state-tournament-bound Eagles, Wagner led the team with a 2.10 ERA and 35 strikeouts in 40 innings of work. As opposing Division I-A programs started to take notice of the Eagles' new star, Wagner's teammates themselves found themselves excited about the new transfer.
"Steve transferring in from Foothill last season was huge for us," outfielder senior Zach Murphy said.. "Steve's addition made us better on both sides of the ball instantly. On the mound, he's arguably our best pitcher, while he provides good work in the infield as well. He's an exceptional talent. It's good to know we have him on our team now."
A key two-way player during the Eagles' 24-13 season, Wagner batted .294 with 19 RBIs and a pair of doubles as a part-time shortstop as well for the program and will continue to do so this season.
"I'm all about the team," Wagner concluded. "While I'll only pitch at Western Oregon, my main focus for this season is helping our team out in any way possible. These guys are my family, whatever they need me to do in order to reach our goal of a championship, I'm ready.
Contact Robert Vendettoli at BCRsports@gmail.com.