BCHS graduate to coach girls basketball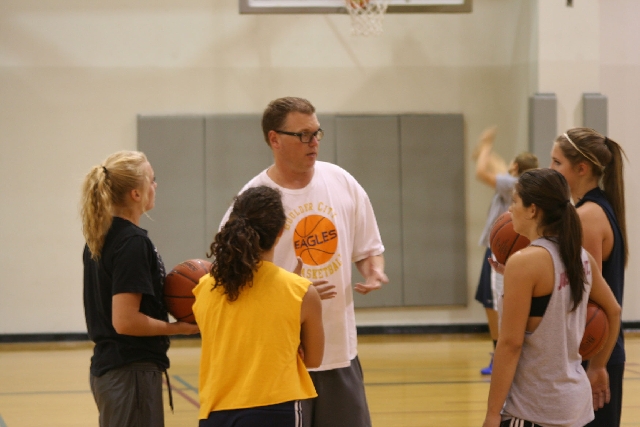 Boulder City High has named its fourth girls' basketball coach in as many years. But new coach Paul Dosch promises that he will be there for several seasons.
"It has been hard for the girls in the program to change head coaches each year, so one of my goals is to bring stability to the program and coach for several seasons," Dosch said. "I am grateful to be coaching with a great program and at an excellent school."
The past two seasons, Dosch was assistant coach for the boys' program under head coach John Balistere. Before that he was an assistant at Foothill High from 2006-10 where he also was the head coach for the boys' junior varsity and freshmen teams.
"Our girls program is very fortunate to have coach Dosch," said Balistere, who pushed the school administration to hire Dosch. "He has a grasp of the game and knows how to connect with the kids. Our girls have been coming to our open gym for the past two springs and they know him. They are very excited to have him as their coach. The girls program is in great hands."
Dosch is happy to be at Boulder City High where he is familiar with the court. He is a 1990 graduate and played guard as a junior and senior for the Eagles. The 1989 team won the state championship.
"I have always loved Boulder City and we were happy to be able to move back to the city last year from Henderson," said Dosch, who played two years of college basketball at Barstow (Calif.) Community College. "Coaching here is something I always wanted to do and I have plans to do it for a while. The girls have endured a lot with all the changes and I hope to develop a solid program and add to the tradition."
Joining Dosch on the team next season will be his 15-year-old daughter, Rylee, who will be a sophomore.
"It will be fun to coach Rylee," Dosch said. "It is only part of the reason I took the job, but being able to be with her all season will be a longtime family memory. I am really looking forward to this opportunity."
Dosch follows Kirk Frantz who coached last season as the Lady Eagles finished 18-8 and reached the state playoffs.
The previous coach, Kate Elles, guided the Lady Eagles to 22-6 overall and 3-1 in the Southern League. They lost the Southern Region final to Virgin Valley.
The Lady Eagles were 12-9 overall and 4-2 in the Southern League and reached the league championship game in 2010-11 under coach Brian Lemmel.
This past year under Frantz, the Lady Eagles moved from the three-team 3A Southern League to the new 13-team Division 1-A Sothern Region.
"I prefer the new expanded league because it is more fun for the girls to play different opponents," Dosch said. "It is more of a challenge to coach head-to-head with many different coaches. It is better than a three-team league."
The Lady Eagles will return seniors Whitney Barlow, a forward, and Jana Williams, a guard. Barlow averaged 18.1 points and 6.1 rebounds per game and was named to the 1-A first-team, all-state squad.
The backcourt of junior guards Katlyn Daly and Alyssa Ybarra are excellent ball-handlers and shooters. Sophomore Megan Morten will play guard and forward. Ybarra was first-team all-Sunrise League, while Daly and Williams received honorable mention.
The hiring of Dosch puts the boys and girls basketball programs under graduates of the school.
Balistere was a member of the Eagles' 1984 state championship team.