BCHS Eagles defeat Del Sol Dragons
September 24, 2014 - 1:14 pm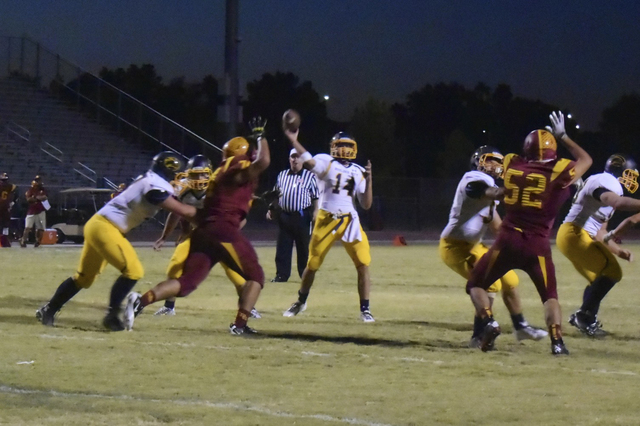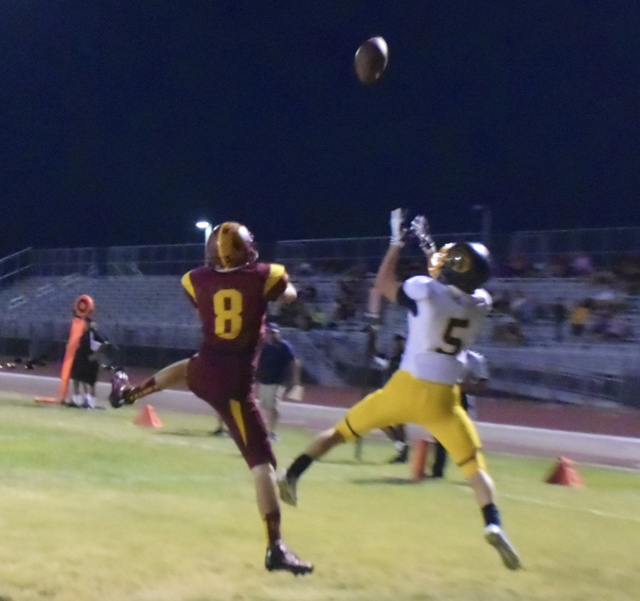 The Boulder City football players were challenged by head coach Alex Kazel to come out it in their first league game and prove themselves against an unbeaten opponent.
The Eagles, led by Logan Branscum's 91 rushing yards on seven attempts, responded as asked with a convincing 48-20 victory Friday night at Del Sol.
There was no doubt — by halftime.
Fullback Nelson Van Diest, who rushed for 63 yards on eight carries, gave Boulder City a 6-0 first-quarter lead with his 11-yard touchdown run. Branscum made it 14-0 when he scored on a 56-yard run with 9:24 remaining in the second quarter.
Eagles quarterback Trenton Carmell connected with Branscum for a 42-yard touchdown with 3:08 showing on the clock, and 14 seconds later Zach Murphy returned a fumble 35 yards for a touchdown to put the Eagles up 36-8 with 2:56 left in the first half.
"We came out and hit them hard like coach asked us to do, and never looked back," said defensive lineman Dawson Livingston, who had six tackles. "The defense made big plays and the offense scored the points we needed and we kept hitting them hard on defense. Welcome to the league."
Del Sol was enjoying a 3-0 season overall and 1-0 in the Sunrise League until Boulder City came to town.
A year ago, the Dragons were 1-8 and one of the weakest teams in Division I, but a summer move to Division I-A and into Boulder City's league made the Dragons confident.
"We knew that they thought being 3-0 was easy in our league and that 4-0 was in their plans, so we wanted to come out hard and hit them and stun them before they knew they were in a game against a serious opponent," linebacker Jacob Jurgschat said. "We knew they hadn't played a team of our caliber, and we wanted to pull away, something we struggled to do in our first three games."
The Eagles are now 3-1 overall and 1-0 in the Sunrise League; they are in second place behind Moapa Valley (4-0, 2-0) and just ahead of Desert Pines.
Desert Pines visits Boulder City at 7 p.m. Saturday. Tickets are $5 for adults and $3 for students and children.
Boulder's City's Brook Roe, among the Eagles' top offensive players in rushing and receiving, and on defense as a linebacker, is expected to play against Desert Pines. The senior sprained his left ankle against Del Sol and missed the second half of the game. The Eagles previously lost all-star lineman Andrew Sands for the season with a right leg injury.
"I challenged the players to come out in their league opener and make a statement," Kazel said. "I asked them to be aggressive and to play hard and jump out on Del Sol before they knew what hit them. The kids responded. They took command of the game early, and at every turn, they maintained their composure doing what was needed on offense and defense. It was a good win for us.
"This is a very competitive league where a group of five or six teams are bunched up in what will be two or three playoffs spots. We have to go out and get our spot."
Desert Pines is 3-1 overall and 1-1 in league play because of a 43-30 loss to Moapa Valley on Sept. 13. The Jaguars were a playoff team last season when they were eliminated by state champion Faith Lutheran.
On the road last week at Chaparral, Desert Pines won 34-21 as running back Isaiah Morris scored twice and finished with 124 yards rushing. Quarterback Marckell Grayson threw three touchdown passes.
Handling Morris and Grayson will be a test for the Eagles' defense, which allowed only 106 rushing yards to Del Sol.
"The defense will be ready to play hard," said safety Justin Rockenfeller, who had six tackles and one fumble recovery for a second straight game.
Jack Rozycki led the Eagles' defense with eight tackles and one sack, while Dillon Viera made five tackles and returned a fumble 21 yards. On offense, Viera gained 61 yards on nine attempts, and Jacob Kelley had 14 yards on two attempts.
Carmell completed five of 10 passes for 75 yards and one touchdown. He also rushed for touchdowns of 19 and 6 yards. Receiver Austin Wishard had two receptions for 25 yards.