BCHS cross-country teams ready for division finals
October 14, 2015 - 3:00 pm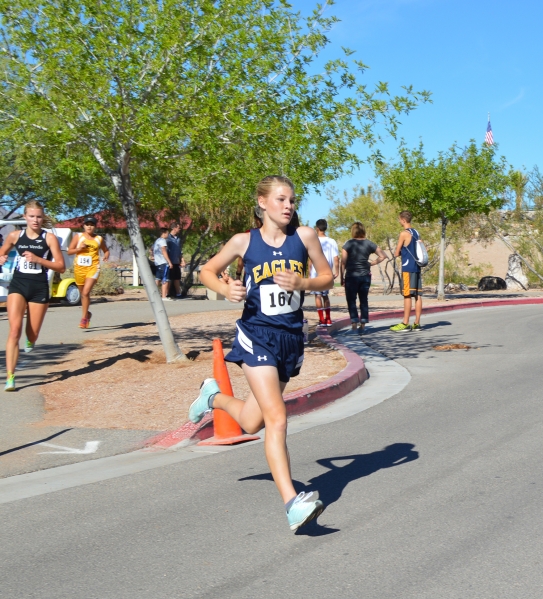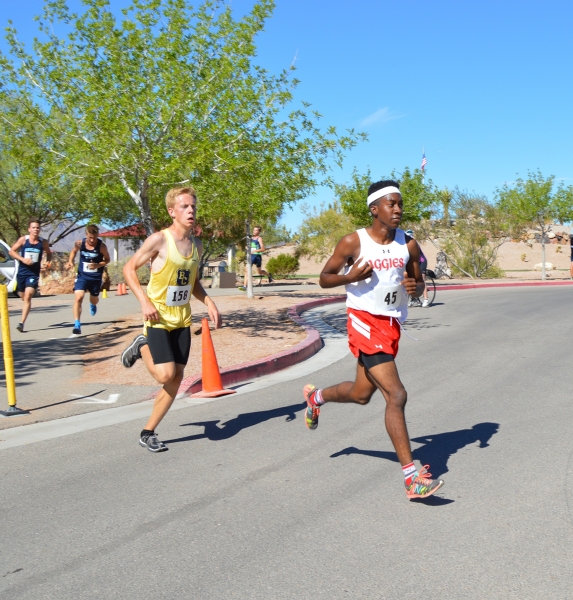 Heading into their Sunrise League finals meet this Saturday at Craig Ranch Regional Park, the girls and boys cross-country programs feel good about where they're currently at.
Participating in the Lake Mead Invitational this past weekend at Veterans' Memorial Park, arguably the state's largest race with competitors competing throughout all divisions, the teams not only got a firsthand look at this year's Division I-A Southern Regional course, but garnered confidence individually.
"The Lake Mead Invitational is a challenging race for some, but most of our kids did pretty well overall," coach Canaan Petersen said. "This year's regional meet will look almost identical to the course we just ran on, so hopefully it prepared both teams a little bit for what's in store for us in the next few weeks."
For the girls, sophomore Sierra Selinger continued her midseason rampage on the competition, finishing third overall with a time of 21:46.7. Finishing just 12 seconds behind Del Sol leader Ingrid Zarate and 7 seconds off of second-place behind Sierra Vista freshman Sarriah Brown, Selinger has stated that her personal goal is to sit atop the standings come regionals.
"Both of them are my biggest competition this year," Selinger said. "I feel it's important to me to just run my own race and compete at my own level, but I do get a little more fueled up when I see them running next to me. I won't see them at our league match, so I just have to stay focused until regionals."
Selinger, also finished third this past week in the Bud O'Dea Classic sophomore race at Palo Verde, finishing with a time of 17:24.4 on the shorter 2.5 mile course.
Joining Selinger among the top runners is junior Nantke Bonsack, who finished 27th with a time of 25:48.3 at the Lake Mead Invitational.
"The addition of Nantke has been huge for us, and her performance throughout the next few weeks can make or break our season," Petersen said. "We know what we have from Sierra and both Camille Torgeson and EmmaLee Torgeson. Now it's time to find out what we really have from her. If everyone can run the races I know they can, we should cruise through our league final and post respectable times at regional. I think this is a state tournament caliber team for sure."
Both Torgeson sisters didn't compete this past week, but have been solid throughout the season. Camille, a sophomore, has finished as high as seventh this season on a standard 3.1 mile course, while EmmaLee has four top 10 finishes so far during her senior year.
For the boys, improvements have certainly been made, but this year's team may still be a year away from competing with its young roster still coming together.
"For the boys to get past regionals, they're going to need to post their best individual times and then some," Petersen said. "As a group, we've come along way, but there's still things we need to work out in order to get to where we want to be competitively. I expect us to be solid in this week's league final and then who knows come regionals. It's anyone's race; you just have to compete."
Leading the way for the boys as usual was junior Tyler Campbell, who posted his fourth top 10 finish of the year with a time of 18:16.1. Setting a personal best for the year at the Lake Mead Invitational, Campbell's time was good enough for sixth place, nearly 10 seconds off of third-place finisher Brendan Palmer of Clark High School.
"Each week I continue to regain my form from last season," Campbell said. "I'm starting to come into my own again and run the races I know I'm capable of running. I'm ready for the final stretch over the next few weeks."
Joining Campbell Saturday in the top 100 were senior Joren Selinger, sophomore Tyson Morris and junior Caleb Shamo.
Selinger, finished 53rd with a time of 20:54.9, while Morris placed 67th with a time of 21:32.3 and Shamo placed 95th with a time of 23:17.3.
"Everyone is competing really hard and I'm proud of the way things have played out," Petersen concluded. "I fully expect Campbell to make a state appearance this year and we'll keep building as a program in hopes of meeting him there shortly."
Contact Robert Vendettoli at BCRsports@gmail.com.
Upcoming Meet
Saturday, division finals, Craig Ranch, 8 a.m.