BCHS coach Balistere is missing link to bring college basketball tourney to Las Vegas
February 10, 2016 - 3:38 pm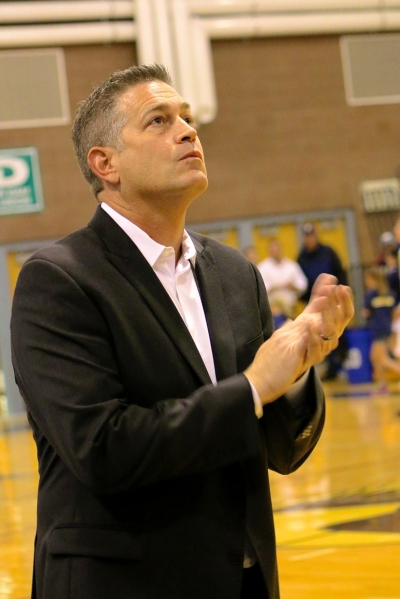 In 2013, Brooks Downing, the president and founder of BD Global, a Kentucky-based sports marketing firm, was in Fort Meyers, Fla., with ESPN and CBS women's basketball analyst Debbie Antonelli. Downing and Antonelli had teamed up to put together a women's college basketball tournament called the Gulf Coast Showcase in southwest Florida.
During the tournament Antonelli had mentioned to Downey the problems facing the women's NCAA basketball tournament, and how it came in last place in bringing in revenue out of all the 89 NCAA tournaments.
That is when the light bulb when off in Downey's head about bringing a tournament to Las Vegas.
Downing decided to pull some strings from the resources he has acquired over the years. He assembled a committee to help create a tournament that invited 16 of the nation's best college basketball teams that did not make the NCAA tournament.
Jim Livengood, the former athletic director for UNLV and former chairman for the 2003 NCAA Division I Men's Basketball Committee, was appointed chairman of the Vegas 16 committee. George Raveling, Hall of Fame college basketball coach and director of international basketball and global marketing for Nike, also was selected for the committee. Debbie Antonelli was a no-brainer to join the committee as well, according to Downing.
Yet there was one piece missing — a link that could bridge together the city of Las Vegas and basketball. For Downing, that missing piece was Boulder City High School boys basketball coach John Balistere.
"Brooks asked me how I'd feel about joining their committee. Obviously it's a big thrill for me to have people like Jim Livengood on the board, who sat on the NCAA tournament board in the early 2000s. I thought it would be a great opportunity for me so I said absolutely," Balistere said.
Balistere also is a basketball consultant for MGM Resorts International and has been working with Livengood and Downing for years to bring quality basketball to Las Vegas.
"You have the rooms, you have the restaurants, you have stuff for people to do in between games. So I think obviously Las Vegas stands alone as a place to come to," Balistere said. "I think with the facilities we have and the new arena coming on, it gives Las Vegas a real opportunity to shine."
Balistere helped bring a state championship as a player to Boulder City in 1984 and has been coaching the team since 2011.
Additionally, he has been an assistant coach at Coach Mike Krzyzewski's annual basketball camp that is held at Duke University in Durham, N.C., and was on former NBA head coach Lionel Hollin's staff in the International Basketball League.
"Coach Balistere is the link because he understands the sport. He's been around it on a different level, and he's been coaching there in the community," Downing said about the Boulder City High School graduate. "So when we were told to run the tournament through John, I guess John realized that we had our act together as well and we would make a nice fit."
According to Downey, it would be scary to think if the committee did not have Balistere's experience at their disposal. Not only is Balistere plugged into the entertainment segment of Las Vegas, but the basketball segment as well.
Yet through it all, Balistere's heart has not wavered and he remains fully committed to bringing another state title to Boulder City.
"I am very fond of the high school in Boulder City. I will always try and represent Boulder City the best I can and in the right way," Balistere said.
The Vegas 16 will be played March 26-30 at the Mandalay Bay Events Center. That will be the same weekend the NIT (a similar tournament that invites college teams that did not get invited to the NCAA Tournament) will be hosting its semifinals at Madison Square Garden in New York City.
"We are going to be going up directly with the NIT. We have had a lot of coaches call us and they are very interested," says Balistere. "The goal right now is to create a quality event."
Contact reporter Juan Diego Pergentili at jpergentili@bouldercityreview.com or at 702-586-9401. Follow him on Twitter @jdpbcreview.