BC wins fourth straight state title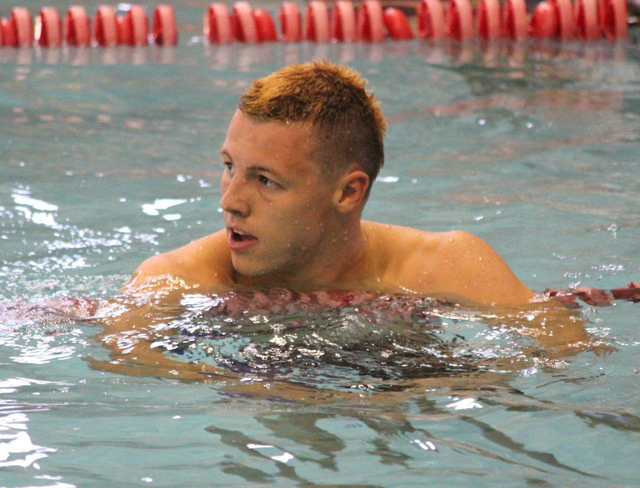 Not many high school athletes can claim to have achieved what several of the seniors on the Boulder City boys swimming team have done.
The Eagles, led by seniors Joey Gebhart, Jared Smith, Adam Peterson and Evan Klouse, ran away with the Division I-A boys swimming state championships this past Saturday at UNLV's Buchanan Natatorium. For the four seniors it was 4 for 4 — four state titles in four years of high school competition.
And, oh yes, four consecutive region championships as well for them.
Boulder City scored 157 team points to crush the competition by 83 points. Truckee was second with 96 points.
It was the Eagles' fourth straight state title and the seventh boys championship for coach Sara Carroll, in her 20th season. Including her two girls state titles, she has guided Boulder City to nine swimming state titles.
"It meant so much to win the state title as a senior," said Gebhart, who won two individual events. "The year was a long time coming. It took so many years of practices and hard work to be able to win four straight. Coach Carroll deserves a lot of credit for all she has done to mold this program.
"To win the state title as a team and win both my events as a senior is an awesome feeling. It was an amazing weekend to top an amazing couple of years in high school and club swimming."
Gebhart was a triple winner, taking home the championship in the 100 butterfly in 50.79 seconds, the 100 backstroke in 51.50 seconds and teaming with Smith, Sam Sauerbrei and Jason Lyon to win the 200-yard medley relay in 1:36.62.
Smith also won the 200-yard freestyle in 1:40.93, edging Peterson's 1:44.72.
"It was a great way to send the seniors out with these victories," Carroll said. "Unfortunately, Jared was real sick but he still swam tough. He wasn't healthy enough to do what he is capable of doing, but he swam super on the relay teams and still got a first place and a second.
"Evan turned in some of his best times and was so dependable all season. Joey dominated his events as he has for his whole career, and Adam really did a great job posting some good times in two second-place finishes."
The Eagles opened with a win in the 200 medley relay (1:36.62), followed by individual victories by Smith in the 200 freestyle (1:40.93) and Gebhart in his two events.
Smith, fighting a flu illness, placed second in the 500 freestyle in 4:38.37, while teammates Peterson (4:44.23) was third and Lyon (4:47.04) was fourth.
Sauerbrei swam 1:53.29 to place second in the 200-yard individual medley behind Truckee's Alex Straw (1:52.18) while the Eagles' Nick Lara was fifth and Joren Selinger was sixth.
Sauerbrei (58.52) also was second to Straw (55.99) in the 100 breaststroke. Lyon (103.33) was fourth and Nicholas Walker was sixth.
Klouse swam 21.91 in the 50-yard freestyle and was second to Faith Lutheran's Bowen Becker (21.37). Klouse's 47.92 also was second to Becker (47.14) in the 100 freestyle. Younger brother Braden Klouse (52.31) was fifth.
Lara was fifth (57.38) in the 100 butterfly behind Gebhart.
The junior Eagles hope to match the seniors next year by also going 4 for 4. It continues next season as the Eagles reload.
"Sam Sauerbrei posted some monster times at state and I am very excited about him for next season," Carroll said. "We also have some excellent swimmers returning in Jason, Braden (Klouse) and Nick. We also did a lot to springboard into next year."