BC girls virtually unstoppable
January 21, 2015 - 2:06 pm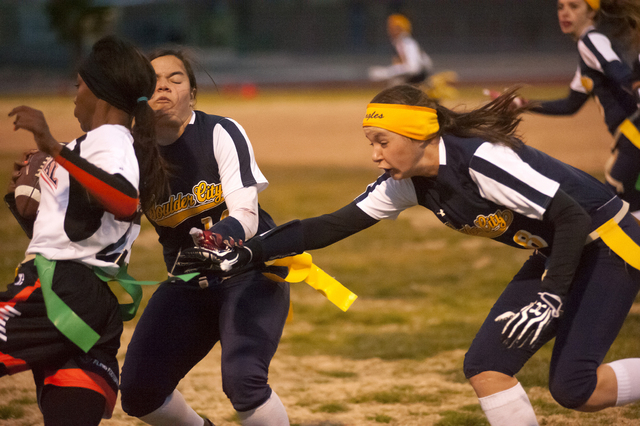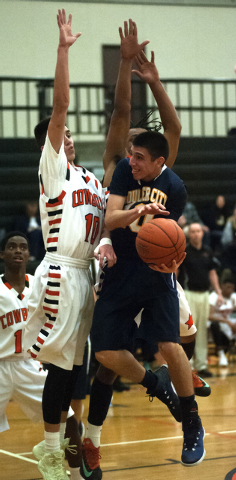 The Lady Eagles will try to extend their regular-season winning streak to 30 games today when they play Southeast Career Technical Academy at Green Valley's field.
Boulder City is 11-0 this season and was 18-0 a year ago during the regular season. They are 9-0 and in first place in the Sunrise League.
They remain ranked No. 2 in the latest Las Vegas Review-Journal poll of Southern Nevada coaches behind Cimarron-Memorial, the only other undefeated team in among 34 teams playing the sport in Clark County.
The Lady Eagles made it 29 straight wins with their victory Tuesday at home against Chaparral. The Lady Eagles have not lost a regular season game since their 16-6 loss to Foothill in their season finale in February 2013.
Junior Jeanne Carmell connected on 6 of 11 passes for 103 yards and one touchdown in the Lady Eagles' 39-6 win. Carmell also rushed for 107 yards on nine attempts and scored one touchdown. Paige Buettner gained 85 yards on four runs and Iris Meijer had 26 yards on four carries and one touchdown.
Defensively, Buettner had six tackles and one sack, while Kinsey Smyth made two tackles and one interception. Logan Kanaley made five tackles and Kenadee Bailey had a game-high eight tackles and one sack.
"We got a great effort from everyone as usual, but tonight I want to give extra mention to Iris and Kenadee," coach Chris Morelli said.
Boulder City plays league games at home Monday against Coronado (2-9, 2-7) and Wednesday at Rancho (9-5, 5-4). Both games are scheduled for 4:30 p.m.
"We are aware of the streak and we care about it, but it is not as important as winning simply to maintain the momentum and to reach our goals," quarterback Carmell said. "We are more concerned with winning in the playoffs than winning all our regular season games. That said, we plan to win them all because we like the streak. But we have higher goals."
Boys Basketball
The ball just isn't falling in for the Boulder City boys basketball team, and the victories they need to reach the playoffs are slipping away.
Marc Silas scored 15 points Friday to lead Chaparral to a 50-31 victory. The loss dropped the Eagles to 7-9 overall and 2-4 in the Sunrise League. Forward Peyton Koopman led Boulder City with 9 points.
"The team is working hard, but we are still struggling to score points," said coach John Balistere, who was back on the sideline after his one-game absence because he was hospitalized with the flu.
"We have let several opportunities slip away but we need to handle business in our home games. We have seven league games left, and we will continue one game at a time and try to put ourselves in a position to (a) make run down the stretch."
The Eagles played Virgin Valley Wednesday, but too late to report the score in this issue.
"The Virgin Valley game is big for us. It is a game we had to have," he said earlier in the week.
Heading into the Virgin Valley game, the Eagles were in sixth place, but only one game behind Sunrise Mountain and Virgin Valley for the fourth and final playoff berth from the league.
The Eagles need to steal a few road victories in the days ahead.
The Eagles will play second-place Del Sol (13-4, 4-1) at home Friday before they begin a four-game road schedule. They do not play at home again until they face first-place Desert Pines on Feb. 4.
The Eagles will travel to Tech for a 6:30 p.m. Tuesday game. They also play Jan. 29 at Sunrise Mountain, Jan. 30 at Faith Lutheran and Feb. 2 at Moapa Valley.