Basketball teams head into league playoffs
February 20, 2014 - 5:21 am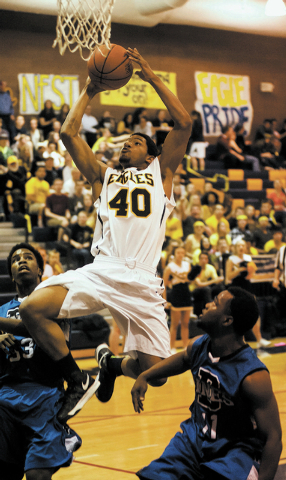 The Eagles rallied during the second half of the season to climb into third place in the Sunrise League and clinch a playoff spot. A victory over second-place Virgin Valley Feb. 11 allowed the Eagles to clinch third place and escape a log jam of what would have been a four-team tie between the Eagles, Chaparral, Sunrise Mountain and Moapa Valley requiring a complicated tiebreak to choose two teams.
Instead, the Eagles rallied from 15 points down at halftime to shock Virgin Valley and finished 10-13 overall and 6-6 in the league.
Boulder City began the Southern Region playoffs Wednesday with a quarterfinal at Cheyenne, in a game played too late to report in this issue. Catch the results in the Feb. 27 issue.
But reaching the playoffs was a huge accomplishment for the Eagles who battled injuries and a handful of close, heart-breaking losses all season.
"Even though we were down 15 points to start the second half against Virgin, I kept telling our guys that we still had a run in us, but they had to turn it up defensively," head coach John Balistere said. "They played great defense in the fourth really limiting their open looks and got the big win.
"The way we played in our final regular season games, we certainly gained confidence going into the playoffs. We will be ready."
Marcus Walker scored 23 points in the Eagles' 60-55 win against Virgin Valley. Sam Woodbury scored a career-best 20 points and sank two key 3-pointers in the fourth quarter. The Eagles outscored Virgin Valley 21-10 in the final eight minutes of the game.
Walker and Xavier Steel helped the Eagles go 9-for-10 from the free-throw line down the stretch. The team made 25 of 32 free throws. The Eagles rallied from a 32-19 deficit at halftime.
In their final game of the regular season Feb. 13, the Eagles lost to first-place Desert Pines 57- 41. Tyler Newby led all scorers with 13 points, while Steel scored 10, Walker scored six, and Woodbury added four points.