Basketball team improves along with players' health
February 6, 2014 - 4:50 am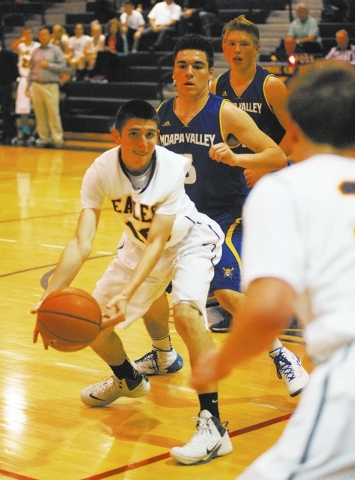 The Eagles are getting healthier and recovering from injuries, and that is translating to better play on the court and important league wins.
Boulder City boys basketball coach Jon Balistere said he can finally see the team he knew he was going to coach when the season began.
"It was a tough stretch with a few players out and not being able to do what we wanted on the floor, but everything is finally coming together, and the results show it," Balistere said. "We are playing better and have won four close games in our league schedule and almost beat Virgin Valley. That's five quality games from the kids."
Marcus Walker scored nine points and Tyler Newby scored eight to lead the Eagles to a 36-32 road win Monday at Sunrise Mountain. Jacorey Dixon and Xavier Steel each added six points.
But it was free throws from Sam Woodbury and Nicholas Walker that provided the crucial points in the closing seconds.
The Eagles are 8-11 overall and 4-4 in the Sunrise League.
The win was important because it moved the Eagles into playoff contention among the top four teams in the league. Only the top four teams advance to the playoffs. The Eagles have won two consecutive games and four of six league games to jump several places in the standings.
The Eagles almost made it 5 of 6 wins when they lost a close one 44-41 to Virgin Valley in Mesquite. The other loss was understandable, coming to defending state champion Desert Pines.
"We won four, lost to the state champion and let one get away with Virgin that we could have won," Balistere said. "The team is finally getting healthy and playing better. We are a different team when we have all our guys."
The Eagles have seen Lane Worrall return to the lineup for the first time since December and have had the return of Nicholas Walker after an ankle injury.
"The last few games we have really come together as a team," Marcus Walker said. "This win against Sunrise Mountain gives us momentum to finish the year strong. We are so glad to have Lane and Nicholas back and helping us."
On Jan. 29, Woodbury's go-ahead 3-pointer with 17 seconds left broke a 35-35 tie and allowed the Eagles to defeat visiting Moapa Valley 38-35. Newby scored 15 points, while Marcus Walker scored eight. Woodbury finished with five points, as did Dixon.
"We just did what we planned to do against Sunrise Mountain and that was to play tough defense and be patient on offense and it led us to the win," Woodbury said. "We have had a few good, close wins and it gives us the confidence going down the stretch.
"We have really found our groove and are working together as a team. We are playing them one at a time now, not looking ahead too far."
The Eagles also played a game Wednesday at Tech (1-21 overall and 0-9 in Sunrise League play).
Boulder City has climbed into a two-way tie for third place with Chaparral (7-15, 4-4), which they play at 6:30p.m. Friday on the road.
"We are now tied with Chaparral and ahead of Sunrise Mountain, but we have to beat a good Chaparral team Friday and then contend with Virgin Valley coming to our place. We are still looking to move up to second place, but Virgin Valley is a real tough opponent and tough challenge."
Virgin Valley (14-8, 8-1) plays at Boulder City at 6:30 p.m. Tuesday.