Basketball players gain valuable training, experience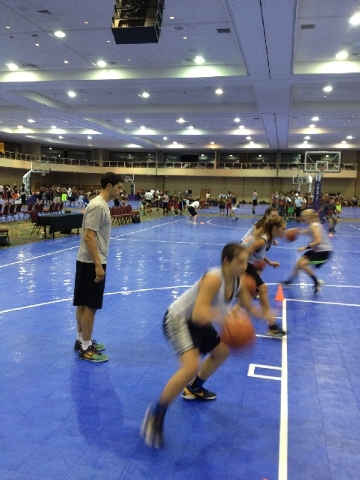 Boulder City basketball players received some valuable training during the four-day World Championship Cup & Training Camp in Boulder City from Friday to Monday.
Nearly 300 basketball players from around the world, including China, Brazil and the Bahamas, came to town seeking to improve their game and compete against the world's best basketball players.
The basketball academy was run by Sportek events of Raleigh, N.C., with Boulder City boys varsity coach John Balistere coordinating locally.
"It gave an opportunity for our Boulder City players to be a part of a first-class basketball camp," Balistere said. "It was a great learning experience for our kids. They all enjoyed it and realized they were getting better."
It just wasn't the local boys who attended the camp. Newly hired varsity girls coach Paul Dosch helped Balistere, and local girls participated.
Forty-six boys and girls from Boulder City attended.
"It was an awesome four days of learning new drills, honing current skills and meeting players from across the U.S.," Dosch said.
Shortly after opening ceremonies Friday, the coaches began one of the most intensive basketball training drills, known as blackout training. This conditioning program consists of endurance, strength and speed drills that let players alternate among15 stations for two hours straight.
Saturday and Sunday had players doing basketball drills and conditioning during the day, and tournament games at night. A few training sessions occurred Monday morning, but it was mostly reserved for tournament finals.
Eagles senior point guard Sam Woodbury, who has been playing basketball for more than nine years, said there is a lot he can use to get better in the future.
"I learned a bunch of drills that could make me a lot better," Woodbury said. "All the coaches there gave us ways to always be better and keep improving. I feel like my shooting, endurance, strength, and ball handling have all improved. Plus it is great to get a different variety of competition to play against."
Senior teammate Lane Worrall said having the event in Boulder City was great for his hometown.
"There's not a lot of places where you have so many courts together like we do when talking about the high school gym and recreation center being less than a mile apart from each other," Worrall said.
The boys team ended up going 4-2 in the tournament, while the girls ended 2-4.
For Dosch, the tournament record was not as important as the experience and training the players received.
"The girls had a great week of training guys who coach and train the likes of (NBA players) LeBron James, Kobe Bryant and Kevin Durant," Dosch said. "Our team played very well in a highly competitive tournament."
Balistere, who left Sunday to help with another camp in Hawaii, said the boys took away a lot.
"I think my team realized the value of hard work and teamwork," Balistere said. "I can guarantee you they will all sleep well tonight."