Basketball coach plans to return team to glory days
November 25, 2015 - 2:43 pm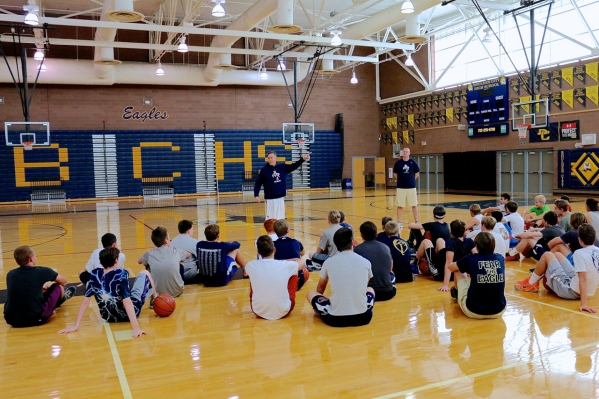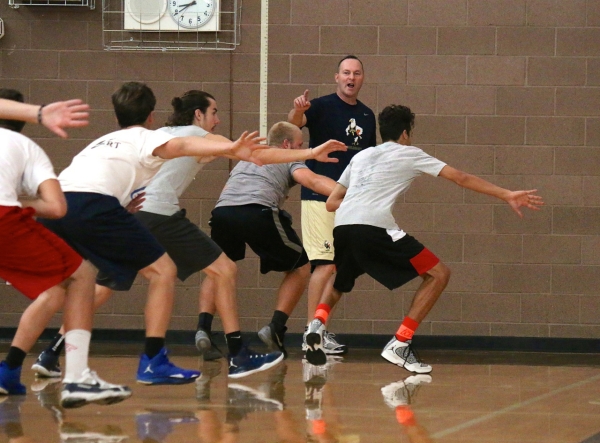 High school athletics, maybe more so than at any level, is a very cyclical process. Rarely are schools able to sustain extended runs at the top as waves of talent run in and out every four years.
Boulder City High School finds itself in that cycle, six years removed from a state championship, yet to find that kind of statewide prominence again.
But if you ask boys basketball coach John Balistere, there is a plan, a plan to bring a high school with the second-most basketball state championships in Nevada back to where it once reigned.
"I'm a BCHS grad," Balistere said. "I had an opportunity to join Findlay Prep's staff and go to other, bigger schools, but I want to build a program here and be solid."
The 1984 state champion — who by day is the director of basketball operations for MGM Resorts International — is on his way to doing just that, compiling a school-best 58-43 record over his four years at the helm.
The Eagles return five lettermen from last year's 10-15 team, including three starters. The core of this year's team has been playing together since eighth grade, according to forward Zac Murphy, who said the cohesiveness of the team will lead to an exciting season.
"We will play good, solid defense this year and play together," Murphy said. "I expect a lot from the core guys returning to our team. We all play well together and are great friends."
Boulder City will no doubt have to play as a solid unit, as it faces one of the tougher schedules in the Las Vegas Valley this year.
Seven of the Eagles' first eight games are on the road this year, including two of the first three against teams who made the postseason last year.
BCHS opens up Saturday at Valley, which finished 26-5 a year ago. The Vikings were a two-point loss away from qualifying for the state tournament last season.
"We have high expectations this year, a lot higher than last year," guard Quentin Turner said. "We've got a bunch of younger guys that give us depth and they'll be ready to play. We're going to be a lot better team than we were last year."
One thing the Eagles won't be is the most intimidating team when they walk into opposing gyms this year, as they lack size in the frontcourt.
Balistere said what the team lacks in size it makes up for in experience, and the team plays hard.
"I think we'll surprise some people this year," he said.
Not having enough size down low usually leads to teams playing zone defense, which allows for the five members of the team to be closer to the paint to help out.
However, the basketball disciple of longtime Duke University coach Mike Krzyzewski — who's known in the basketball world for playing less-than-little zone defense — said the Eagles will play man-to-man defense about 85 percent of the time.
"Our program has led the state the last four years in charges taken," Balistere said. "We try to make it as tough as it can be to get to the basket."
Desert Pines will be the Eagles' toughest competition this year. The Jaguars beat the Eagles twice last year by an average margin of 27.5 points per game.
Desert Pines has three players on its roster who have either committed or are being recruited by Division I college programs, including 6-foot 7-inch junior forward Greg Floyd Jr., who holds offers from Arizona, Miami, UNLV and West Virginia, to name a few.
Floyd Jr. has been acknowledged by most recruiting sites as the top prospect in Southern Nevada.
"We want to win our league," Balistere said. "A couple of years ago we finished second. Last year, we struggled a little bit, but we have the talent to win our league. Ultimately, we want to add No. 13 to those 12 banners we have hanging up here in our gym."
Contact reporter Randy Faehnrich at rfaehnrich@bouldercityreview.com or at 702-586-9401. Follow him on Twitter @RandyFaehnrich.