Baseball is way of life for Kermodes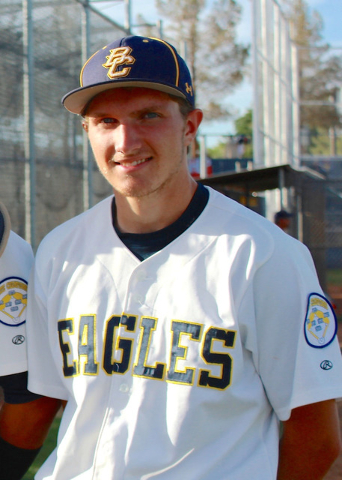 As a lifelong baseball fan, Seth Kermode grew up rooting for Randy Johnson and the Arizona Diamondbacks.
His father, Al Kermode, spent his final years in the minors pitching in the Diamondbacks' farm system after coming up with the Montreal Expos' farm teams.
Fifteen years after Al called it a career in 2000, his son, who spent two years as an outfielder for Boulder City High School's varsity baseball team, will take his skills to the next level at Bethel College in Indiana.
Seth finished his senior year batting almost .400 with 33 hits and 28 RBIs. The Eagles finished the 2014-15 season with a 24-13 record, including an undefeated 14-0 mark in league play.
Coach Bobby Reese said Kermode became the Eagles' best defensive outfielder last season because, in large part, of the time and effort he dedicated to becoming a better ballplayer, as well as the positive attitude he constantly displayed.
"He's just an absolutely wonderful young man and a model teammate. Just the kind of kid you want to coach because he'll do everything you ask," Reese said. "On the bench or in the starting lineup, he's the same. Not too high or not too low. Never complains one bit."
Seth said Reese pushed him and his teammates to make them better ballplayers as the season wore on.
"Coach Reese was always pushing us and asking us what we wanted to do and how we wanted to be remembered. It really made me want to work harder," Seth said.
The recently graduated Boulder City Eagle said he chose Bethel over North Central University in Minnesota primarily because he would have to work harder as a Bethel Pilot.
"Their (Bethel) program is already set up. NCU is struggling a bit, and I wanted to go to a place where I had to earn my spot," he said. "The coaches and the staff know what they're doing. It's just a good place to be."
In a time where Southern Nevadans like Bryce Harper of the Washington Nationals, Kris Bryant of the Chicago Cubs, and Joey Gallo of the Texas Rangers are establishing themselves as the future of Major League Baseball, Kermode is confident that one day he'll get his opportunity to make the big leagues.
"It's definitely encouraging. I'm down there with them and competing with them," he said of the talent coming out of Southern Nevada. "It means it could be a possibility for me in the future."
Al Kermode, who compiled a record of 75-47 from 1992-2000, put his baseball career on the back burner once he got married and started a family.
During his tenure in the minors, Al pitched against future big-leaguers like Alex Rodriguez, Cliff Floyd and Eric Gagne, whose streak of 84-consecutive saves as a member of the Los Angeles Dodgers from 2002-04 still stands as a major league record.
Al's been able to use his professional experience to help his son prepare for a bright future, even if that future doesn't involve baseball.
"I've always told my kids if they wanted to do something else, I'm fine with that," he said. "I just want them to be able to do what they love, and Seth's always loved baseball."
If Seth does want a long, successful career in baseball, his dad's got plenty of advice for him.
"Don't worry about the next guy, or the rest of the competition. Every day you set your foot on that field, you have a chance to prove yourself," Al said of the advice he's given Seth over the years. "You need to work hard, harder than anybody. If you want to be the best at your position, you have to put in the extra time and focus to go get it."
Seth said he is looking forward to the opportunity to prove himself at the next level, something Al said is an accomplishment in itself.
"To get to the next level, the percentage is very, very small," Al said. "You have to be at the right place at the right time, and you have to have the right people see you."
Soon, Seth will leave the Boulder City heat for the cool, rainy climate of northern Indiana just miles from the Michigan border.
And because he's been given the opportunity to play college baseball, he plans on leaving everything out there on the field. As an incoming freshman, Seth wants to be able to make his mark in baseball, and in life.
"There's always going to be some nerves," he said. "But it's more about having fun at the next level and working my butt off."
Contact reporter Steven Slivka at sslivka@bouldercityreview.com or at 702-586-9401. Follow @StevenSlivka on Twitter.