As expected, swim teams dominate to take titles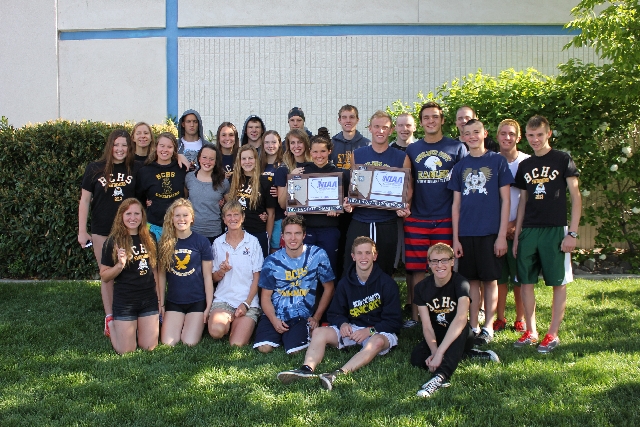 The Boulder City boys and girls swim teams capped off their strong 2013 seasons by winning their state title team meets.
Held Saturday at the Carson Aquatic Center in Carson City, the boys continued their recent dominance en route to their third-straight team state championship — seventh overall — as the girls swam their way to their first team state title.
Besting second-place Truckee High School with 96 points and third-place Sage Ridge High School (58), the Boulder City boys' team took the state title meet with 191 points, winning six of eight individual titles and all three relay team titles.
The boys were led by three two-event winners: senior Jeremy Estes, who won the 50-yard freestyle in 21.18 seconds and the 100 butterfly in 50.69; junior Joey Gebhart, who won the 100 freestyle in 46.80 and the 100 backstroke in 51.38; and junior Jared Smith who won the 200 freestyle in 1:38. 96 and the 500 freestyle in 4:31.92. Gebhart's win in the backstroke was a repeat.
The boys broke two state relay records as they swam the 200 medley relay in 1:34.17, beating the previous record of 1:34.51 Boulder City set last year, and the 400 freestyle relay in 3:08.09, besting the record of 3:08.37 the Eagles set in 2003.
Estes was joined on the 200 medley by Matthew Stewart, Gunner Braden and senior Tore Grasso. Estes, Gebhart, Smith and Sam Sauerbrei swam the 400 freestyle.
In addition to the two team state record times, the boys also won the 200 freestyle relay in 1:26.62. Braden and Grasso were joined by Gebhart and Evan Klouse.
Estes also set the school record in the 100 freestyle, a feat he was excited to accomplish despite the lack of competition and the higher elevation in Carson City compared with Southern Nevada.
"I did all right. I stayed pretty much right on my times and I was happy to get the 100 free record for my school," he said. "I guess for the meet being up at altitude and not having any real competition. … I did pretty well staying on all my best times."
With their seventh team state title, the Boulder City boys team is tied for most swimming state titles all-time with Reno High. The win also propelled coach Sara Carroll to becoming the most decorated boys coach of all time with six titles overall, winning titles from 2002-04 and 2011-13.
The girls won all three relay events and seven of eight individual titles led by two two-event winner s: sophomores Alex Hubel and Rachel Grothe.
Hubel won the 50 freestyle in 24.13 and the 100 freestyle in 51.28; Grothe won the 100 butterfly in 58.53 and the 100 backstroke in 1:01.97.
The Boulder City girls also had three single- event winners as senior Cori Molisee won the 200 freestyle in 1:52.31, freshman Rebecca Lelles won the 200 individual medley in 2:12.77 and senior Megan Purdy won the 500 freestyle in 5:02.46.
The Lady Eagles won the team title with 193 points, beating out second place Truckee High School (97) and third place South Tahoe High Scholl (56).
Hubel was happy with her showing in the pool Saturday, explaining that she didn't make the long trip to come home empty handed.
"All I knew was that we hadn't driven eight hours for nothing," said Hubel, who won the 50 freestyle and 100 freestyle state titles last year. "It was time to throw on a great attitude and get hungry for that state title. I did what needed to be done to help my team, and I'm very pleased with how it all turned out."
After ending a successful season with the boys and girls taking home state titles, Carroll said she couldn't be more proud of her teams' performance.
"I think they did a really good job racing to get better times and to get All-American and school records and things like that. They pushed themselves really well," Carroll said.
Carroll said that although times were good, they could have been even better if they were facing the bigger schools in Division I that they were accustomed to up until this year with conference realignment moving Boulder City to l-A.
"We didn't have a lot of competition in every event, but we did in some and I think if we had been racing in the other division we might have even gone faster."
Estes pointed out that although it was good to win the l-A title, if the boys were in D-l they still would have won if you compared their times to the D-I schools.
"This year it (winning state) was kind of expected with our new division, but if you look at the times we would have won state even in the other division as well," Estes said.
Boulder City boys dominated this year's Division 1 champion Palo Verde on April 20, sweeping the swimming events. The Eagles don't field divers.
The Lady Eagles went unbeaten in dual matches, but didn't swim against champion Bishop Gorman.
Keeping her kids focused all season was not a problem for Carroll even with the decrease in competition, as she said her kids knew the schools name was on the line.
"They're pretty competitive," Carroll said. "They want to race and it's not that long of a season that they can see the end is in sight and stick with it. I think just the tradition of our swim team being dominate; they didn't want to let that tradition die."
Hubel echoed Carroll's statement on keeping the competitive spirit up all year, as living up to the school's reputation was important to her and her teammates.
"Being in the lower division, I've really been missing the competitive aspect that we've had in previous years," Hubel said. "In this division, we are swimming with confidence and strength, challenging ourselves to beat our personal bests, and racing against the clock."
With the success the boys and girls had this season, Carroll is most happy with how her squads accounted for themselves this year.
"I think how the kids took ownership because they knew they had a chance to be a part of something and actually participate," she said. "In general there is a lot of really good team spirit and just no drama.
"It was a pretty mellow season and I just appreciate all the kids and the parental support," she added.