17 BC athletes qualify for state track and field meet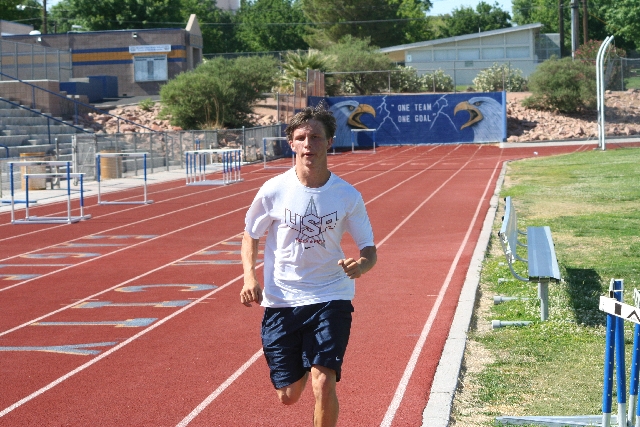 The Boulder City boys and girls track and field teams advanced 14 athletes to 14 events for the Division 1-A State Championship Meets that begin Friday and conclude Saturday at Silverado High in Las Vegas.
Despite not winning a single event, the Boulder City boys finished fourth in the team scoring in the Southern Region Division I-A Championships May 10-11 at Sunrise Mountain. The girls placed fifth in the 13-team region.
The top four finishers in each event in the regional advanced to this week's state.
"Given the fact we did not win any events, the boys team put forth a great effort to score as many team points as we did and finish fourth," said Eagles coach Josh Fisher. "There was only 13.5 points separating us from first place. It was a tough meet and we were right in it."
Boulder City scored 80 points to follow winner Mojave (93½ points), and Chaparral (93) and Sunrise Mountain (87).
"We had a lot of good performances like Chandler (Harkins), Jacorey (Dixon) and others and if they do well at state, we can score points and place well again," Fisher said. "Overall, in looking to the future we have a lot of kids that just missed qualifying for region and state that are underclassmen. With harder work and focus, I feel our team's future is bright."
The boys are led by junior Harkins, who qualified in three events: the 3,200-meter relay, the individual 1,600 (third at 4:44.04) and 3,200 meters (second at 10:16.83). Harkins is joined on the fourth-place 3,200 team (8:29.89) by sophomore Garrett Meyer, seniors Chris Carnes and Braize Huxford.
"We had a lot of strong performances throughout the meet in several events," Harkins said. "I hope we can do even better at the state meet."
Junior Dixon was second in the 300 hurdles (40.23) and third in the 110 hurdles (15.92).
Senior Tanner Imlay was third in the pole vault (12 feet, 6 inches), while senior Christian Nilsen was second in the discus (131-07) and fourth in the shot put (43-04).
"Qualifying for state is always exciting," Nilsen said. "My teammates and I hope we can have our best performances of the season at state. If we all do well, we can score enough points to do well as a team."
Meanwhile, the Lady Eagles scored 57 team points to place fifth in the Southern Region, behind winner Faith Lutheran's 160 points.
Senior Jessica Tobler was fourth in the 3,200 meters with a time of 12:47.62. The 3,200 relay team of Tobler, freshman Emma Jeppsen, senior Eliza Jeppsen and junior Jana Williams placed third (10:27).
Junior Whitney Barlow was second (47.86) in the 300 hurdles and fourth in the shot put with a toss of 32-08. Senior Emilia Oscilowicz was third in the discus with a throw of 95-04. Senior Heather Phelps jumped 31-02 to grab fourth in the triple jump.
The state meet for Boulder City starts Friday with the girls' Oscilowicz in the discus at 3 p.m. The girls' 3,200 relay of Tobler, Williams, the Jeppsen sisters and Savannah Morris is at 3:30 p.m. On Saturday, Phelps and sophomore Alexis Fenyves will compete in the triple jump at 10 a.m., and Barlow in the shot put at 11 a.m. and 300 hurdles 12:05 p.m. Tobler will run the 3,200 at 2:10 p.m.
Nilsen will start off the boys Friday at 4 p.m. in the shot put. Imlay will compete 5:30 p.m. in the pole vault, Dixon in the 300 hurdles at 7:05 p.m. and Harkins will run the 3,200 at 9:10 p.m.
Harkins will be back with the 3,200 relay of Carnes, Huxford, Meyer and senior Harrison Brown at 8:30 a.m. Saturday. Nilsen will discus at 9 a.m., Dixon will run 110 hurdles at 9:15 a.m., and Harkins will then compete in the 1,600 at 10:40 a.m.
Sophomore Logan wins Southern Region golf title
Sophomore Luke Logan ran away from the field to win the 1-A Southern Region individual golf title May 7-8. Logan shot a 1-under-par 72 at Boulder City Municipal the first day, followed by 4-over-par 76 at Mountain Falls Golf Club in Pahrump the second day to win by nine strokes.
However, the Eagles team was unable to hold onto a 4-stroke day-one lead, falling to Faith Lutheran by 27 strokes with a 839.
Senior T.J. Hatfield took third (159), junior Kyle Effertz and senior Tyler Barton tied for 13th with 173. Sophomore Christian Hudleson and junior Marcus Walker also competed.
The Crusaders, Eagles and Pahrump Valley qualified for the two-day state tournament, which started Tuesday and concluded late Wednesday after deadline at Sierra Sage Golf Course outside Reno.
Logan led the state field by a stroke after Tuesday, shooting a 1-over-par 72, heading into Wednesday's final round. Senior Hatfield is tied for fourth at 77.
The Eagles' team shot a 402, trailing Southern Region champs Faith Lutheran by eight strokes. Lowry (395) entered the final day in second.
The remainder of the team is sophomore Christian Hudleson (84), junior Marcus Walker (84), junior Kyle Effertz (85) and senior Tyler Barton (87).
Only the top five scores count toward the team score.