Heatwave swimmers enter competitive summer season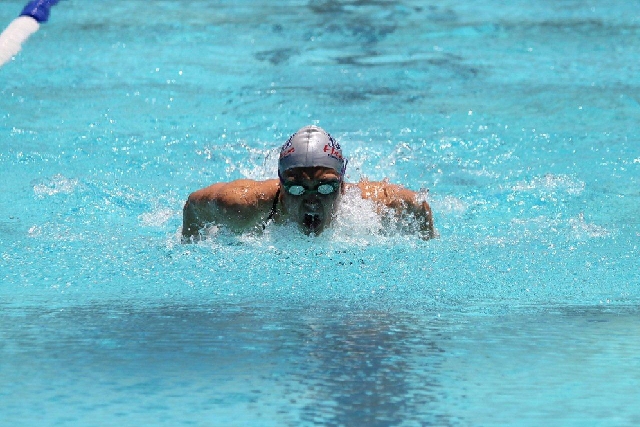 The Boulder City-Henderson Heatwave swim club will compete in its first major meet of the summer today through Sunday in the June Age Group Invite Long Course Championship in Irvine, Calif.
The four-day meet is a qualifying meet, meaning only those with fast enough times this spring can compete. It is open for swimmers age 5 to 18 who will compete against the best in their age group swimming from the Southern California region — of which the Heatwave is a member.
The Heatwave is an amateur swim club with more than 300 swimmers in dozens of age groups. It is an 11-time Nevada State Swim Club Champion.
"The goal of this meet and all of the major meets in the summer is to race against a higher caliber of competition," Heatwave head coach Mike Polk said. "A lot of the swimmers are coming off excellent high school seasons, but the tougher competition nationwide is found in the club swimming programs. This is a challenge for everyone to swim and improve their times from week to week."
More than 15 elite swimmers from Boulder City will compete, Polk said.
In fact, 19 of the 79 swimmers entered under the Heatwave banner are from Boulder City, coach Jan Bunch said.
Making the trip to California are Mckenzie Cummings, Sarah Estes, Mandy Gebhart, Kathleen Gray, Rachel Grothe, Alex Hubel, Aubrey Klouse, Cori Molisee, Jessica Purdy, Daphne Thompson, Gunner Braden, Joey Gebhart, Evan Klouse, Adam Peterson, Joseph Purdy, Mason Romantic, Martin Thompson, Max Vanderford and Elijah Wyett.
In the June Age Group Championships, swimmers will get "second swim" if they do not have a qualifying time in morning sessions. The later sessions offer a second chance to qualify for the final field of 16 in each event.
"This is a very good meet because it does offer the swimmers a second swim to qualify and therefore improve their times," Polk said.
The Heatwave also will see its seniors and national-level swimmers return to California the following weekend for the Los Angeles Invitational on July 5-7.
The Heatwave will train for three weeks before heading out to the Summer Long-Course Junior Olympics on July 24-28 at Mission Viejo, Calif. The five-day event will bring together the best age group swimmers from Southern California and other top clubs such as the Heatwave.
Also on the agenda this summer for the Heatwave are USA Swimming's U.S. Open Summer Nationals on July 30 to Aug. 3, and the Summer Junior Nationals on Aug. 5-9. A handful of Boulder City swimmers are hoping to qualify, but so far only senior Jared Smith has made the field.