Heat factors into runners' performance at state tourney
November 9, 2016 - 1:24 pm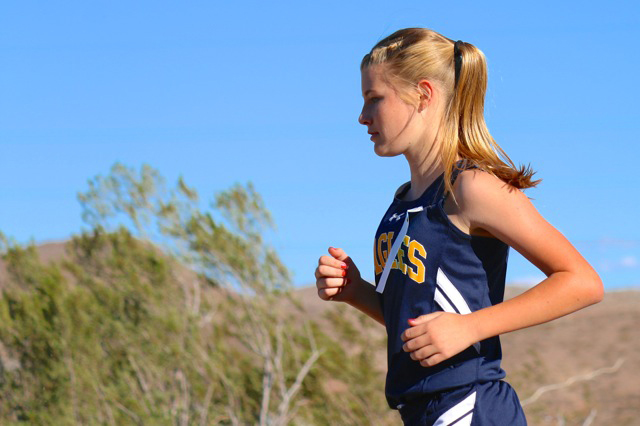 Adding on to her growing legacy at Boulder City High School, Lady Eagles' runner junior Sierra Selinger was the first Southern Nevada finisher during Saturday's 3A state championship meet at Craig Ranch Park in North Las Vegas, guiding the program to a sixth-place finish out of seven programs.
Selinger, who entered as the 3A Southern region champion, finished in 11th place overall with a time of 20:14, en route to leading the Lady Eagles to an overall team score of 163, ousting Cheyenne (178) for sixth place and the third Southern Nevada team slot.
"I'm happy with how state went," Selinger said. "All I wanted was to place better than the year before. I'm very happy with the team's performance as well. I feel that we all did our best and despite missing some members we still did fairly well."
Doing their best to compete without senior Camilla Sartor, who finished 13th at the Southern Region finals, the Lady Eagles fielded six runners during the state meet, just narrowly missing out on a fifth-place finish behind Desert Pines (144).
"After their best performances of the season at regionals, we were hoping to run just as well at state," assistant coach Staci Selinger said. "We knew Sierra would have to go out fast with the northern girls and keep up and she did, passing three or four girls down the finish stretch. Despite the girls having to run without Cami Sartor, who was out of town, they all gave it their best effort. I think the warmer temperatures are reflected in the times overall for everyone in the race, slowing them down slightly."
Following a ninth-place performance at regionals, junior Camille Torgensen finished as the Lady Eagles' second runner in 37th place with a time of 22:11, shortly followed by junior Lauren Stewart, who finished 42nd with a time of 22:43.
Rounding out the group's efforts, freshman Audrey Selinger and sophomore Brynlee Campbell finished 53rd and 54th, respectively, with times of 24:58 and 25:12, while junior Greta Bassano finished as the final runner in 58th place with a time of 26:33.
Making his way to Craig Ranch Park as an individual qualifier, senior Tyler Campbell concluded his prep career on a high note with the Eagles, meeting his goal of becoming a top five finisher during the 3A state championship meet.
The second Southern Nevada finisher behind first-place finisher Bryce Odegard of Pahrump Valley, Campbell crossed off his final goal with the Eagles on Saturday, with an overall fifth-place finish with a time of 16:32.
"My goal has been to be one of the top five runners in the state," Campbell said. "I also wanted to have a personal record of 16:30 or better, and I accomplished both of those goals, so I am very pleased with how this year has been. The race at state was really hard, especially because it was a lot warmer than at regionals, but during the race, I knew I was running the hardest I ever have. It felt good to run my last race like that. I know I did my best."
Campbell accomplished his personal record goal the week before when he finished third at the 3A Southern Region finals on Oct. 28 with a time of 16:29.7.
Also representing the Eagles as an individual competitor, senior James Embro concluded his prep career with a 48th-place finish out of 58 runners, with an overall time of 19:03.
Soccer
The Boulder City High School girls soccer program ended its season Nov. 2 in the quarterfinals of the 3A Southern Region finals, losing to top-seeded Western 4-0.
Clinching the playoffs for the first time since 2012, the Lady Eagles were no match for the Warriors' top goal scorer Ellyson Reynada, who contributed with three goals during the rout.
Concluding their season with a 6-9 record under head coach Duncan Stark, he said the team will continue to improve on its strides from this season.
Contact Robert Vendettoli at BCRsports@gmail.com.