Hatchel sees signing with Hastings as chance to help college improve
February 1, 2017 - 2:39 pm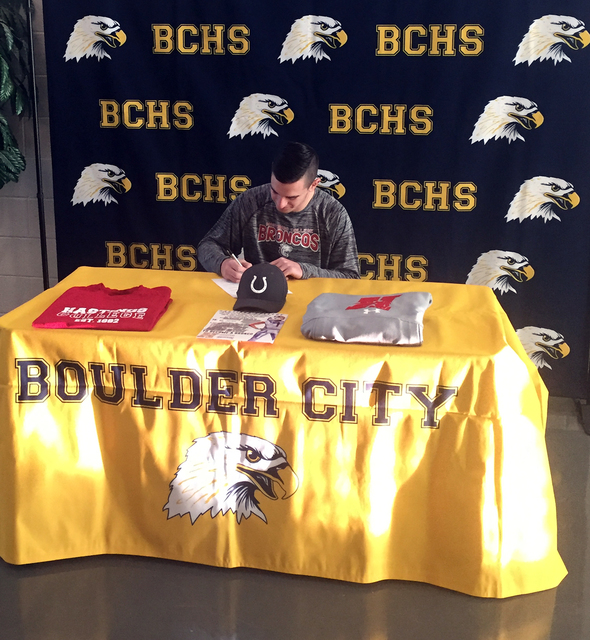 Boulder City High School football player Taylor Hatchel has signed his letter of intent with Hastings College in Hastings, Nebraska, where he'll play football for the Broncos at the National Association of Intercollegiate Athletics level.
"When I visited Hastings College, I felt like I was at home there," Hatchel said. "They offer a great education and I'm really excited to go there. I'm very happy my recruiting process is over and I can focus on getting better and finishing out my senior year."
An athletic 6-foot-3-inch, 215-pound quarterback, Hatchel has great upside at the position, but noted he needs to get better following a subpar senior season.
"The work is never finished," Hatchel said. "I know what I can bring to the position as far as ability and leadership. I'm working each day to get faster and stronger and be a real dual-threat quarterback at the next level — someone who can extend plays out of the pocket. I want to help us win ballgames."
Excited to join an improving program that finished 3-7 last season, nearly missing an upset opportunity with a 31-28 loss to No. 21-ranked Concordia University, Hatchel said the coaches' desire to win moving forward was the ultimate factor in his decision.
"The coaching staff for sure had the biggest impact on me," he said. "Coach (Tony) Harper (head coach) and coach (Clint) Head (offensive coordinator) really want to win and they're super-hyped to get me up there. What makes it so amazing is that the coaches, the other recruits and I want to run for a national title and I'm confident we will get one."
As a senior for the Eagles, Hatchel completed 32 of 75 passes for 315 passing and one touchdown, while rushing for two TDs.
He is the son of Steve Hatchel and Kim Hatchel.