Harling to bowl for Iowa college
December 21, 2016 - 2:01 pm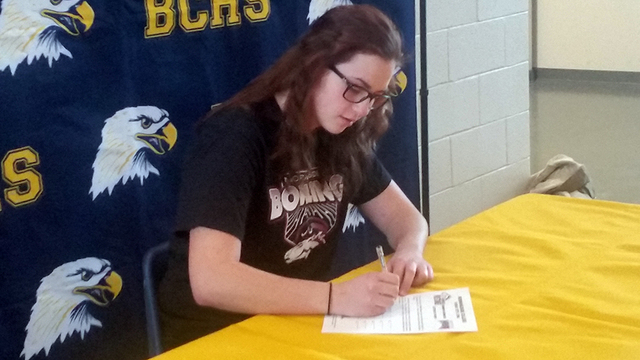 A Boulder City High School bowler is moving on to the next level. Abigail Harling signed an athletic scholarship Tuesday afternoon at the high school to bowl for Morningside College in Sioux City, Iowa.
Harling signed her official letter of intent in front of friends, family, teachers and coaches and she did it with a smile on her face.
Morningside was the first choice for Harling, who said she fell in love with the school because it was close to her grandmother and she connected with her teammates.
"Morningside was a top choice for me because I wanted to go back home and live close to my grandma," Harling said. "Meeting my teammates just made me want to go there even more. I loved them right away and I felt like they had a really great chemistry."
Harling's path to college bowler was not a simple one. Her first love was basketball, but an injury to her anterior cruciate ligament and meniscus in her knee three years ago ended her hoops career early.
She said she found a love for bowling through a friend who wanted to help her find a passion for a new sport.
"When I realized I couldn't play basketball anymore I didn't really know what I was going to do," Harling said. "But I had a friend who got me into bowling and I just fell in love with it."
Harling's high school coach, Garth Schulz, said that when she first started bowling for the team Harling was a little rough around the edges.
"We went through a lot of different movements and rhythms before she really found a good way to bowl," Schulz said. "But she always had a passion for the game and she was always a quick learner."
Morningside College head bowling coach Steve Gonshorowski said that Harling's match tapes showed a player with excellent fundamentals that could be modified for success.
"When I look at a bowler I don't look at their scores," Gonshorowski said. "I look at the way they bowl and I thought Abigail had excellent fundamentals and with a little tweaking she could become an excellent bowler."
Some of the happiest faces in the room on Tuesday belonged to Harling's parents, Dusti and Tom.
"I am so excited and happy for her to go off to college, but I also don't want her to go just yet," Dusti Harling said holding back tears.
"She has been bowling for three years now and she just keeps getting better and better," Tom Harling said. "I knew she could take this somewhere after she helped her team get to regionals for the first time."
Harling served as the team's top bowler and helped the team reach its first state final in school history in 2015. Harling will start her first season as a collegiate bowler this fall.
Contact reporter Max Lancaster at mlancaster@bouldercityreview.com or at 702-586-9401. Follow him on Twitter @MLancasterBCR.