Hall Fame Induction Caps Record Setting Career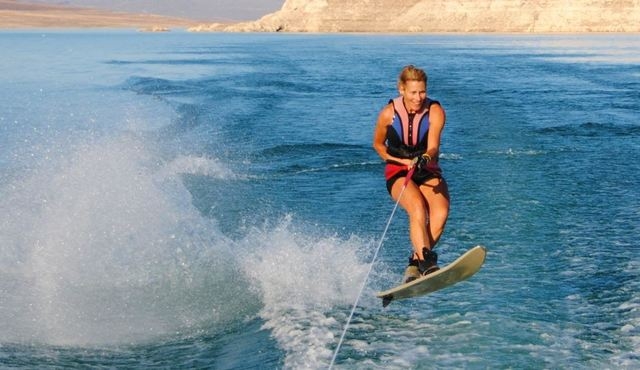 After 35 years of competing at the highest level in races around the world and setting records, Lori Dunsmore was elected into the Water Ski Hall of Fame on April 16 .
The U.S.A. Water Ski Foundation held its 34th annual Hall of Fame induction ceremony at the Walt Disney Yacht Club Resort in Orlando, Florida. With her friends and family in attendance, Dunsmore was one of five honorees inducted.
She was also one of the rare American speed skiers inducted, and the first in almost five years, as slalom and show skiers make up the vast majority of the honorees.
Dunsmore discovered water skiing when she was 8 years old in Canyon Lake, California, as her family owned a boat and both her mother and father loved getting them all out on the water.
As a teenager she did slalom skiing more often than not but would sometimes join the boys for races, which she took to almost immediately.
"When I was like 21 some guys on the lake saw me skiing and told me I was really good; they encouraged me to enter a race," Dunsmore said. "So I went to Havasu that weekend and my first race I fell down at the beginning, but then I got back up and still finished second overall. That was it, I was hooked." When she was younger she drove motorcycles a Pontiac Trans Am, and looking back she thinks she probably should have known that speed skiing was the path for her.
"I've always loved the adrenaline, and I drove way too fast, got a lot of tickets," Dunsmore said. "I just love to go fast."
Early in her water skiing career Lori met speed boat driver Billy Dunsmore, and before long the two were married, frequently combining forces as a dominant team in races all over the world. She has 24 stamps in her passport from Australia alone. Since 1981 Dunsmore has competed 10 times in the bi-annual World Championships, securing six team gold medals as well as two silver and three bronze individual medals. She also holds three world records.
In 1991, the World Championships were held in Canada and Dunsmore skied 160 miles in 2 hours, 48 minutes, shattering the previous record by nearly 2 hours. As impressive as that feat was, Dunsmore is even more proud of her last record-setting performance.
"1993 was the most difficult, during the Bridge to Bridge race in Sydney, Australia," Dunsmore said. "We covered 72 miles in just 45 minutes and 26 seconds."
"That's like 100 miles an hour," she whispered excitedly.
In 1993, Lori and her husband moved to Boulder City and the two opened Dunsmore Custom Marine, where Lori worked when she wasn't teaching aspiring water skiers through the Boulder City Parks and Recreation Department. They have remained fixtures in the community ever since.
"My husband builds some awesome, really fast engines, so we are always on the lake testing them out," Dunsmore said. "Always a great way to practice, and I'd be out there all the time if we didn't have to work."
For the last few years she has been working part time with Desert Adventures, still taking people out on the water but now with kayaks and canoes. In racing, the speed of a team is dependant on the ability of the skier to handle the waves and bumps in the water. Dunsmore's strength and athleticism not only helped her achieve success but allowed her to continue competing until she was 55, racing against women who were typically half her age.
Though she has retired from competition and from teaching for the most part, Dunsmore still gives water ski lessons occasionally and hits the water fairly often just for fun. Four decades later it's a habit she just can't kick.
She is has been asked to come out of retirement to compete in one the largest annual races in Catalina, California, with Chuck Stearns, another titan of the sport. Her ski team's observer Ed Newcomb certainly hopes to see her get back in the game.
"She came in with the beginning of the jet age, when things really got international, competing against the Australians, who really changed the game," said Newcomb. "I don't know that anyone has ever had the kind of success she's had, let alone competing against the best talent in the world. She's the best there's ever been."
"I love being outdoors, I love sharing it and getting new people out here on the lake," Dunsmore said. "Some people live in Henderson or Boulder, just a few minutes from this beautiful water and never really experience it. I am incredibly proud of the honors, but my years teaching people to ski on Lake Mead, seeing the look on their face when they really get the hang of it, that's what I love."
Contact reporter Hunter Terry at hterry@bouldercityreview.com or call 702-586-6711. Follow him on Twitter @HunterBCReview