Growing soccer among kids is camp's goal
August 13, 2015 - 3:07 pm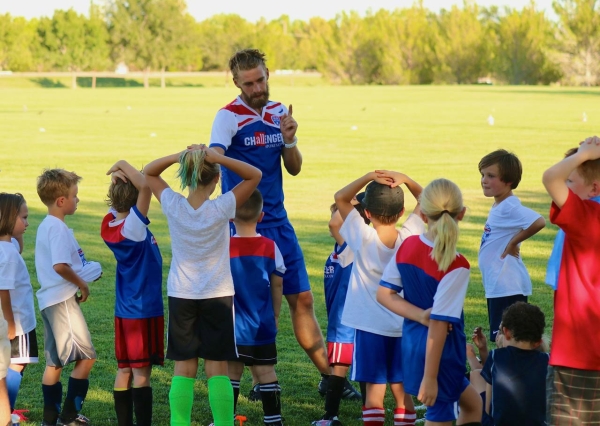 The annual British Soccer Camp returned to Boulder City this week as kids aged 3-12 worked with European coaches to improve their skills.
The weeklong camp, hosted by Challenger Sports, began Monday at Pratte Field at Veterans' Memorial Park.
The three British coaches in charge of the Boulder City camp were hand-selected by Challenger Sports after a tryout at Warwick University in Coventry, England.
The plans for when and where they'll hold U.S. camps are given to them on a weekly basis.
"The programs are great for the kids and they all have fun," said coach Dan Fisher. "(Monday) we teach dribbling, Tuesday passing, then shooting, (Thursday) headers and volleys if age appropriate along with first-touch and control, and finally, defending."
Michael Riley, who is in charge of the Boulder City camp, said the goal for Challenger Sports is to grow soccer in America and get kids interested at a younger age.
"The fun games we play for the kids are still related to the topic that's to be learned that day," Riley said. "The mini-kids (ages 3-5) are learning without knowing they're learning. It's muscle memory."
The camp not only emphasizes soccer skills but social skills as well.
Kelly Flowers, whose 9-year-old daughter Kiley has attended three of the last four camps, said most of the kids know each other from recreational league games.
"I love the program," Flowers said. "Every year, Kiley can't wait. They make the camp so much fun for the kids and give the children an edge heading back into their rec leagues."
The camp is separated into three groups, with 3-5 year-olds in one group, 6-8 year-olds in another, and 9-12 year-olds in the last. About 20 kids participated in this year's camp.
Each kid is given a soccer ball and is urged to keep it at all times. There is also "homework" given to the children, such as coming up with a team color or designing a team logo on the soccer balls.
At the end of camp, Riley writes reports for every kid to see how they've progressed since camp began.
"We want to make the game as relatable and understandable to kids who are out here with a soccer ball for the first time," said coach George Gorse. "Whether that's playing 'Traffic Light,' or relating it to cartoon programs, we want the kids to be imaginative."
There are plenty of hydration and snack breaks along the way in camp, which runs during one of the hotter parts of the day. Sunscreen and shade is also readily available for the hopeful World Cup participants.
Challenger Sports has been around for 25 years and is located in all 50 states. The future of the British Soccer Camp doesn't seem to be slowing down in Boulder City anytime soon, either.
"The first year we came, there were about nine people, and two years ago there were about one-third of the kids here today," Flowers said. "(The camp) is just perfect."
For more information, visit www.challengersports.com, or contact Nick Howitt at nhowitt@challengersports.com.
Contact Randy Faehnrich at BCRSports@gmail.com.