Grothe sets two US swim records
December 6, 2017 - 4:20 pm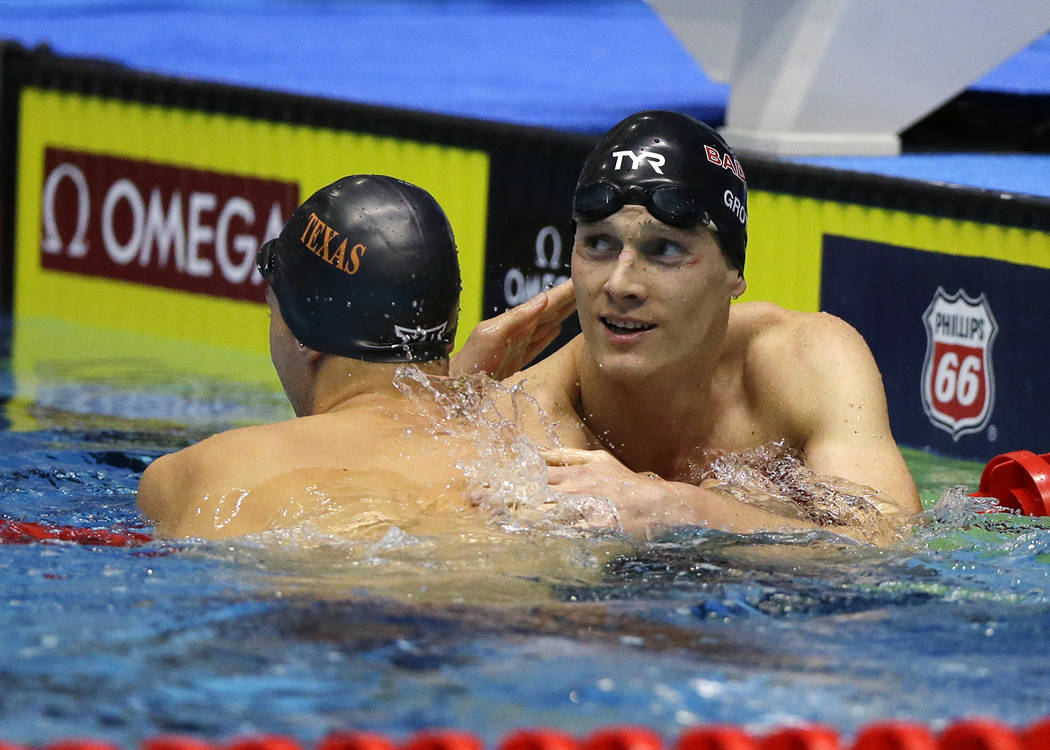 Zane Grothe, a 2010 graduate of Boulder City High School, made history this weekend in Columbus, Ohio, setting two new American records in the 500-yard and 1650-yard freestyles at the 2017 USA Swimming AT&T Winter Nationals.
Touching the wall at 4:07.25, Grothe took a full second off the former mark of 4:08.42 done by Texas' Clark Smith at the 2017 NCAA Championships. Grothe also shattered Smith's 1650-yard freestyle record time of 14:22.41 set last year with a time of 14:18.25 on Saturday.
"Honestly, I can't describe the feeling of happiness I've had the past few days," Grothe said. "Obviously, just to place first would have been an honor, but to hold world records is quite an accomplishment. Records are made to be broken. Mine will someday be broken, too, but no matter what I'll always be able to have this moment."
While most swimmers start to slow down as they middle in age, Grothe, who is 25, says he's only getting better as his passion for the sport continues.
"The stigma in our sport is you hit a wall at a certain age, but honestly I feel great and like I'm getting better every day," he said. "My training regimen has be revamped and my team and I are training hard year-round to compete at a high level like this. It's exciting to see the results after all the hard work we've put in."
Becoming a major factor for USA swimming, Grothe dominated the USA Swimming AT&T Winter Nationals, which were a long-course swimming event, despite primarily swimming short course throughout his career.
Long-course swimming pools are 50 meters, while short course pools are 25 yards. Revamping his training regimen for the event, Grothe said he was pleased with his results.
"Everyone asks how's it feel to place first, but what I focus more on was the work we put into finishing first," Grothe said. "Swimming in a larger pool, you have to tweak so many aspects of your race. I shorten my breathe cycle, breathing every other stroke, while also taking out an extra stroke. Balancing a short stroke with less breathes was challenging but certainly worth it."
Leaving a good impression Saturday night in front of Team USA, Grothe is hopeful to gain more support from the organization after his record-setting day.
"Obviously, with this being such a big event for swimming in general, it felt nice to perform like I did on such a long platform," Grothe said. "Following these two races, my world ranking will definitely improve so hopefully I can get more funding from Team USA and continue to work toward my goal of qualifying for the Olympics."
Set up with a busy schedule, Grothe isn't taking anytime off from his historic performance, putting his talents to the test in the 2018 TYR Pro Swim Series where he'll compete in six events this season.
Grothe is hopeful his time in the pro series will help keep him fresh for the 2018 National Championships in Irvine, California, scheduled for July 25-29, where he hopes to qualify for the Pan Pacific Championships in Tokyo.
"We've had a big year already, but the goals never stop," he said. "I'm going to keep working and try to keep improving every day. Hopefully, the next few months will be good to me leading up into the summer."
Contact Robert Vendettoli at BCRsports@gmail.com.