Grothe heads to world championships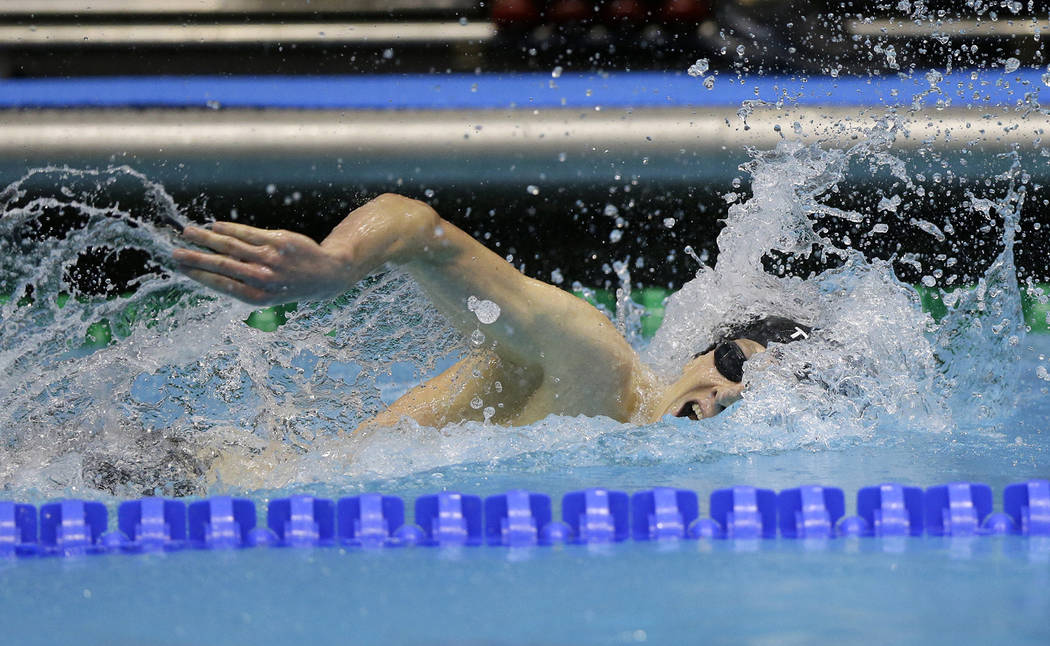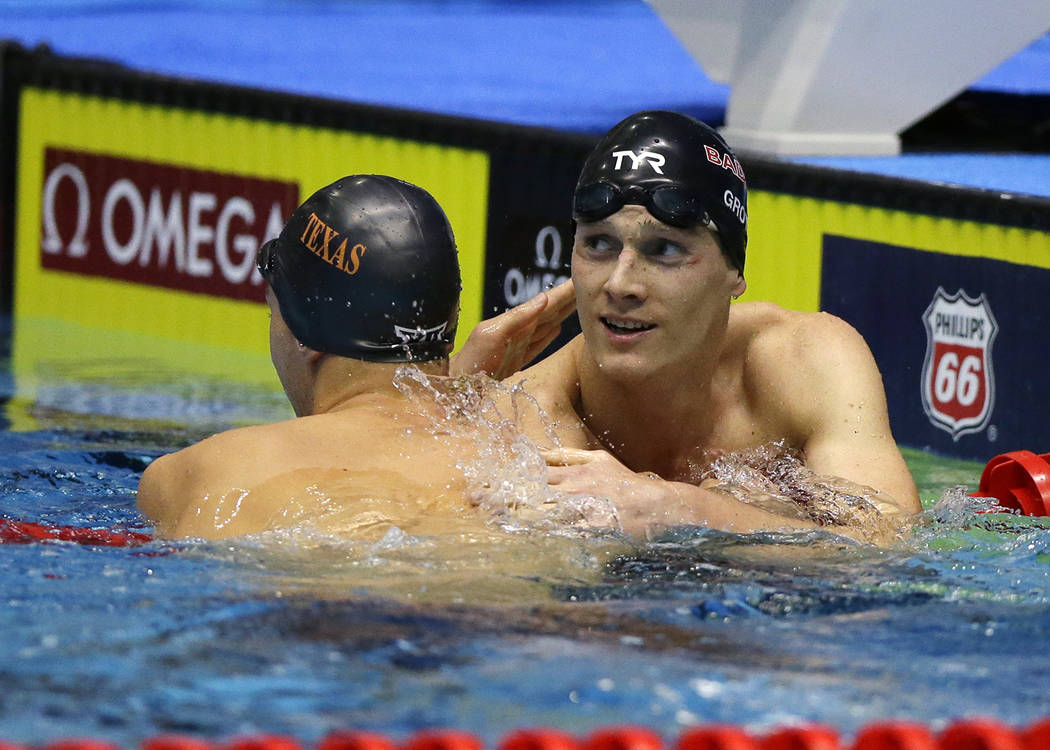 Zane Grothe, a 2010 graduate of Boulder City High School, will represent Team USA at the world championships in Budapest, Hungary, next month after winning the 400-meter freestyle at the 2017 Phillips 66 National Championships on Friday in Indianapolis, Indiana.
Shaving more than one second off his previous best time, he set a new personal best, winning the race in 3:44.43, out-touching American runner-up Clark Smith, who finished with a time of 3:45.91.
Grothe is now the seventh-fastest American all-time in the event.
"This was probably one of my best races of the season," he said. "I jumped out to a great start and just kept my pace. I saw Clark at the end try to catch me, but I was able to kick it up at the end and finish strong for the victory.
"I'm probably the only swimmer in the top 10 that hasn't made it to the Olympics yet, so to know I'm in good company is a great feeling. I'd like to think I could make my way up another spot or two before my career is done."
When his career is done however is the question. Swimming is a sport that's geared toward younger athletes and many expected Grothe to retire last July after failing to qualify for the 2016 Olympics in Rio de Janeiro, Brazil. Falling short for the third time at the U.S. Olympic Swimming Trials, having competed in 2008 and 2012 at the ages of 16 and 20, respectively, Grothe thought his time might have been up as well.
"After the U.S. Olympic Trials, I took some time away from the sport and really just evaluated how important it was to me," he said. "Swimming is a young man's sport because the training is so grueling on your body. When I stepped away to think, I really missed the process, I missed training, the hard work. I missed having fun. I don't know how much longer I have left, but as long as swimming remains fun for me, I'll continue to do it."
Grothe said training and helping mentor the Hoosiers at Indiana University the past two seasons has kept the sport fun for him.
"I love helping the team and giving back," he said. "I feel a part of the Hoosiers program. I'm not only helping mentor the younger swimmers, but their helping push me toward my next goals. They help keep that fire burning inside me, while I help prepare them to reach their goals as well."
Crediting Grothe's efforts with his swim program, Indiana head coach Ray Looze had nothing but praise for his star pupil.
"If I could have five more Zanes, I'd take them in a second," Looze said. "He shares his knowledge with our guys. He really feels part of our family."
Grothe will also participate in the 800 freestyle and as part of the 4×200 relay team in Budapest on July 14-30.
Finishing second in the 800 freestyle at the national championships, Grothe's time was 7:50.97, behind only Smith, who slipped past with a time of 7:50.43. Grothe finished third in the 200-meter freestyle with a time of 1:46.39 behind winner Townley Haas (1:45.03) and Blake Pieroni (1:46.30).
"I couldn't be happier with how the national championships played out," Grothe said. "Qualifying in three separate events for worlds is very special for me and takes me to the next stop on my journey. I've already gone back and looked at my time splits and think I have some room for improvement. There's only a week or two for me to really train, but I expect to be at my best when I get to Hungary."
Contact Robert Vendettoli at BCRsports@gmail.com.