Grothe gets close to Olympic dream as part of U.S. swim team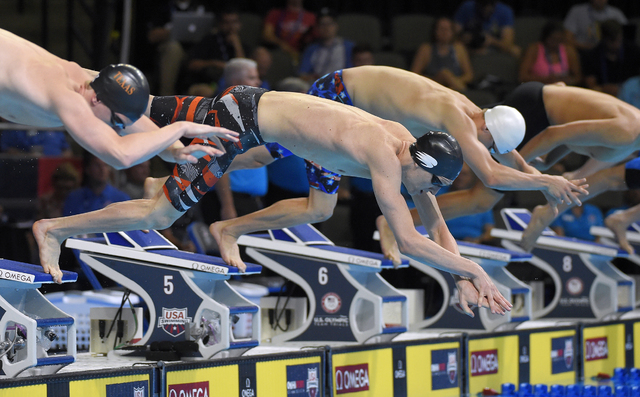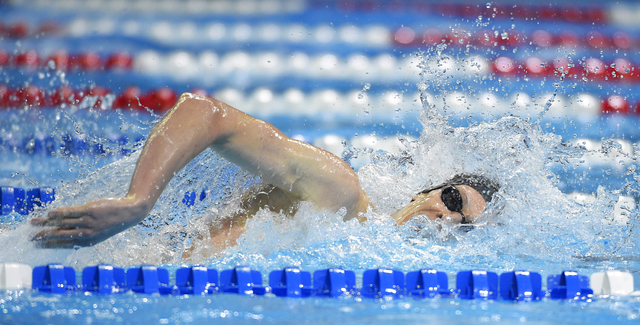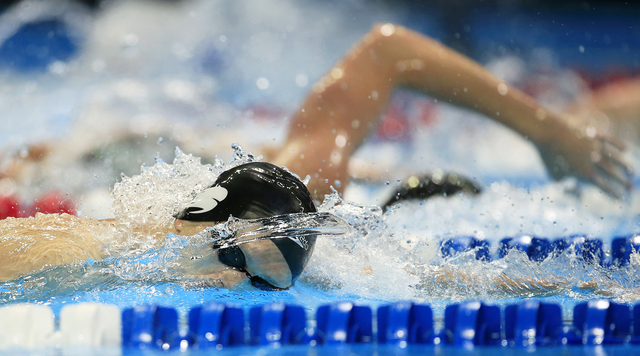 Coming into the U.S. Olympic Swimming Trials in Omaha, Nebraska, on Sunday as the top overall seed with a time of 3:47.03, class of 2010 Boulder City graduate Zane Grothe came up just short of representing team USA in the 2016 Olympics in Rio de Janeiro, Brazil.
Despite lowering his time in the 400-meter freestyle to 3:45.60 in the finals, Grothe was out-touched by USA team opponents Connor Jaeger (3:43.79), Conor Dwyer (3:44.66) and Townley Haas (3:45.04), once again proving why USA is the hardest country to qualify for.
"The Olympic trials has been a great opportunity for me to race against some of the fastest swimmers in the world," Grothe said. "I am truly humbled by the number of people I have on my side and the overwhelming support I received this week."
On his way to fulfilling his Olympic dreams, Grothe's fourth-place finish ranks him 11th in the world in 400-meter competition.
"I came to the trials looking to post my best times," Grothe said. "I gave it my all and I am grateful I was able to represent Boulder City."
Finishing 16th in the 200 freestyle on Monday, this is the third time Grothe has represented Boulder City in the Olympic trials, having competed in 2008 and 2012 at the ages of 16 and 20, respectively.
Grothe's recent Olympic success however doesn't surprise those who have been close to the Boulder City native since the beginning.
"I met Zane when he was just a child, but you could tell even at an earlier age that there was something special about him from the get go," Boulder City Heatwave coach Mike Polk said, who coached Zane starting when he was 3. "He comes from a family of swimmers; he's always had a passion to do this. To see him attempt to qualify for the Olympics is no surprise to me."
Terry and Sy Grothe of Boulder City have raised multiple swimmers, with two of Zane's sisters, Natalie (Indian River) and Rachael (University of Calgary), having competed collegiality as well. His oldest sister, Alexis, was also slated to swim competitively at the collegiate level out of high school, having committed to Texas A&M, but was unable to compete because of medical concerns.
Considered a five-star recruit according to Swimming World Magazine out of high school, Grothe had a phenomenal collegiate career at Auburn University, where he graduated with a degree in aerospace engineering. A 12-time All-American, Grothe was a two-time Southeastern Conference champion in the 1,650 freestyle and the 800 free relay during his tenure with the program. He is the school record holder in the 500 freestyle, 1000 freestyle, 1650 freestyle and 800 freestyle relay.
Setting his sights toward a fourth opportunity of representing his country at the Olympics, Grothe has now focused his attention to the U.S. Open in Minneapolis, Minnesota, on Aug. 2-6, in hopes of becoming faster each day to represent USA in the 2020 games in Tokyo, Japan.
"If there's anyone from our community that has an opportunity to swim in the Olympics, it's Zane," Polk said. "He's been training for this his whole life. Never have I seen a swimmer as skilled, yet passionate about their sport as Zane is. You can always work on developing talent, but you can't develop the type of competitive spirit that Zane has. That is what sets him apart from other swimmers and it's that I can't give up mentality that will help him reach his dreams."
Contact Robert Vendettoli at BCRsports@gmail.com.