Grothe breaks record at U.S. Open
August 10, 2016 - 2:15 pm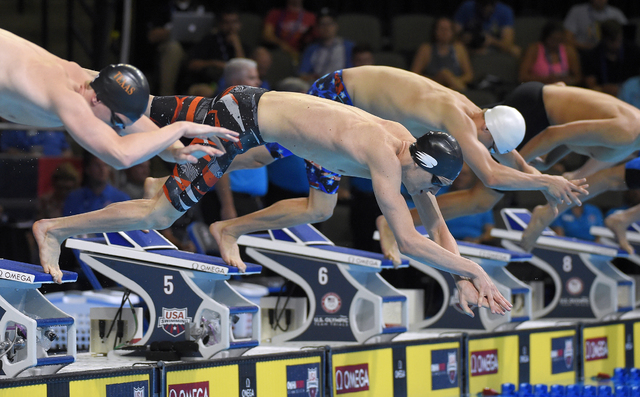 Swimmer Zane Grothe, who graduated from Boulder City High School in 2010, was on a roll at the 2016 U.S. Open from Aug. 2 to 6, sweeping three events and adding a meet record to his well-established resume.
"Was a very good week for me," Grothe said. "I was definitely disappointed that I wasn't able to make the trip to Rio de Janeiro, but I feel that this week's performance shows I'm all in for the 2020 (Olympic) games in Tokyo, Japan."
At the Jean K. Freeman Aquatic Center at University of Minnesota in Minneapolis, Grothe set a meet record in the 400-meter freestyle with a time of 3:45.63 for his New York sponsor Badger Swim Club. The former Eagle also won gold in the 200 freestyle and 800 freestyle with times of 1:47.61 and 7:51.58, respectively.
"It was really good to get back in the pool and compete," Grothe said. "Obviously any time you set a new meet record you're doing something good. I'm just focused on getting better each day."
Coming off a fourth-place finish in the 400 freestyle and 16th in the 200 freestyle at the U.S. Olympic Swimming Trials in Omaha, Nebraska, held June 26-July 3, Grothe called his U.S. Open finale inspiring, but feels like he still left a little bit on the table.
Grothe noted his meet record wasn't as fast as the Trials times of the three swimmers who beat him out: Connor Jaeger (3:43.79), Conor Dwyer (3:44.66) and Townley Haas (3:45.04).
"I really am excited about holding a new record, but I'm still upset that I couldn't accomplish my own personal goals," Grothe said. "I really wanted to get my time in the top three. This latest meet has only motivated me to go further. I won't stop until I'm satisfied."
After a brief break from the pool, Grothe soon will begin training for a fourth run at the USA Olympic Trials, where he hopes the mixture of added experience and retirements by some of the country's most established swimmers will vault him into the 2020 games.
"Nothing motivates me more than failure," Grothe said. "I've been so close a handful of times. Now I need to focus on being on the other side of the times. With some of the sport's most recognizable swimmers leaving the pool soon, there's going to be the next wave of names making their Olympic appearances. I'm working hard to be one of those names."
Contact Robert Vendettoli at BCRsports@gmail.com.