Green Valley hands Lady Eagles second loss
December 14, 2016 - 3:06 pm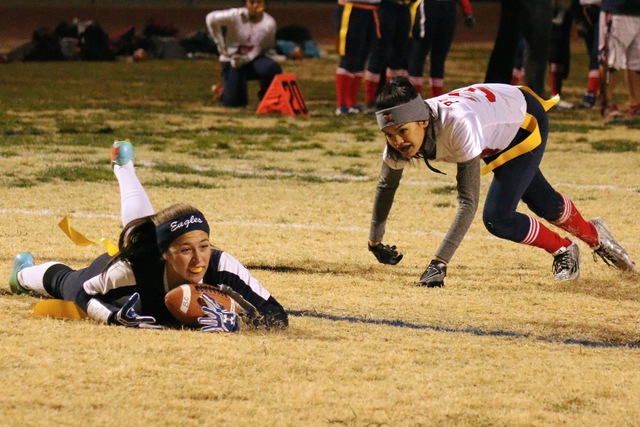 Losing isn't something that happens often for the Boulder City High School flag football program, but head coach Chris Morelli sounded confident in the way his team would rebound following Monday's 32-19 loss to 4A opponent Green Valley.
"Monday was the first game we really let our mistake beat us," Morelli said. "Hats off to them for capitalizing on a few mistakes and scoring 21 points in a five-minute span. That was the game right there. Overall, I liked the way we handled ourselves against them. We knew coming into that game that it would be a challenge because they run a great program over there. We'll take this one on the chin and move on to the next one."
Suffering just their second loss as a program and first since Green Valley handed them their first during the 2014 postseason, the Lady Eagles have finished their six-game preseason stretch against 4A opponents and are looking forward to facing 3A competition for the remainder of the season.
"We're looking forward to moving on with our season," said senior Aimee Finn said. "We knew this was going to be our toughest game and now we're better because of it. We only have teams in our division left. After seeing what our weaknesses are, were going to work on them and get better."
"Looking back, this is why we schedule 4A teams throughout the postseason," Morelli said. "We just played some of the state's top teams and did very well against them. The sky's the limit for this program once we enter league play. It's going to be a little tougher this year with Virgin Valley and Southeast Career Technical Academy stepping their games up, but after going through the schedule we just went through we feel confident."
The reason for Morelli's confidence is the way the group has come together, despite being made up of mostly first-year starters. Continuing to improve each game, junior quarterback Nicole Valle has cemented her place as the team's starter, completing 47-of-81 for 720 yards and 10 touchdowns, while not throwing an interception.
On defense, the play of first-year junior starters Hannah Barth (30 tackles and one sack), Nikki Meleo (32 tackles) and Daisy Hodgkin (23 tackles and eight sacks) has also been key in the team's successful reloading period.
"At the end of the day, we have girls that are still learning how to adjust to the faster game play and more physical aspects," Morelli said. "I think so far everyone has done a great job filling their roles. As each game passes, we'll continue to get better."
While his first-year starters are learning fast on the job, the Lady Eagles have relied on seniors Finn, Kenadee Bailey, Alexus Pohe and Emily Mull to bridge the gap.
Bailey has been spectacular on the both sides of the ball tallying 59 tackles and three interceptions on defense, while catching 18 passes for 397 yards and five touchdowns on offense. She also rushed for two scores against the Gators on Monday to bring her rushing total to four, making her a jack of all trades.
Equally impressive on both sides of the ball, Mull has tallied five interceptions after making an incredible diving grab against the Gators to pair with 18 catches for 235 yards and four touchdowns.
Running the ball with authority, Pohe has totaled 524 yards and three touchdowns on 57 carries, along with two interceptions, while Finn has caught eight passes for 92 yards and a score.
Defeating Liberty 26-0 on Dec. 8 and Mojave 34-6 on Friday, the Lady Eagles remain confident that they'll be back to their winning ways soon, traveling to Clark today for their last game before the holiday break.
Against the Patriots, Valle completed 9-of-12 for 179 yards and three touchdowns, twice linking up with Bailey, who finished with four catches for 104 yards for scores. Bailey later grabbed a pair of interceptions against the Rattlers on Friday, while Mull and Pohe caught a pair of touchdowns. Valle (10-for-15, 118 yards) and junior backup Taylor Tenney (6-for-7, 51 yards) both threw touchdown passes.
Contact Robert Vendettoli at BCRsports@gmail.com.
Upcoming games
Today, at Clark, 3:30 p.m. junior varsity; 4:30 p.m. varsity