Grapevine filled with unique petroglyphs
November 7, 2018 - 4:04 pm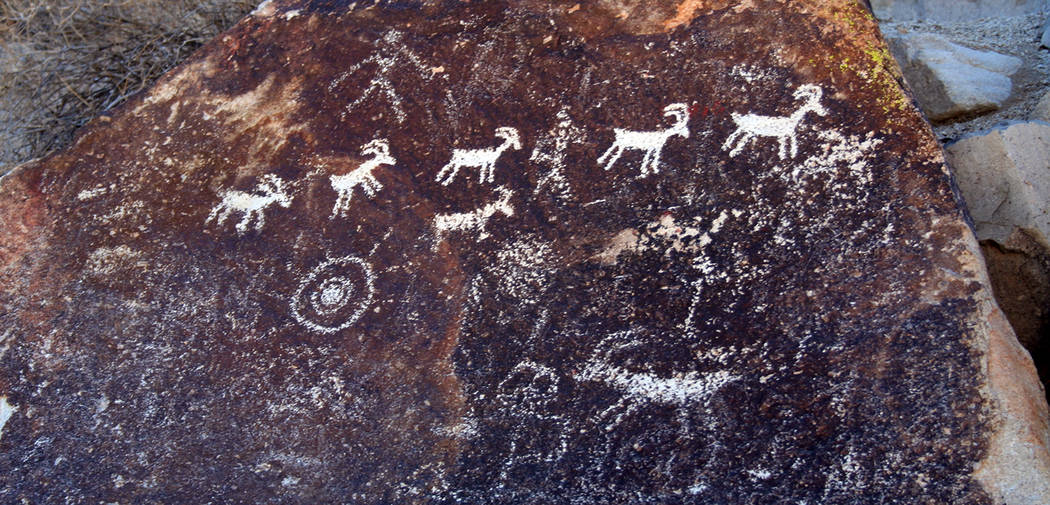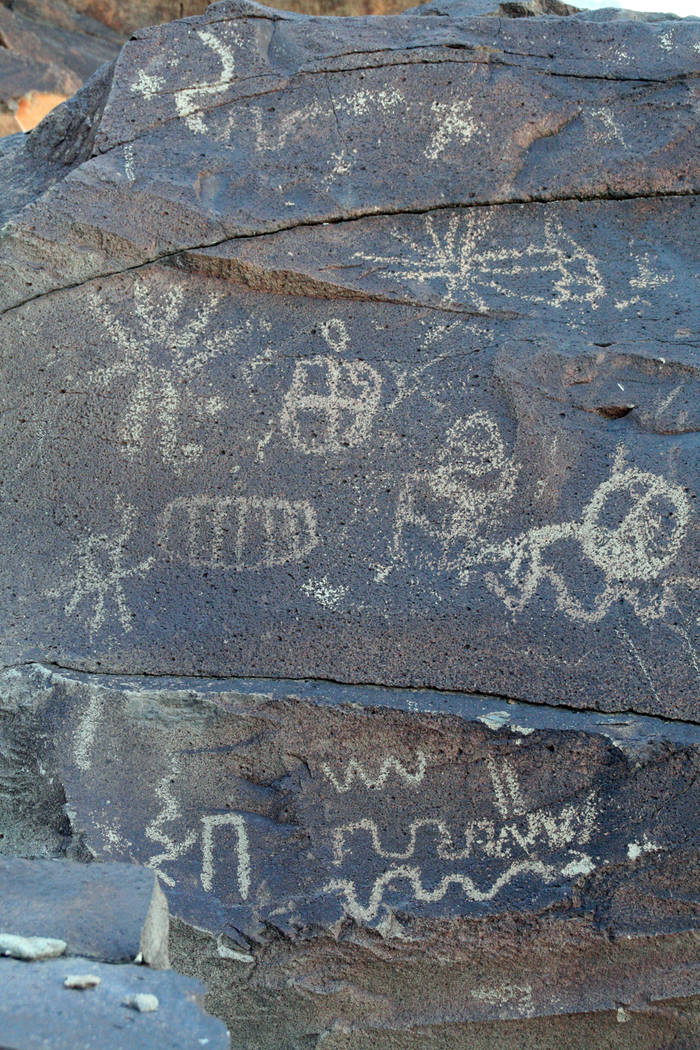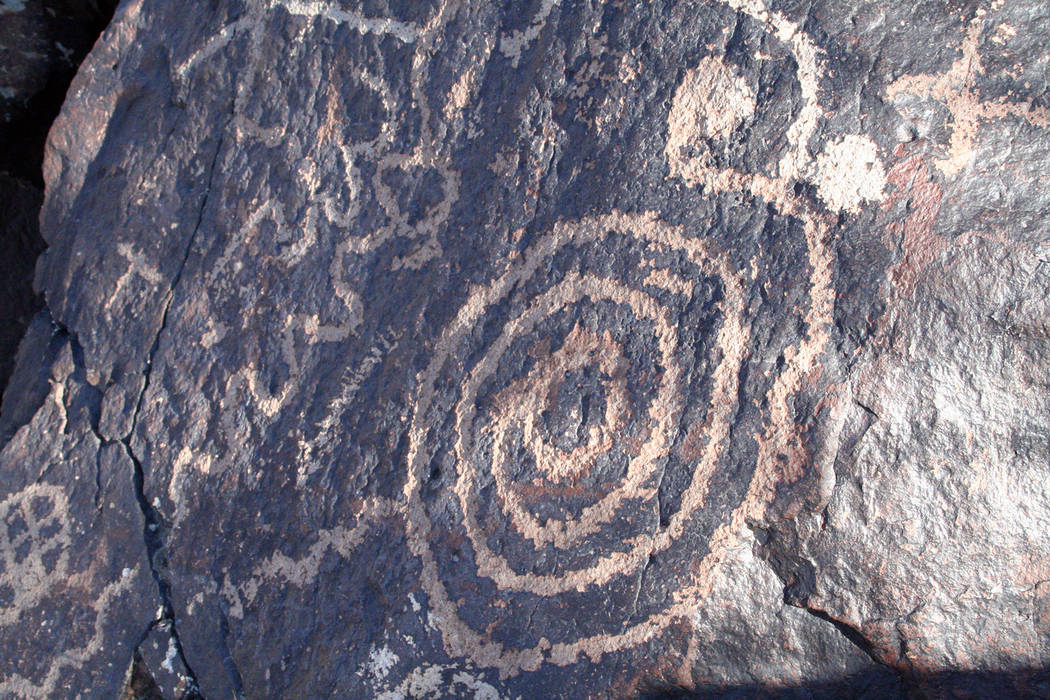 Grapevine Canyon, in the southern end of Lake Mead National Recreation Area just north of Laughlin, is one of our finest petroglyph sites in Southern Nevada.
An easy day trip from Boulder City, the canyon's art is accessible to just about anybody who can walk on a gravel path, for the main rock art panels are only about one-quarter mile from the trailhead.
Prehistoric people learned how to create permanent designs on cliffs and boulders by using a hard object to peck away the dark, natural desert varnish, exposing the lighter-colored rock beneath. American Indians spent time in this area starting around A.D. 1100, and the rock art here is thought to range from more than 800 years old to as recent as 150. It remains important to Native Americans in the region. The designs are different than those in many other sites and seem to have been executed with care.
A few miles to the north of here towers 5,639-foot Spirit Mountain, said to be the spiritual birthplace of the Yuman-speaking peoples of the lower Colorado region, such as the nearby Havasupai, Hualapai and Mojave. Spirit Mountain is considered sacred ground and Grapevine Canyon's proximity to it is thought to be one reason so many petroglyphs were created here.
When visiting any cultural resource site, be sure not to touch the rock art, sit on it or move any rocks. Merely touching them with your hands can damage them because of the natural oils of our skin.
Binoculars are handy for a good look at the rock art higher on the canyon walls.
From the parking area walk to the obvious mouth of the canyon along the obvious trail, which lies on a sandy bench above usually dry Grapevine Wash. Once you reach the mouth you will find dozens of petroglyph panels on both sides.
After about 30 yards the canyon is blocked by large boulders and a dry fall. This is the place to turn around if you have children along. For those with rock scrambling skills you can carefully head up the boulders and cliffs and drop down into the wash on the other side. There isn't as much rock art above the fall, but it's very scenic. There are even cottonwood trees up this canyon and usually a bit of water so you'll have to make some stream crossings. Also, there is a cool slot canyon upstream.
Be sure to wear hiking boots or sneakers with good tread to travel along the wash or scramble on the rocks. Also, it's a good idea to wear a hat and sunscreen to protect you from the sun, as well as bring water and food.
At an elevation of 2,385 feet, you'll find temperatures similar to those in Boulder City and Las Vegas.
Many of Deborah Wall's columns have been compiled into books about hiking in the Southwest. She is also the author of "Great Hikes, a Cerca Country Guide" and a co-author of the book "Access For All, Seeing the Southwest With Limited Mobility." Wall can be reached at Deborabus@aol.com.
Directions
From Boulder City, head north on U.S. Highway 93, then turn south on U.S. HIghway 95 toward Searchlight. Drive 53 miles and go left onto State Highway 163/Laughlin and drive 12.9 miles. Go left onto Christmas Tree Pass Road and follow this well-maintained gravel road for 1.8 miles, then go left. Drive 0.1 miles to the parking area and trailhead.