Good defense doesn't sustain Eagles
September 27, 2017 - 2:42 pm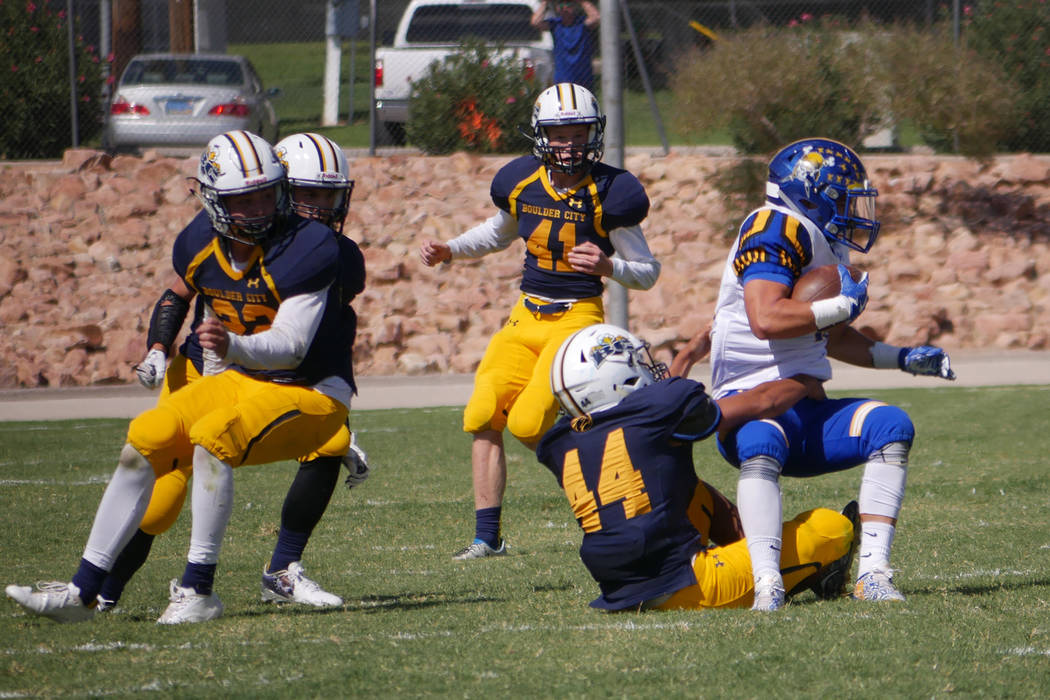 Trailing 7-0 to Moapa Valley on Saturday, Boulder City High School's football team had an opportunity to even the score before the half, ultimately fumbling the football on second-and-goal from Moapa's 1-yard line.
One of four turnovers against the Pirates, the Eagles (2-3) wouldn't reach the red zone again, falling to rival Moapa Valley 16-0.
"It's tough because you need to come away with points in that situation," head coach Chris Morelli said. "We're better than that. We have to take care of the ball in key situations."
Playing lights out on defense, senior Briggs Huxford saved the game from getting out of hand early, picking off a Moapa Valley pass in the end zone before the conclusion of the first half.
"Briggs made an incredible play that saved the game from getting out of hand," Morelli said. "There was broken coverage and he had to cover two guys. I don't know how he made the play, but he stuck his head in front of the pass and was able to bring the ball down. It was definitely a game changer."
Playing perhaps their best all season, the Eagles forced six turnovers, including a third-quarter interception from senior Gordon Anderson that derailed another Moapa Valley scoring opportunity.
"The defense played very well overall," junior linebacker Jimmy Dunagan said. "Coach (Alex) Moore gave us our jobs and we knew what plays they were going to run. They put us in a situation where all we had to do was execute our jobs."
Playing without junior quarterback Shaun Jones, the Eagles struggled offensively gaining just 152 yards.
"Obviously, we would have liked to be at full strength for a rivalry game, but this is football," Morelli said. "You play the game with the guys you have and execute. I thought we did a good job throughout the game, but we didn't execute enough to win."
Filling in for Jones, senior quarterback Austin Langley completed 11-of-26 for 115 yards along with a pair of interceptions and the Eagles' costly goal-line fumble.
"It is very important for us to get points on the board," said junior running back Thorston Balmer. "When we have long drives or big plays we have to be able to capitalize on them and score. Help take pressure off our defense."
Rushing for 42 yards on seven carries, Balmer led the unit on the day, followed by Dunagan, who rushed for 22 yards on five carries. Huxford caught five passes for 44 yards.
Playing tough against one rival, the Eagles are hopeful to carry not only their momentum defensively into Virgin Valley today, but also correct their mistakes offensively.
Switching to a power I running style for their offensive game plan, expect the Eagles to run the ball heavily with Jones sidelined for another week.
Contact Robert Vendettoli at BCRsports@gmail.com.
Upcoming game
Today, Sept. 28, at Virgin Valley, 7 p.m. varsity