Golfer Potter wins state title; helps Lady Eagles to second-place finish
October 19, 2016 - 1:42 pm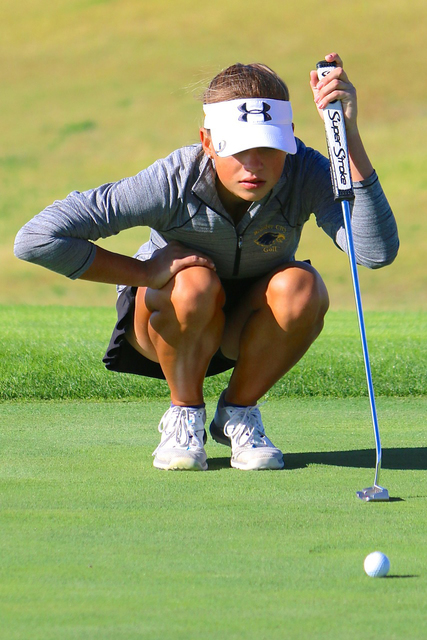 Boulder City High School star golfer junior Lani Potter won the state's individual title, ending a six-year drought, helping her teammates to a second-place finish against Northern Nevada challenger Elko during the state championships played Monday and Tuesday at Ruby View Golf Course in Elko, Nevada.
Becoming the team's first individual champion since former Boulder City great Randi Lewis captured the crown in 2010, Potter shot 147 over the two days, shooting under the par 72 on Day One with a score of 71, while shooting a 76 on Day Two. Potter's toughest opponent, Annika Criss from Elko, finished second with a score of 167.
"There's not enough praise I can give Lani today that I haven't already said in the past," head coach Andy Schaper said. "She's such an amazing player, one that's always at the top of her game and in control at all times. She told me two days before the tournament started that she was going to win the whole thing and she did just that. She's truly a joy to coach."
Speaking just as highly of the remainder of his team, Schaper praised each individually for the team's second-place finish with an overall score of 770, ousted only by the Buckaroos, which finished with a score of 752.
"I really have to hand it to all of these fine young player we have on our team," Schaper said. "They put in a tremendous amount of work not only throughout the season, but during this past off-season. Looking back on last year's score card, each returning contributor finished at least 10 strokes better than the previous year. I couldn't be prouder."
Coming in 10th place, sophomore Madisan Walker finished with an overall score of 202, shooting a 106 on the first day and a 96 the second. Sophomore Ryann Reese placed 14th with an overall score of 205, shooting 104 on the first day and 101 on the second.
Rounding out the Lady Eagles' efforts during their state championship runner-up finish, freshman Sydney Krumm placed 17th with a score 216, while freshman Makaela Perkins and senior Lauryn Norris finished 25th and 29th, respectively, with scores of 239 and 249.
Taking notice of the Lady Eagles' youth movement, Schaper stated he's excited about making another push for a 3A state championship with five of his six state qualifiers returning for another season.
"I can't express how excited I am to get back to work with this group," he said. "They truly never stop grinding it out and finding new ways to better their games. The future of the program is bright. I'm excited for what's next to come."
Contact Robert Vendettoli at BCRsports@gmail.com.