Girls win state volleyball title
November 14, 2018 - 4:49 pm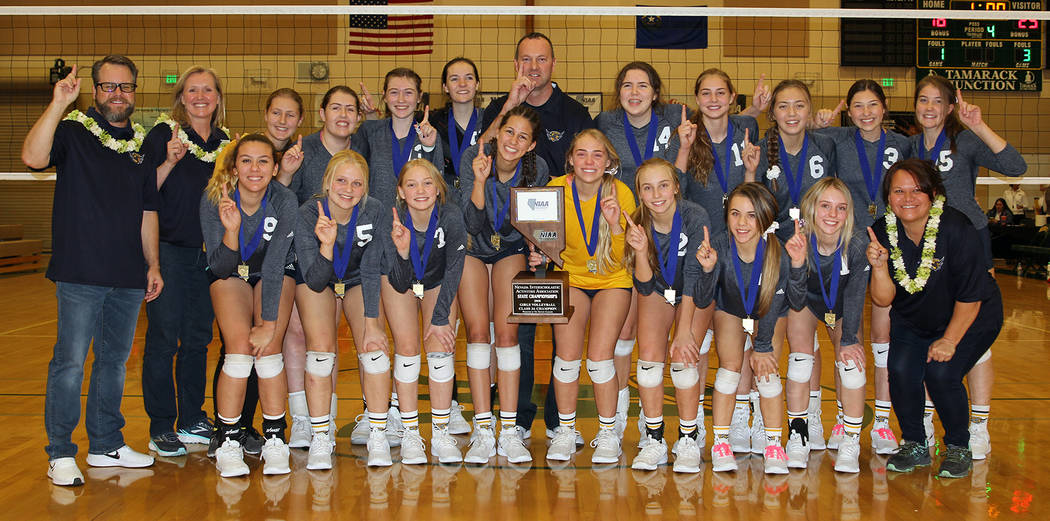 The Boulder City High School girls volleyball team captured its second consecutive 3A state championship Saturday, Nov. 10, defeating Northern Nevada challenger Truckee 3-1.
"They came into the season with a lot of pressure on them, and they handled it very well. Throughout the season they worked hard to get back here," said head coach Kurt Bailey. "It feels great to repeat as champions."
The Lady Eagles dominated the state tournament at Bishop Manogue High School in Reno from the get-go, putting the Wolverines away early. Cruising to a 25-17, 25-18, 21-25, 25-18 victory, sophomore Ava Wright fueled the effort with 40 assists while generating 15 digs defensively.
"From the very beginning of the season, our mindset and goals were getting to the state championship and hopefully winning," Wright said. "Going into the tournament, we knew what we had to do in order to come out with another state championship."
Playing at their best in crunch time, sophomore Kamry Bailey led the way with a game-high 19 kills and eight digs, while sophomore Sierra Orton contributed eight kills and junior Raegan Herr contributed six.
Precise offensively and stingy defensively, the Lady Eagles crashed the nets with authority against the Wolverines, generating 50 digs with 11 blocks. Freshman Zoey Robinson tallied 12 digs, while sophomore Kelsi Robinson generated six blocks. Herr, Orton and Wright added four blocks apiece.
"We knew we were the better team, and we knew we could win the game," Kamry Bailey said. "It was just a matter of whether or not we played our game the way we knew we could play. The amazing thing is I think that this was the best every single one of us has played all year. We really came together when it counted."
The majority of the Lady Eagles' roster will be back next season for a potential three-peat. Playing in their last game with the program, seniors Setia Cox (10 kills) and Ashleigh Wood (four digs) finished their prep careers on top.
"As sad as it is to end my years of volleyball, I would not wish anything to go differently," Cox said. "We have such a great team relationship, and winning the championship back-to-back is the frosting on the cake. I'm so glad I got to enjoy it with the girls I love most."
Cruising through the state semifinals, the Lady Eagles defeated South Tahoe 25-15, 25-20, 23-25, 26-24.
Kamry Bailey tallied 14 kills with 10 digs, and Wright dished out 28 assists with seven digs. Herr added six blocks, and Wood added six digs.
Contact Robert Vendettoli at BCRsports@gmail.com.