Girls take second at Resler track invite; boys place fourth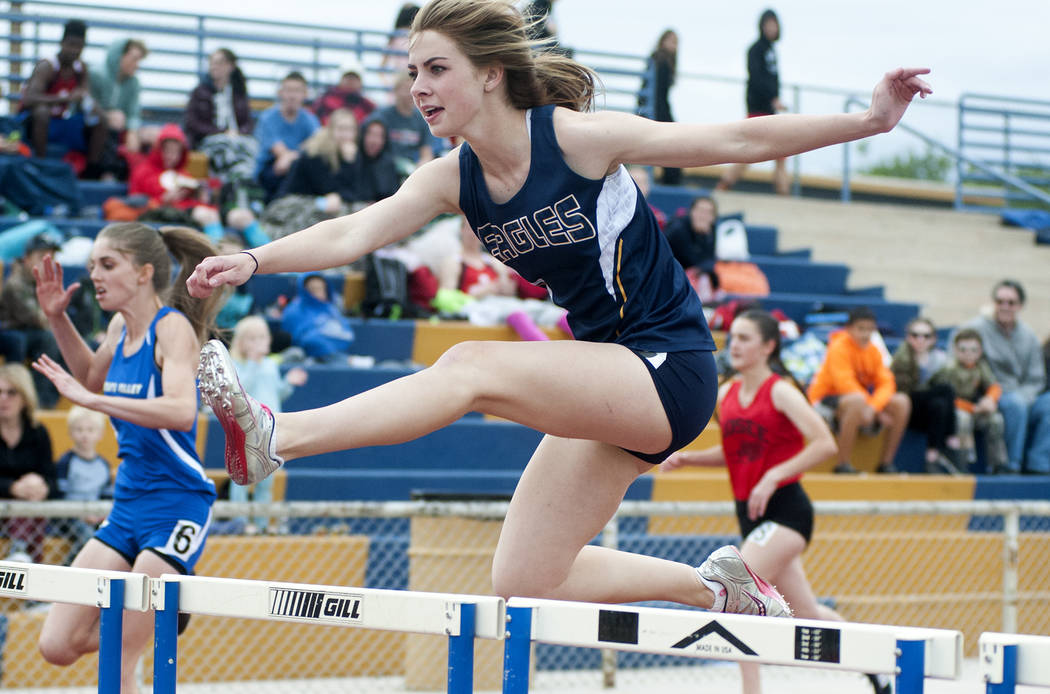 Boulder City High School's girls track program finished second at the Ron Resler Invitational, falling behind only 4A program Foothill on Friday.
Finishing with an overall team score of 108 points, the Lady Eagles edged out six opponents, including rivals Moapa Valley (58) and Pahrump Valley (54.5).
Junior Sierra Selinger finished second in the 800- and 1,600-meter runs with season-best times of 2:37.70 and 5:44.41, respectively. The hopefully state-bound junior also placed fourth in the 3,200-meter run with a time of 13:14.90.
Forming one of the best nucleus in the 3A, seniors Jordyn Trobiani, Kenadee Bailey and Sara Stepherson also shined as usual Friday.
"Our team has been coming along nicely," girls coach Sara Fisher said. "In the 3A South we have multiple girls in the top rankings of their individual events. We're pushing toward getting as many girls as possible qualified for regionals and hopefully a few at state."
Of those hopeful state contenders, Stepherson, who is regarded as the 3A South's top pole vaulter, hit a personal best of 10 feet on Friday, which would have placed her third at last season's 3A state championship meet.
Looking to make return trips to state, Trobiani finished second in the 400-meter dash, recording a season-best time of 1:02.81, while Bailey finished third in the long jump with a distance of 15-9.5.
Trobiani also finished fifth in the high jump and sixth in the triple jump, while Bailey finished fourth in the triple jump and 100-meter hurdles.
Have a solid showing as well at the Ron Resler Invitational, the boys placed fourth out of 10 programs with a score of 84 points, trailing Foothill (193), Mojave (146.5) and Pahrump Valley (95).
"Lots of good things going on right now for us," boys coach Staci Selinger said. "A lot of our boys have hit personal records and we're hopeful times and distances continue to improve."
Junior Zach Trone was awarded the male athlete of the meet with the most points earned, finishing first in the triple jump and long jump, while placing second in the 100- and 200-meter dashes.
Senior Tyler Campbell also had a solid invitational, finishing third in the 3,200-meter run with a time of 10:49.57, while finishing fourth in the 1,600-meter run with a personal best of 4:49.01.
Junior Buddy Boggs concluded the Eagles' effort with a third-place finish in the pole vault, along with a ninth-place triple jump finish and a 12th-place 110-meter hurdles finish.
Junior Alex Krausman finished sixth in the 800-meter run with a time of 2:11.48, while junior Briggs Huxford finished seventh in the 100-meter dash with a time of 11.94 seconds.
Facing a larger field on Friday, both Boulder City programs defeated Moapa Valley at home on Tuesday in the head-to-head showdown.
First-place finishers for the girls included Bailey (long jump and triple jump), Trobiani (400-meters and high jump) and Stepherson (pole vault), along with junior Taylor Tenney, who recorded a personal best time of 13 seconds in the 100-meter dash.
First-place finishers for the boys included Boggs (high jump and triple jump), Campbell (800-, 1,600- and 3,200-meter runs), Huxford (100-meter dash) and Trone (long jump).
Senior Chase Cowley also placed first in the shot put with a personal best of 38-1.75, while senior Jin Takahashi placed first in the 200-meter dash with a personal best of 25.8.
Sophomore Justice Tillman concluded the effort with a pair of first-place finishes in the 110-meter and 300-meter hurdles, recording personal best times of 19.1 seconds and 45 seconds, respectively.
Contact Robert Vendettoli at BCRsports@gmail.com.