Girls look to repeat at state
November 7, 2018 - 4:06 pm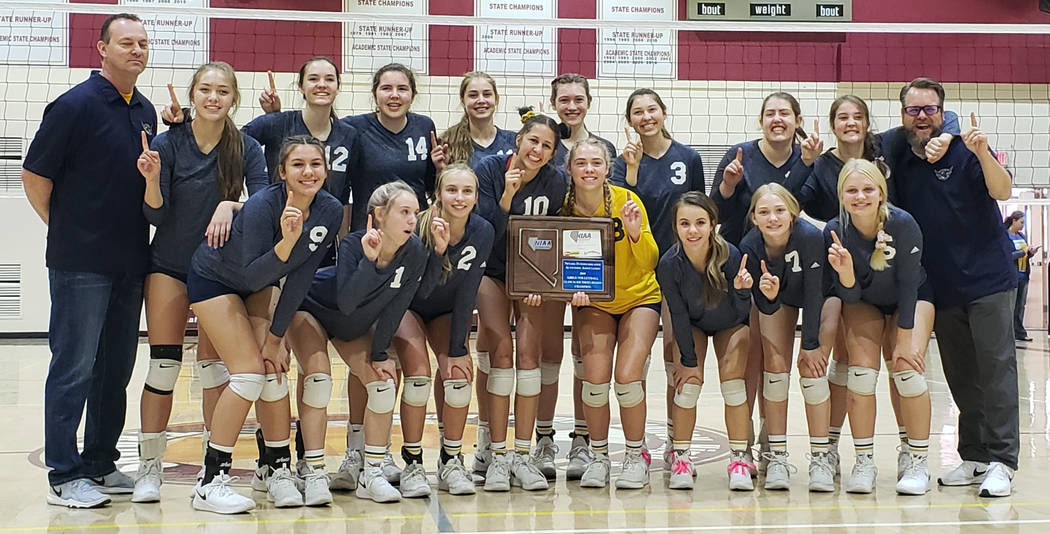 The defending 3A state champion Boulder City High School girls volleyball team is making a return trip to state after defeating rival Moapa Valley 3-0 in the Southern Region championship Saturday, Nov. 3.
Claiming their second consecutive regional championship, the Lady Eagles routed the Pirates 25-15, 25-14, 25-17 at Pahrump Valley High School.
"Obviously, it's a relief because the expectations were always there for this group," said head coach Kurt Bailey. "Making it there last year, the girls arrived and thrived to make it there again this year."
Cruising throughout the regional tournament, Boulder City also swept Valley and Pahrump Valley, making a statement to all oncoming challengers.
"The girls were really focused," Bailey said. "They wanted to show themselves and everyone else just how good they can be when we play together. Being finally healthy is really making a difference for us. They came out ready to play and did a great job."
Taking it to the Pirates early, sophomore Kamry Bailey had a career day for the Lady Eagles with a game-high 20 kills.
Helping sophomore setter Ava Wright rack up 32 assists, senior Setia Cox and junior Raegan Herr each added six kills.
"In a way, being the underdog last year was easier than being expected to win this year," Kamry Bailey said. "There's a lot more pressure on us to win as defending state champions, but after how strongly we played against Moapa in the regional championship, we proved that we can handle that pressure."
Playing strong defense against the Pirates, sophomore Rachel Krumm generated nine digs, while freshman Zoey Robinson tallied eight.
Defeating Pahrump Valley 25-12, 25-14, 25-19 on Nov. 1, Kamry Bailey had 13 kills with 10 digs. Herr added 11 kills, and Wright dished out 36 assists.
Kurt Bailey said he feels his team is up for the challenge of the state tournament after sweeping their way through the playoffs and league play. Starting with South Tahoe on Friday at Bishop Manogue High School, the Lady Eagles will try to win back-to-back titles for the first time in the program's history.
"The girls are coming in with a lot of confidence," the coach said. "We've played a really tough schedule, and they've found new ways to win. They're willing to take on all challengers. Nothing seems to faze this team. They know that when we're playing like a team, we're a very tough team to beat. It's very exciting to watch."
Contact Robert Vendettoli at BCRsports@gmail.com.
Upcoming games
Friday, Nov. 9, state semifinals at Bishop Manogue High School, 110 Bishop Manogue Drive, Reno, 3 p.m.
Saturday, Nov. 10, state finals (if qualified) at Bishop Manogue, noon