Girls golf team dominates league match
August 30, 2017 - 2:28 pm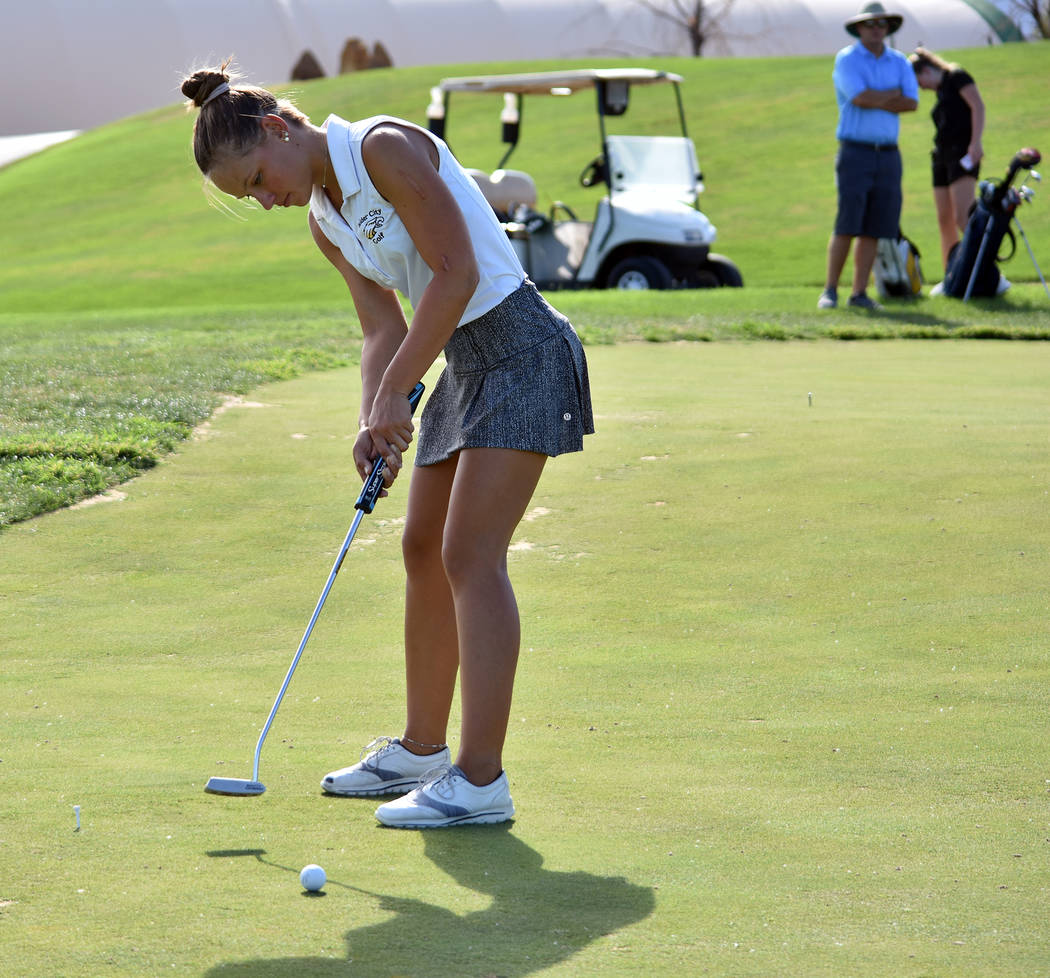 Not much has changed for the Boulder City High School girls golf program since last season, or the season before for that matter, after picking up its 10th consecutive 3A Sunrise League victory on Tuesday.
"This was probably our most complete win since I took over as head coach," Andy Schaper said. "The girls came out hot yesterday and performed really well. They're setting the bar high early on this season."
With league victories dating back to Sept. 9, 2015, their sights are set on capturing their first 3A state championship since 2010. Tuesday, the Lady Eagles looked dominant as expected at Chimera Golf Club, shooting a team score of 174 to beat out Southeast Career Technical Academy 194.
"We're expecting to go really far as a team this season," junior Ryann Reese said. "With everyone coming back after a great finish at last season's state tournament, we're hopeful we can win it this season."
Finishing second at last season's 3A meet behind Northern challenger Elko, the Lady Eagles will again attempt to make a run at state behind last season's individual state champion senior Lani Potter.
"I'm excited for the start of a new season," Potter said. "I feel like we all came back better ready to finish what we started last season. The goal is to win a state championship as a team."
Schaper said Tuesday's start for the girls was a step in the right direction.
"Everyone was really sharp Tuesday," Schaper said. "Starting at the top with Lani, who I'm running out of good things to say about, the team as a whole shot some of their best scores. The girls put in a lot of hard work as a team this summer and it showed during our opener."
Unsurprisingly claiming first place Tuesday, Potter shot a 36, defeating Southeast Career Technical Academy golfer Cassidy Phelan by two strokes.
Making their presence felt in the top five, Reese and sophomore Sydney Krumm finished third and fourth, respectively, with scores of 44 and 45 each, while junior Madisan Walker finished sixth with a score of 49.
Freshman Riley Shuman rounded out the Lady Eagles' core with a seventh-place finish with a score of 53, while sophomore Makaela Perkins finished 10th with a score of 57.
"Our team has really worked hard this summer to get better," Krumm said. "A lot of us were at Boulder Creek every day working on our games for this season. We're hopeful to continue to get better every day."
Off for the remainder of the week to get some more practice swings in, the Lady Eagles will resume their season Sept. 7 for a league match at Falcon Ridge.
Contact Robert Vendettoli at BCRsports@gmail.com.
Upcoming games
Tuesday, Sept. 5, vs. Pahrump at Boulder Creek, 11 a.m.