Girls cross-country team finishes third at invitational
October 18, 2017 - 2:55 pm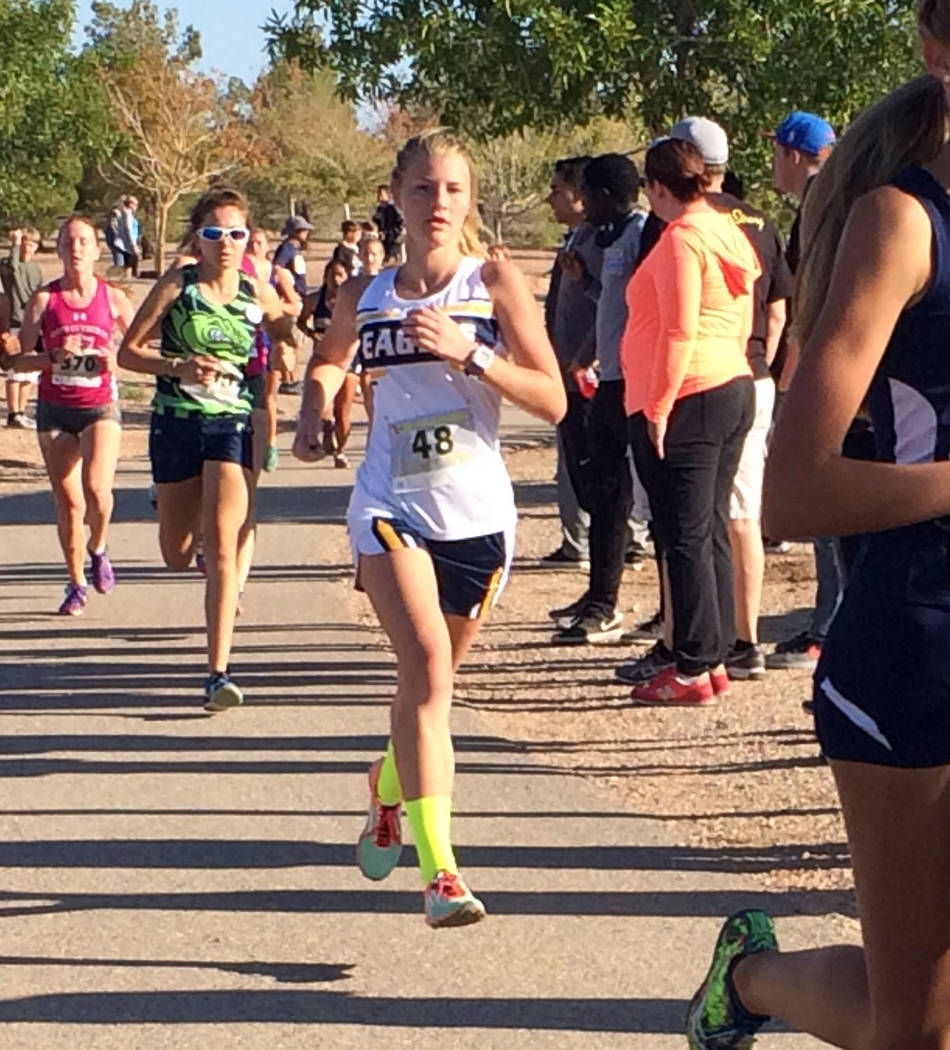 Finishing third at the Lake Mead Invitational at Veterans' Memorial Park on Saturday, Boulder City High School girls cross-country team enters the postseason with some much-needed confidence.
Racing without key senior Camille Torgesen, the Lady Eagles took advantage of their home turf, finishing with an overall score of 98 points, tailing only Southeast Career Technical Academy (46) and Pahrump Valley (71).
"The girls ran well despite missing Camille," head coach Staci Selinger said. "They've been working very hard and were feeling the fatigue a bit Saturday. Consequently, I had them race a bit cautiously, but I'm still proud of their efforts."
Finishing in the top three despite setbacks, Saturday brought optimism for the Lady Eagles, who will again run at Veterans' Memorial on Oct. 27 for the 3A Southern Regional championship.
"We're confident the girls will be in top shape for regionals and state," Selinger said. "We've been running the Veterans' each week all summer and fall and the team feels extremely comfortable and confident running it. They all said it felt easy Saturday. I'd really like to see them beat Pahrump."
Making good use of their extra practice time on the course, senior Sierra Selinger and sophomore Audrey Selinger had no trouble making it look easy, finishing fifth and 10th, respectively.
Just 20 seconds slower than Virgin Valley's second-place finisher Viviana Archuleta-Vega, Sierra Selinger finished with an overall time of 22:36, while Audrey Selinger finished with a time of 23:22.
"Sierra is running well and I'm excited to see what she'll throw down in regionals and state," Staci Selinger said. "Audrey has just impressed me all season. I confident she will also drop time going into these championship races and will be key in helping us make our bid for a state spot."
Also hoping to be key in the Lady Eagles' quest for a state bid, freshman Sophie Dickerman has stepped up recently, finishing 21st out of 73 competitors with a time of 25:05.
"Sophie has been a huge asset and surprise to the team this year," Staci Selinger said. "We are so lucky to have her join us as a freshman and I love her competitive spirit and determination. She continues to improve each race and is going to be key to the current and future success of our girls team."
Juniors Brynlee Campbell (26:57) and Geri Wachtel (27:30) finished 41st and 45th, respectively.
Strong individual runs
While the girls were able to put it together Saturday for a top-three finish, the boys were not as fortunate, finishing 10th out of 13 teams with a score of 284.
Freshman Ethan Porter continues to be a bright spot for the program, finishing 19th out of 94 competitors with a time of 19:18. Junior Justice Tillman followed shortly after with a time of 19:54 to finish in 36th place.
"Both of them continue to improve after each race," Staci Selinger said. "Ethan was another freshman we were very excited to get and Justice has been a consistent leader for us. I expect both of them to finish the season strongly."
Feeling confident after posting his season-best time Saturday, Porter said he's been happy with the way he's progressed throughout the season. "My freshman season has been all about training," he said. "The more and more I've run, the faster I've gotten. I've been happy with my progression and I feel like it's going to help me a lot moving forward."
Freshman Seth Woodbury (22:26) and Joseph Hardy (23:41) finished 79th and 86th, respectively, while sophomore Rome Peregrino (21:20) and senior Kevin Trygstad (22:21) finished 61st and 76th.
Prepping for regionals, the Eagles will travel to Basic High School on Saturday for the 3A Sunrise League finals, with one last race to improve before the postseason begins.
Contact Robert Vendettoli at BCRsports@gmail.com.
Upcoming games
Saturday, Oct. 21, division finals at Basic, 8 a.m.