Girls cross-country team advances to state
November 1, 2017 - 2:53 pm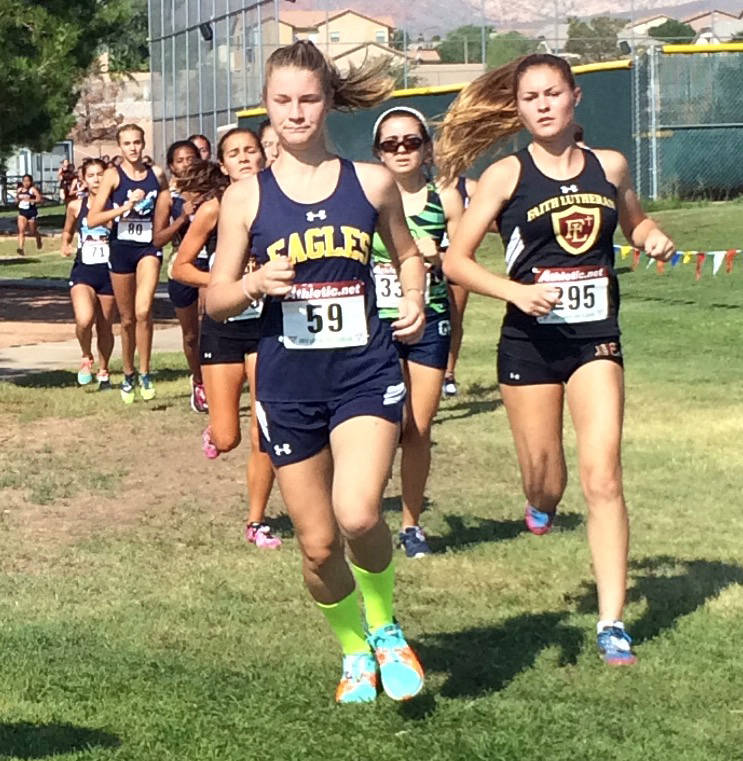 Boulder City High School's girls cross-country team is heading back to state after finishing fourth at regionals on Friday, Oct. 27.
Finishing with an overall team score of 93, the Lady Eagles barely missed out on a top three finish at Veterans' Memorial Park, falling behind a 92-point effort from rival Pahrump Valley.
Southeast Career Technical Academy (44) and Desert Pines (75) finished first and second, respectively.
"We came up a bit short at regionals of our expectations for various reasons," head coach Staci Selinger said. "No excuses, we still qualified for the last state qualifying berth. We're expecting better racing this weekend at state."
While the team fell just short of its top three aspiration, senior Sierra Selinger didn't, finishing Friday's race with an overall time of 21:52 for third place.
"It's definitely not the time we wanted for Sierra, and I noticed overall for everyone across the board that times were slower than you'd expect to see at regionals," Staci Selinger said. "Veterans is definitely not an easy course. Sierra still ran a great race, but we want to see faster times going into state and the postseason championship races."
Despite posting slower-than-expected times, the core duo of senior Camille Torgesen and sophomore Audrey Selinger contributed heavily, finishing 14th and 16th, respectively, with times of 23:40 and 23:43.
"Camille and Audrey were a huge factor in the team's success, despite that both struggled a bit on Friday. Despite that, they gave it their best and came through for us and are a key factor in our ability to make state as a team."
Also factoring heavily in the Lady Eagles' push toward state, freshman Sophie Dickerman finished 23rd with a time of 24:47.
Juniors Brynlee Campbell (26:40) and Geri Wacthel (27:42) finished 42nd and 47th, respectively.
Barely missing out on individual state berths for the boys, junior Justice Tillman (19:48) and freshman Ethan Porter (19:48) were bright spots in the Eagles' 10th-place team finish, finishing 25th and 26th, respectively.
"Both of them ran well and made a lot of progress over the season," Staci Selinger said. "I'm looking forward to them continuing to improve their times and being contenders at state next year."
Rounding out the boys' core, sophomore Rome Peregrino (21:03) finished 41st, while senior Kevin Trygstad (23:26) finished 56th.
Freshman Joseph Hardy (23:44) and junior Noah Calvert (24:01) finished 60th and 61st, respectively, while senior Bryce Rogers finished 69th with a time of 26:06.
Saturday's 3A state meet will be held at Shadow Mountain Park in Sparks.
Upcoming games
Saturday, state championships in Sparks, 12:40 p.m.