Girls basketball team uses losses as lessons
January 4, 2017 - 2:16 pm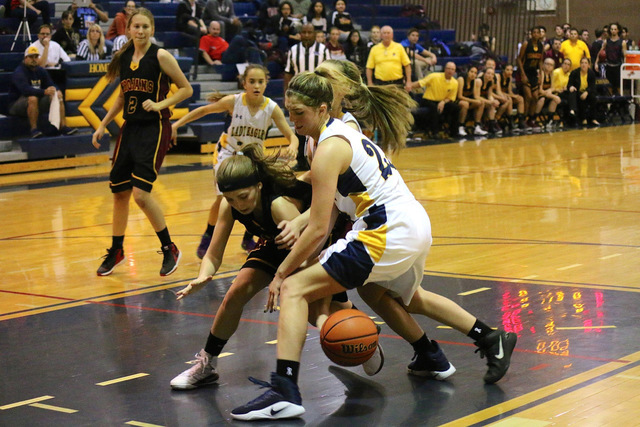 The Boulder City High School girls basketball program suffered through a 0-4 stretch this past week at the Gator Winter Classic at Green Valley High School in Henderson, but head coach Paul Dosch saw building blocks that the Lady Eagles can use moving forward.
"We had our moments where we were outmatched by our opponents, but overall I think we can build off of our performance," Dosch said. "Defensively, with the exception of the Dimond game, who are honestly the best team I've ever coached against, I thought we handled ourselves very well and played competitively. We still have our work cut out for us offensively, but it's a start."
Led by class of 2019 top 25 recruit Allisa Pili, who scored 31 points, Dimond routed the Lady Eagles 72-22 on Dec. 27 with a running clock in a matchup Dosch said gave the team a first-hand look on what to improve upon moving forward.
"When you play a team as good as they are, a loss like that can be demoralizing," Dosch said. "Our girls hung in there though and played to the final whistle even when things constantly didn't go their way. This is definitely my most coachable and unselfish group since I took over the program. We'll learn from this loss."
Hanging tough throughout the remainder of the tournament, the Lady Eagles fell to Flagstaff (Arizona) 53-26 on Dec. 28, before nearly upsetting 4A opponent Rancho 30-25 on Dec. 29.
"(It was a) tough draw for us throughout the tournament, but these are the games that make you better," Dosch said. "We've always said we never care about what our preseason record is, as long as we're ready for league play. I think we've done a good job preparing; now it's time to go to work."
Plagued with inexperience at the point guard position, Dosch has noted that while the growing pains at the position are tough at times, he's happy with the way freshmen Madisan Manns and Keely Alexander have matured throughout the first half of the season. Throughout the tournament, Manns averaged 8.5 points per game, while Alexander averaged five points as the team's two leading scorers.
"As a team, success relies on steady point guard play," Dosch said. "Sometimes we forget that they're both just freshmen and still adapting to the pace of the game, especially offensively. Defensively, I think they've both done a great job handling themselves, as well as handling the responsibilities that come along with the position. As we enter the second half of the season, I expect big things from both of them as they continue to mature."
Starting league play this week, the Lady Eagles will host Southeast Career Technical Academy on Friday, then travel to Del Sol on Tuesday with hopes of making an early push toward the postseason after missing out last season.
"Before every game we want to be 1-0 after that day and we need to continue to play smart and together to win games in the future," said senior forward Julia Worrall, who averaged 4.5 points throughout the tournament. "League play now means more pressure, which will help us grow as a team and compete together. We're very excited to start up in the new year."
Results from Wednesday's league opener at Virgin Valley will be highlighted in next week's issue.
Contact Robert Vendettoli at BCRsports@gmail.com.
Upcoming games
Friday, vs. Southeast Career Technical Academy, 5 p.m. junior varsity,6:30 p.m. varsity
Tuesday, at Del Sol, vs. Pahrump Valley, 3:30 p.m. junior varsity, 5 p.m. varsity