Girls basketball team rallies to defeat Sunrise Mountain
December 21, 2016 - 1:53 pm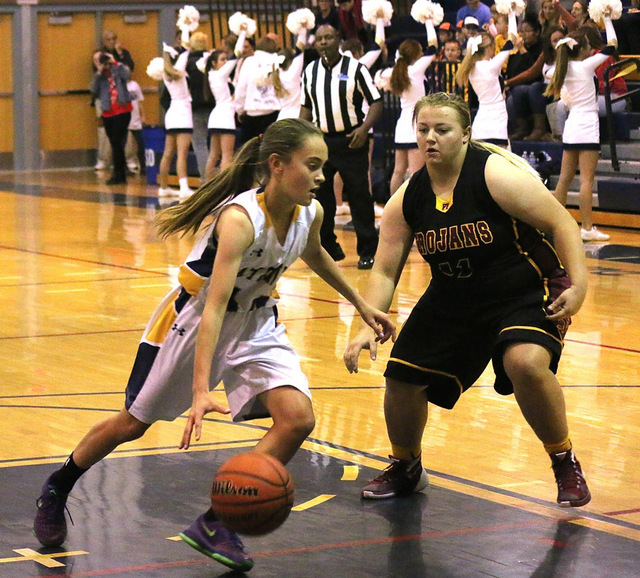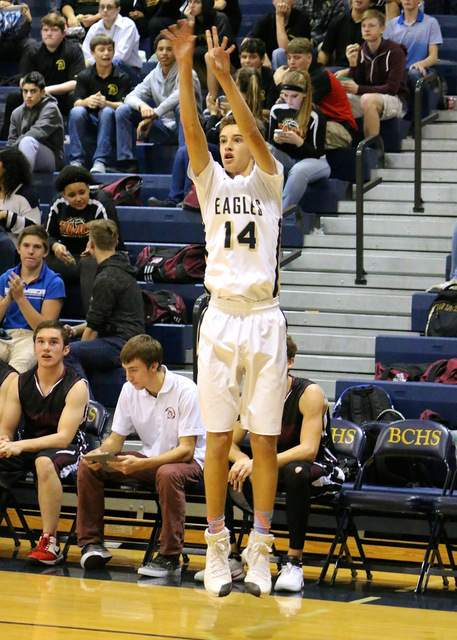 The Boulder City High School girls basketball team advanced to 4-5 on the season, splitting a pair of contests with Pahrump Valley and Sunrise Mountain this past week.
Suffering a heartbreaking 27-26 loss to Pahrump Valley on Dec. 14, the Lady Eagles rallied back on Friday, storming past Sunrise Mountain in a 46-19 rout of the Miners.
Spreading the ball around evenly against the Miners, freshman forward Ellie Howard led the way with 10 points, while junior Jerra Hinson, sophomore Madisan Walker and freshman Madison Manns scored six points each.
With eight scorers on the night, sophomore Hannah Estes and freshman Keely Alexander each scored five points, while senior Julia Worrall and sophomore Setia Cox scored four points each.
Getting quality play from their pair of freshman guards, Alexander and Manns scored eight and five points, respectively, against the Trojans despite the loss, while senior Alea Lehr added six points.
Hoping to be ready for league competition when it begins Jan. 4 on the road at Virgin Valley, the Lady Eagles will participate in the Gator Winter Classic starting Tuesday, where they'll play against Northern Nevada opponent Fernley and Dimond (Alaska), followed by Flagstaff (Arizona) on Wednesday.
Boys basketball
Showing more consistency on offense this past week, the Boulder City High School boys basketball team split a pair of contests, losing 70-66 to Pahrump Valley on Dec. 14, while defeating Sunrise Mountain 38-30 on Friday.
Advancing to 4-6 on the season, the Eagles used a 12-point effort from junior Clayton Pendleton, while senior Justus Green and sophomore Karson Bailey provided eight and six points, respectively.
The Eagles' complementary players Bailey and Pendleton made a big impact against Pahrump Valley, scoring 20 and six points, respectively, while leading scorers Green and junior Carson Balistere scored 14 and 10 points, respectively.
In each contest against the Trojans and Miners, junior Tanner Montgomery scored five points.
With the recent scoring presence of Bailey and Pendleton to match the contributions of Green and Balistere, the Eagles are hopeful their offense can continue to jell throughout the holiday when they travel to California for the Paloma Valley Winter Shootout on Dec. 27-30.
Bowling
Both Boulder City High School bowling teams picked up victories over Somerset Academy SkyPointe Campus on Dec. 14 at Texas Station, closing out the preseason on a high note.
Getting back to their winning ways, the boys defeated Somerset SkyPointe 1,739-1,185, behind the strong play of senior Ed Rassuchine, who led all bowlers with a 558 series, including a 226 in his second game.
Sophomore Sam Holt bowled a 467 series for the Eagles, while senior Samu Jancuk bowled 401.
Earning his first start of the season, sophomore Conner Dykstra finished with a 313 score.
Continuing to improve their individual scores each week, the Lady Eagles tallied 1,624 points Dec. 14 with Somerset SkyPointe forfeiting. Senior Abigail Harling led the way with a 532 series, including a score of 223 in her second game.
Staying close to their averages, junior Bailey Bennet Jordan scored 463, while freshman Christine Smith bowled 409.
Sophomore Samantha Wagner concluded the Lady Eagles' scoring with 220 points in her first career start.
Contact Robert Vendettoli at BCRsports@gmail.com.