Fourth trip to the championship in as many years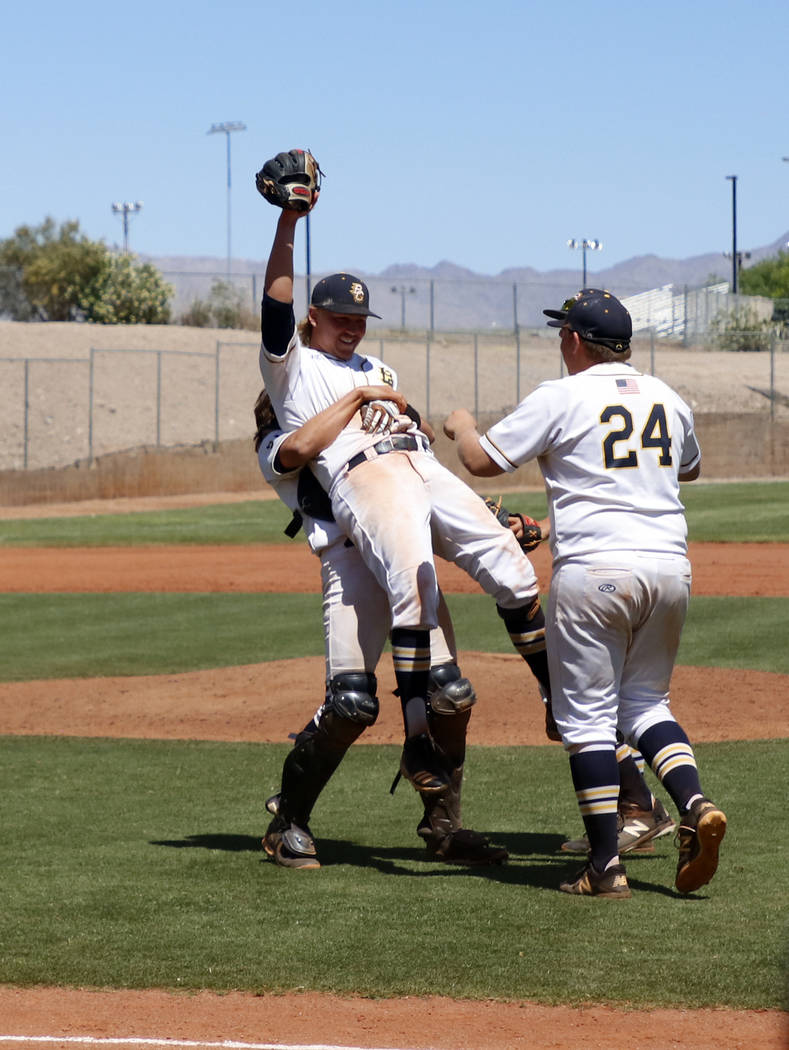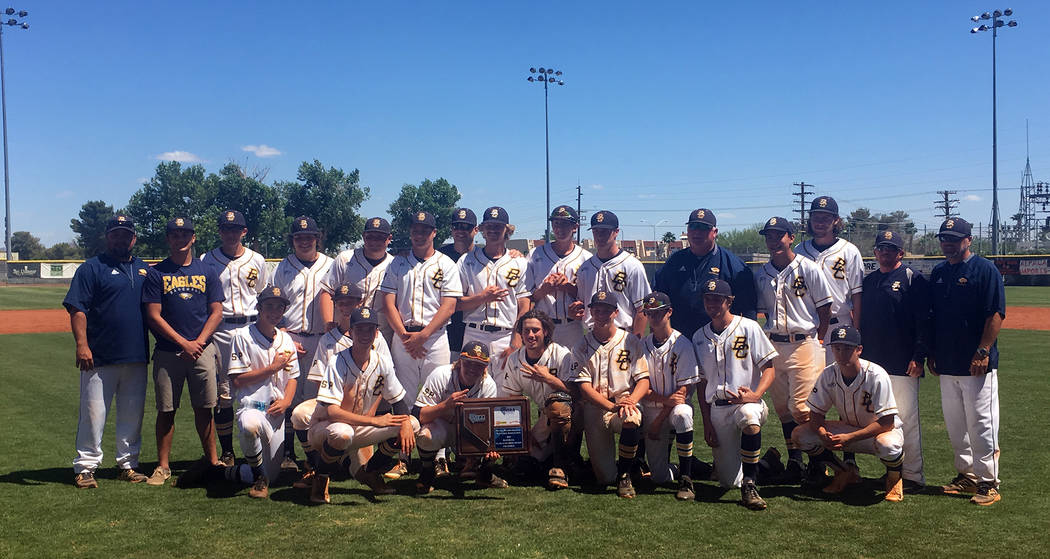 The Boulder City High School baseball team clinched its fourth consecutive 3A state tournament appearance after the Eagles 8-2 Southern Regional championship victory against Pahrump Valley on May 12.
With the win, Boulder City High School baseball coach Ed McCann said he feels like he's now off the hot seat.
A first-year head coach with the program, McCann inherited the two-time defending 3A state champion Eagles with great expectations. After a slow start with a 2-7 record, McCann said that he could finally rest easy knowing the tradition of excellence has been maintained.
"It's been a grind this season," he said. "When you come to Boulder City, there's expectations to field a winner. This community is used to winning championships. We started 2-7 and it wasn't looking so good, I felt like I was on the hot seat a little bit, but I love a challenge. These boys have come a long way from the beginning of the season, like I thought they would. They overcame adversity and persevered through the grind. It's been an exciting ride to keep this tradition alive."
From early season woes to a dominant postseason, the Eagles swept through regionals with a 4-0 record, routinely finding a way to win.
After routing Mojave 20-5 in the first round, the Eagles squeaked out a 9-8 victory against Chaparral on May 9, and a 4-3 victory against Pahrump Valley on May 10.
Trailing 3-0 heading into the bottom the seventh inning against Pahrump Valley, senior D.J. Reese started the comeback effort with a two-run double, while junior Travis Hungerford and Reese scored the next two runs on a walk and wild pitch consecutively made by the Trojans pitcher.
"I can't tell you how we do it at times, but this club knows how to win," McCann said. "Even when we're not playing our best, we find a way to come out on top. The truly special teams know how to do that, know how to win when the odds are against them."
Leaving no doubts in their next outing against Pahrump Valley two days later, the Eagles exploded for three runs right out of the gate, before closing the outing with two runs in the fifth inning and three runs in the sixth.
Embracing the moment, freshman Joey Giunta played the role of hero both at the plate and the mound, finishing 2-for-4 with three runs batted in and a double, while throwing four innings of relief to earn the victory.
"Joey's been a great add for us this season," Reese said. "He is solid on the mound and can give us quality starts. He also adds a great stick to the line up with one of the highest averages on the team. Even though he's a freshman we really rely on him to come in to get a hit or shut down the other teams offense."
Backing up their freshman starter with plenty of run support, senior Rhett Armstrong finished 3-for-3 with RBIs and three doubles, while Reese finished 3-for-4 with two doubles.
Clicking at the right time, the Eagles are locked in on bringing home their third consecutive state title. Looking to extend the dynasty, the Eagles will meet Northern challenger Truckee today, May 17, in Reno, Nevada.
Contact Robert Vendettoli at BCRsports@gmail.com.