Four girls golfers earn all-region honors
November 14, 2018 - 4:48 pm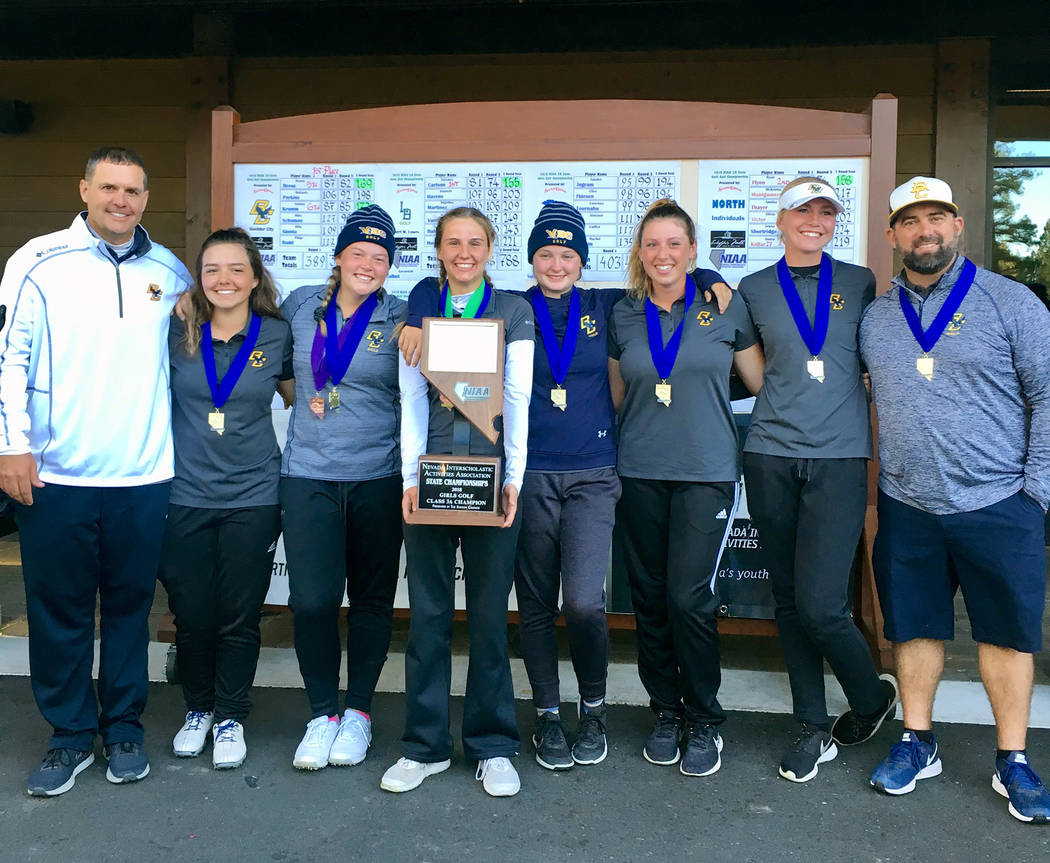 Four Boulder City High School girls golfers were named to the 3A All-Southern Region team, capping off the squad's second consecutive 3A state championship run.
"I'm really proud of all the girls for their accolades," head coach Andy Schaper said. "They've all worked so hard to get here. When you start having success, it really helps build the program. The younger girls see the accolades these girls are getting and it motivates them. This really shows the girls that all the hard work was worth it."
Leading the Lady Eagles through an undefeated league season, senior Ryann Reese and junior Sydney Krumm were named first-team selections for their efforts.
"It's been a joy to see Ryann and Sydney progress through years of hard work," Schaper said. "Neither of them have been playing the sport for very long; they weren't child prodigies. Watching them develop as golfers has been fun."
Sophomore Paige Rudd and junior Makaela Perkins were named second-team selections.
The quartet, along with sophomore Riley Shuman, were named first-team All-Sunrise league selections.
"We have all put in a lot of time to be one of the top teams in 3A and it is a good feeling to be recognized," Reese said. "Coach Schaper has done so much for us, and myself in specific. I will always be grateful."
Breaking out as a senior, Reese placed fifth at the 3A state meet at Schaffer Mills Golf Club in mid-October to cap off a season highlighted by five first-place, one second-place and a pair of third-place finishes.
"It feels really good making the first team," Reese said. "Putting in all the hard work in the summer heat was worth it. I didn't pick up a golf club until the summer before my freshman year. I fell in love with the sport and started setting goals. Winning state again, medaling at state and being named to the region first team — after all these accomplishments it goes to show you that hard work will always pay off."
Having her own breakout season, Krumm placed sixth at state, ending the season with two second-place and four third-place finishes.
Placing 16th at state, Perkins generated a second- and two fourth- and a fifth-place finish this season, while Shuman had a second- and third-place finish.
Rudd had with one third-place finish this season.
Contact Robert Vendettoli at BCRsports@gmail.com.