Foster aims to keep family's wrestling legacy alive
January 18, 2017 - 3:34 pm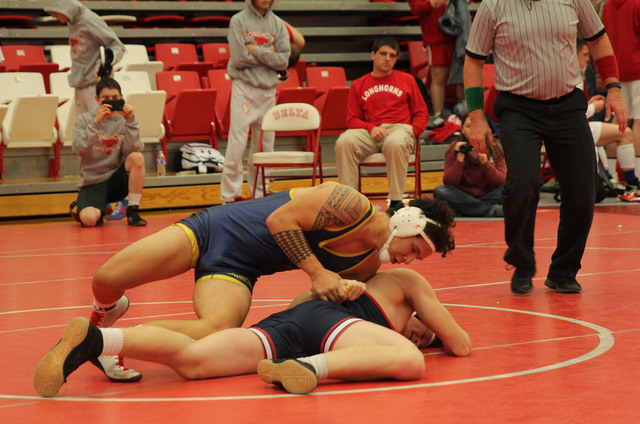 Growing up in a wrestling family, senior 170-pound wrestler Bryan Foster knows firsthand what success at the highest level looks like.
The younger brother of former Eagles state champion and current assistant coach Brandon Foster, who won the 195-pound state title in 2013 and again in 2012 at 220 pounds, Bryan Foster knows he has big shoes to fill. After sitting out a majority of his junior campaign with a broken ankle, Foster has made the most of his final season, becoming one of the Eagles' top performers.
"Knowing that being a state champion is in our blood, I use that to motivate me when I have nothing left in the tank," Foster said. "I love having my brother around the program, because I know he'll teach me what I need to learn to become a state champion. When we get to regionals, my mindset is that there are no obstacles in my way. I'm not going to worry about the end result, just my performance in the moment. I'm hoping for the best, but always preparing for the worst."
Dominating at 170 pounds this season, Foster has picked up quick victories over league opponents Moapa Valley and Chaparral, while finishing with a 6-3 record at the Delta Duels in Utah Jan. 13 and 14. Finally healthy both physically and mentally, Foster has cemented his place as a regional championship contender, hoping to give the Eagles their first individual state champion since Brandon in 2013.
"Biggest thing for me has been keeping a positive mindset," Foster said. "This season coach (Jim) Cox has helped me developed a mindset on the mat that I only wish I had in the past. When I couldn't compete last season, I realized how much I loved the sport and just wanted to be out there. Being away from the sport drove me every day to come back stronger."
Noting Foster's improvements and desire to come back better than ever, head coach Jim Cox raved about his senior's progression this season.
"Bryan's been outstanding for us so far this season," he said. "He's certainly put in the work this season and the results are showing on the mat. For him to come back after missing much of last season and perform like he has is really fun to watch."
Wrestling on a team with state championship aspirations, Foster is one of several Eagles who are confident heading into the season's final stretch. Loaded with individual talent at several weight classes this year, the Eagles are reaping the benefits of the hard schedule Cox has put in front of them.
"We've had one of the tougher schedules in the state this season and the boys have responded well," Cox said. "Competing in the Jimmy Hamada La Costa Classic in California, traveling to Utah twice for the Desert Storm and Delta Duels. The guys know that competing against the best and buying into what we're teaching is what's going to make them successful. It's the key reason why we've done so well as a team this season."
Top performances in the Delta Duels, a tournament coach Cox claims is one of the best Utah has to offer, came from junior Garrett Leavitt (113 pounds) who finished 6-1, junior Jimmy Dunagan (152 pounds) 5-1, and senior Devin Fox (220 pounds) and junior D.J. Reese (126 pounds), who both finished 5-2.
Also providing solid showings were seniors Jimmy Brown (132 pounds) and Dillon Viera (160 pounds), who finished 4-1 and 2-1, respectively, while junior Zane Dennington (120 pounds) finished 4-3.
Contact Robert Vendettoli at BCRsports@gmail.com.
Upcoming Games
Tuesday, vs. Del Sol, 5 p.m. junior varsity; 6 p.m. varsity