Former Eagle drafted by Twins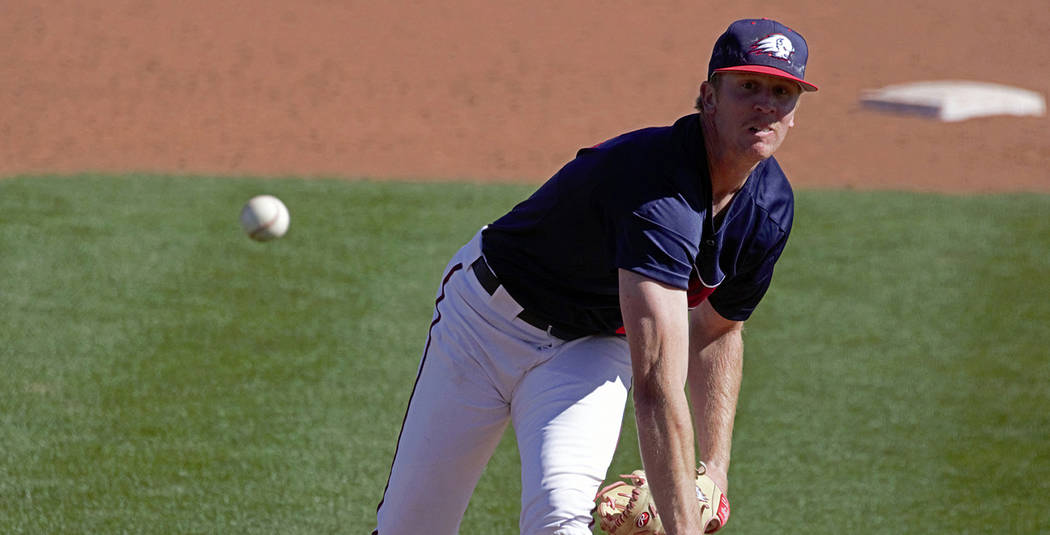 Tanner Howell, a 2013 graduate of Boulder City High School, was drafted by the Minnesota Twins on June 6 in the 2018 Major League Baseball amateur draft after a successful four years at Division II program Dixie State University in St. George, Utah.
Selected in the 35th round (No. 1,024 overall), Howell called fulfilling his lifelong ambition to be a professional ballplayer a dream come true.
"It's been a dream since I was little playing T-ball," Howell said. "Asking my parents why they didn't name me Mark McGwire. Just watching baseball games on TV wishing that was me on the field playing in front of all the fans."
No stranger to playing in front of fans on the big stage, Howell, a versatile pitcher, served this past season as Dixie State's closer, arguably the game's toughest position.
Appearing in 18 games, Howell recorded six saves, which ranked him third in the Pacific West Conference. He proved capable of taking the game well into innings; four of the six saves came in multi-inning outings.
Howell also made two starts and posted a 3-2 record in 45 innings of work. His 39 strikeouts were third best on the staff this season.
What role Howell would take with the Twins organization is unclear for now. The 6-foot-5-inch right-hander is open to all suggestions, but he said he hopes to stay in the closer role.
"I have really liked the late reliever role in the past, because you have a chance to pitch in every game," Howell said. "But I'm willing to take on any role the Twins throw at me."
Leaving Dixie State as the program's career leader in appearances, with 53, Howell said he is hopeful to make the same impact at the next level.
Setting goals for himself like he did as an Eagle and with Dixie State, Howell embraced the idea of staying focused on what's important.
"You can do anything if you want it bad enough," he said. "Setting goals, reaching them and making new ones is one of the best ways, I think. In high school, my goal was to make varsity, and then I set small goals while on varsity that, if I reached them, I could cross off my goal of getting a scholarship for college baseball. I then set goals in college to reach my dream of being drafted, and now I'm setting goals to move up in the Twins organization. As I check those off, I'm getting closer."
Bobby Reese, Howell's coach at Boulder City High School, said he was proud of his former star pupil for not only fulfilling his dreams but also serving as a role model for the next crop of Eagles.
"It is very cool to see Tanner get drafted. He's a great kid," Reese said. "I certainly think Tanner getting drafted shows the next generation that they can make it to the next level, too, and that playing at Boulder City won't hurt their chances."
On his way to fulfilling his dreams of making it to the major leagues one day, Howell is spending time at the Twins' spring training facility in Fort Myers, Florida.
"I'm super excited. I got to the spring training facility in Florida Sunday," Howell said. "I just can't wait to get out there and meet and play with the best competition out there."
Contact Robert Vendettoli at BCRsports@gmail.com.